Metallic temporary tattoos have been summer's biggest new beauty hit.
Models at the Dries Van Noten SS15 show were painted with gold lip rings in Paris
From clubbers hitting the coolest bars in Ibiza to teen festival-goers at Glastonbury. Even Beyonce chose to sport the fade-away accessories while posing on her European superyacht.
And according to Paris Fashion Week, the temporary trend is here to stay.


The minimal, metallic make-up was inspired by the famous Burning Man festival
Finally, a catwalk trend we can all afford!
On Wednesday, models at Dries Van Noten SS15 in the Grand Palais sported painted-on gold lip rings with the same metallic foil effect as the other popular tattoo jewellery seen this summer.
Makeup artist Peter Philips told Vogue.com the gold line down each model's lower lip 'could be a piercing… it could even look like the shine from a lip gloss.'
He used an eyeshadow brush to draw a line with MAC Mixing Medium and Ben Nye Gold Powder, and retraced the line with Make Up For Ever's Aqua Liner (in #1).
He continued: 'Dries was thinking of the kind of girl who goes to Burning Man. She's not a hippie, but she loves nature - and she's also a bit high-tech.'
At Anthony Vaccarello, the vibe was more techno/rock, leading the trend away from the hippie look the jewellery has previously been associated with.
Models' earlobes were painted in a lacquered patent black, adding a gothic edge to the Spring/Summer 2015 ready-to-wear presentation on Tuesday.
The show's make-up artist Tom Pecheux said Anthony 'came up with the idea to create a piece of jewellery using makeup.
'I thought, perhaps we don't do an earring, but a black tattoo - something that felt very graphic, because the collection is graphic,' the artist told Allure.
He drew rigid shapes on each ear lobe with a felt-tip eyeliner pen, before using Homeoplasmine to apply iridescent black glitter.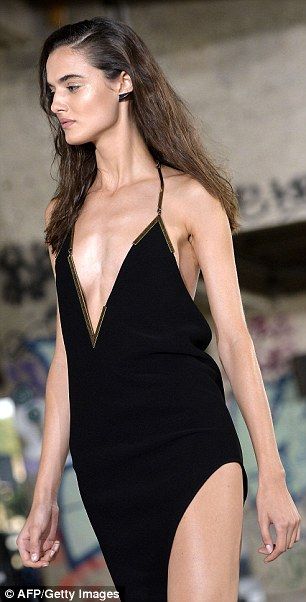 At the Anthony Vaccarello show models' earlobes were painted in a lacquered patent black
Fashion fans wanting to get this look now should invest in a Sharpie, or one of the packs of Temporary tattoos from Divine Ink London, Seekers of Sun, Flash Tattoos or Rosie Wonders.
These stencils mimic jewellery and take just 10 minutes to set after being applied with water. They then wear off gradually after a few days.
Dior designed a £100 limited-edition set of temporary tattoo cuffs, earrings, chokers and bracelets made of 24-carat gold in 2012.
A set from our favourite high street brand Divine Ink London comes in a little cheaper at £15 per pack.
The tattoo-as-jewellery trend really took off at the beginning of summer. Alessandra Ambrosio and Aerin Lauder were the first celebrities to be spotted in them, and this month Beyonce, 33, showed off an impressive collection of temporary gold and silver body art while on a yacht around Europe.
The star has sported various iterations of the tattoos while on holiday including belly chains, necklaces, bracelets; and even obscure designs such as peacock feathers on her hip and stencils on her shoulders and shins.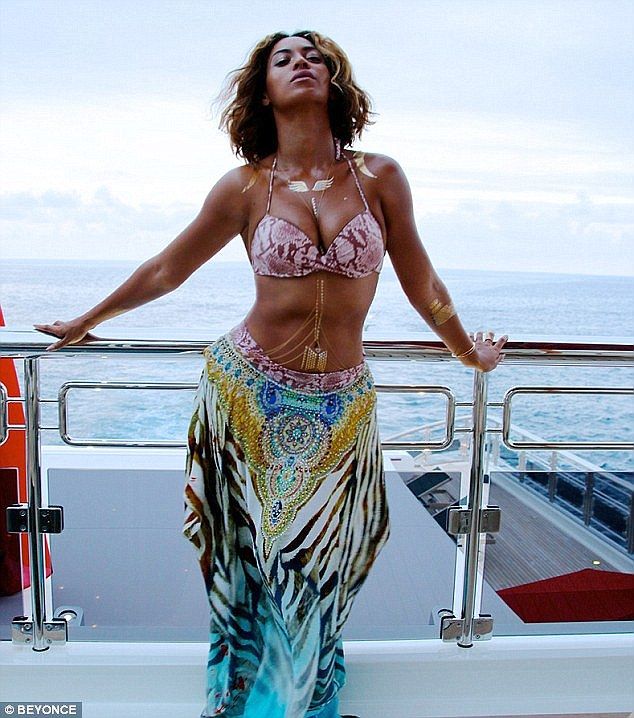 Beyonce, 33, showed off temporary gold and silver body art while holidaying on a yacht in Europe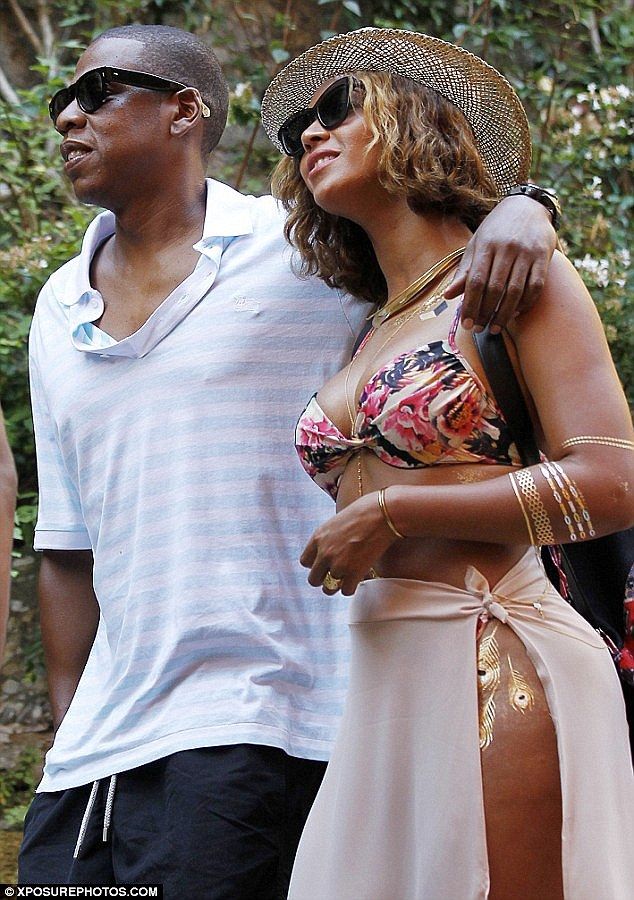 She has worn more obscure designs too, such as peacock feathers on her hip and stencils on her shoulders
Read more at Daily Mail.