Did you hear about Charlotte Glen, the lady who had Fillers and Botox injections in her Feet just so she can totter in her Louboutins every day and night? She call it a Loub Job. Kneipp can also soothe your sore and tired feet without the needles!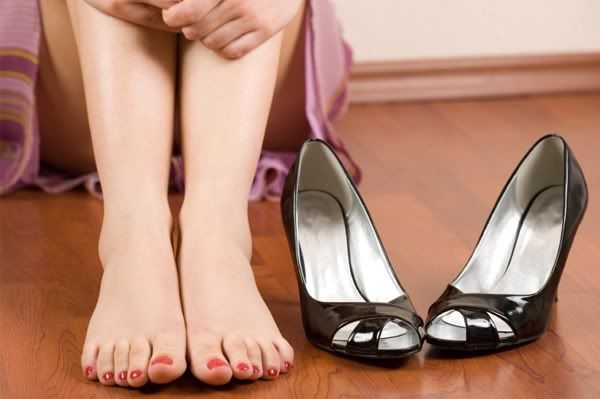 But you do not need high heels to have tired feet. Even a pair of flats, with non ergonomically-designed insoles, you can still have the balls and heels of your feet throbbing.

With Kneipp Warming Arnica Body Massage Oil and Kneipp Warming Foot Balm, your tired feet days are over and will be long ceased. Easy to use and great way to pamper your feet at the end of a long, stressful day. All your body's organs begin or end at the tips of your toes and hands. Gently massaging them for a few minutes will instantly rejuvenate your entire body!
Kneipp, originated from Germany, is a premium brand that stands for health, well-being and wellness. It represents the purity of the natural ingredients, the continuous scientific monitoring of them and the proven quality of the products. Kneipp is the optimum combination of the best of science and nature.

Kneipp Warming Arnica Body Massage Oil is dermatologist tested, perfume-free and has a confirmed skin tolerance with a triple effect of moisture care, warming and relaxing.

Kneipp Warming Arnica Body Massage Oil contains almond oil and shea butter make your skin feel soft and smooth. The warming effect is stimulated by the Ginger extract in combination with a soothing massage that provides a pleasantly warming sensation. Arnica, which relaxes your feet, prevents sore muscles when used in combination with a massage.

Kneipp Warming Foot Balm keeps your cold feet warm and cozy. While ginger and cardamon oil improves circulation, nurturing macadamia oil, honey essence and vitamin E nourishes and protects skin. Kneipp Warming Foot Balm was developed together with a podiatrist, has no preservatives like parabens, has no added colour, no paraffin, silicone and mineral oils and is safe for diabetics, who often suffer from bad circulation in their feet.

A great product when traveling to colder climates to keep your feet warm and cosy, Kneipp Warming Foot Balm is also beneficial for those who suffer from poor circulation in their extremities.
Want to win this pair of tired and sore feet savers? Stay tuned for more information later this week.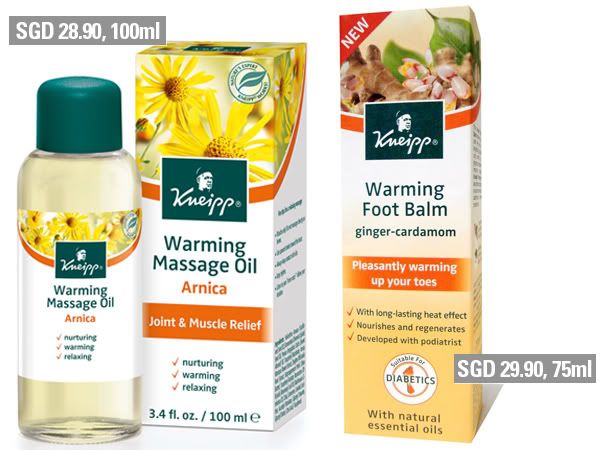 Want to win this pair of tired and sore feet savers? Stay tuned for more information later this week.
Kneipp Products are available at:

Unity Healthcare
2 Jurong East Central 1 #B1-05 Jcube Mall
252 North Bridge Road #B1-44L Raffles City Shopping Centre LINK BRIDGE
62 Collyer Quay #02-01 to 04 OUE Link
Guardian Health & Beauty
290 Orchard Road # B1-20/24
Paragon 101 Thomson Road #B1 United Square
930 Yishun Ave 2 # B1-01/02 Northpoint Shopping Centre
2 Jurong East Street 21 #01-57 IMM Building

Check out what the rest are sharing about Beauty, Cosmetics & Skincare in our Forum!