A good facial gives your skin all the nutrients it needs and lets your skin glow from within. However, the reverse is also true. Sadly, a bad facial can cause more skin problems than you already had. From the salon to the products, right down to the aesthetician attending to you, all these factors decide whether a facial is good or bad.
So, what should a good facial be like?
The salon should be clean and sanitary
The aestheticians take time to understand your needs and are professional and skillful
Skincare should be applied after facial, and the salon should be using good quality products.
No hard-selling tactics involved.
Let's take a more in-depth look at what constitutes a good facial.
1. A clean and sanitary salon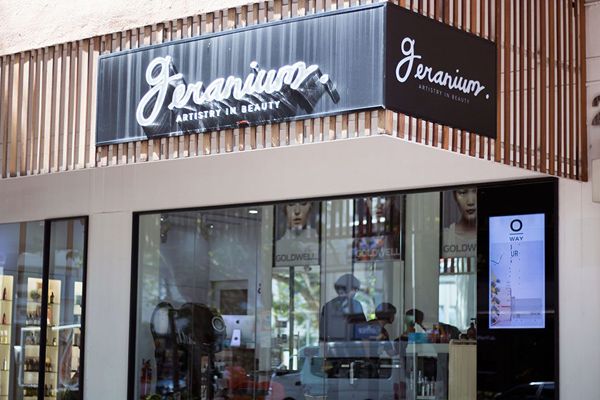 Credit: MyFatPocket Blog Jasmine Yap
Always look out for a clean and sanitary environment. /Credit: MyFatPocket Blog Jasmine Yap
If the front desk and the waiting area of the salon are dirty or untidy, run. Why? This is the area where customers will first see and if the salon cannot be bothered to keep the front desk area clean, we cannot imagine how things are like hidden inside. The towels and all equipment need to be changed and sanitised for every customer since there is skin contact, and if you spot any dirt or weird smells, ask the therapist for assistance to rectify the issue.
2. Consultation is very important!
Credit: MyFatPocket Blog Jasmine Yap
Communication is vital.
A good facial salon will ensure that their aestheticians understand the customers' needs before jumping straight in to carry out a facial treatment. A good aesthetician should ask you questions about your skin type and skin concerns, including questions like whether you have sensitive skin, suffering from rosacea or eczema, whether you have any fillers or cosmetic implants in your face, and what are the skin problems you are facing. Only when an aesthetician understands your skin can she do what is best for you.
3. A professional and skilful aesthetician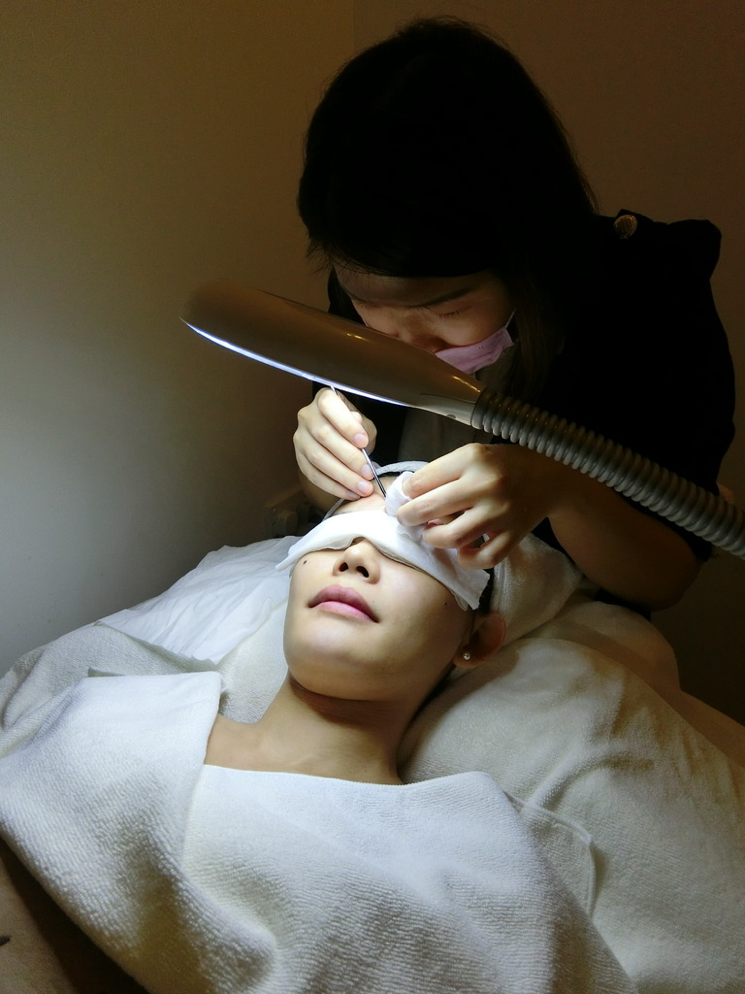 Credit: MyFatPocket Blog Maybeline Sim
A good facial salon should constantly educate their aestheticians to work professionally and training is an endless journey.
Some aestheticians can be really patient and nice, however, what matters most is the aesthetician's skills and knowledge. She needs to know clearly what she is doing and the consequences of her actions.
For example, over-zealous extraction can result in broken capillaries and pitted scars. These can result in lifetime scars if no proper care is rendered to the skin. Hygiene is one of the top priority a good facial salon should educate all their aesthetician on.
A good aesthetician should always wash and sanitize her hands before starting the facial. All equipment and tools should be sanitised before use and cleanse straight after using them to avoid any unnecessary cross-contamination or infections.
Besides that, product knowledge should be at her fingertips to avoid using products that are not suitable for you.
4. An appropriate face massage
Facial Gua Sha at Geranium /Credit: MyFatPocket Blog Jasmine Yap
A facial, unlike a visit to the dermatologist, should also be a relaxing spa-like experience. However, selecting an appropriate face massage technique will deliver the best treatment result.
One of the interesting facial massages we discovered was Geranium's Face Gua Sha which massages our skin and at the same time helps to reduce water retention, reduce fine lines, lift and firms the skin.
Credit: MyFatPocket Blog Jasmine Yap
A facial massage benefits the skin but a good facial should also include a calming and relaxing neck and shoulder massage to help their customer relax after a long day. This will also assist in the absorption of the product when we are well rested.
5. Applying skin care products for the customers after the facial
If a facial seeks to give our skin all the nutrients it needs, it wouldn't make any sense for the aesthetician to let you walk out of the salon with no protection on your face. The aesthetician should apply at least a moisturiser for you, and no one should let you walk out of the salon without a sunblock on!
6. Quality products and treatments
It is crucial to select a facial salon who believe that quality products and treatments are essential to perfect a good facial.
With that in mind, we also understand that quality does not come cheap. Nevertheless, if the result is what we desire, paying a little premium to pamper and improve our skin conditions is all worthwhile.
6. A good match between your aesthetician and you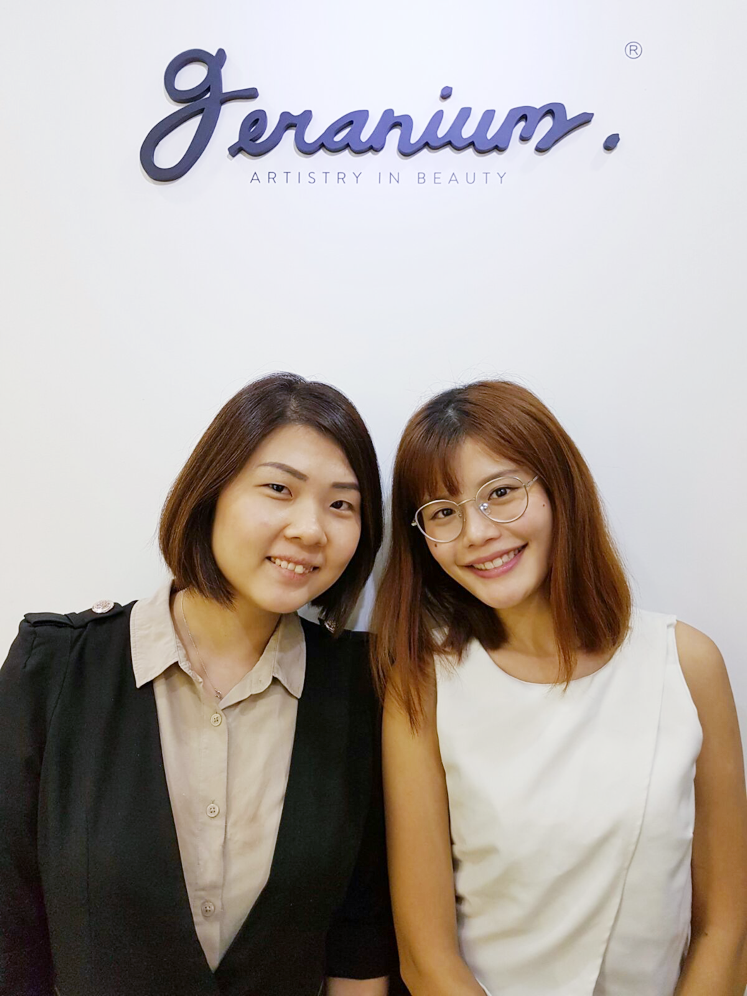 Credit: MyFatPocket Blog Maybeline Sim
Like we mentioned earlier, communication is very important. Aesthetician should understand your daily lifestyle, daily home care and your concerns.
For example, if you are a coffee lover and has dehydrated skin, cutting down on coffee intake can improve your condition significantly.
7. No hard selling tactics
In fact, I think most of us avoided going to facial salons because of this and a good salon who offers a good service shouldn't let their customers feel pressured into buying products or packages.
Many salons will try their best to hard sell you their packages every single time after your facial treatments, and this scares us off so much that we fear for our lives when we go for our facials. It can be really uncomfortable to face the hard selling of products and expensive packages from the aestheticians, and for those of us who aren't that firm, you just felt "tricked" or "forced" into buying all those stuff that you do not need.
Geranium - Artistry in Beauty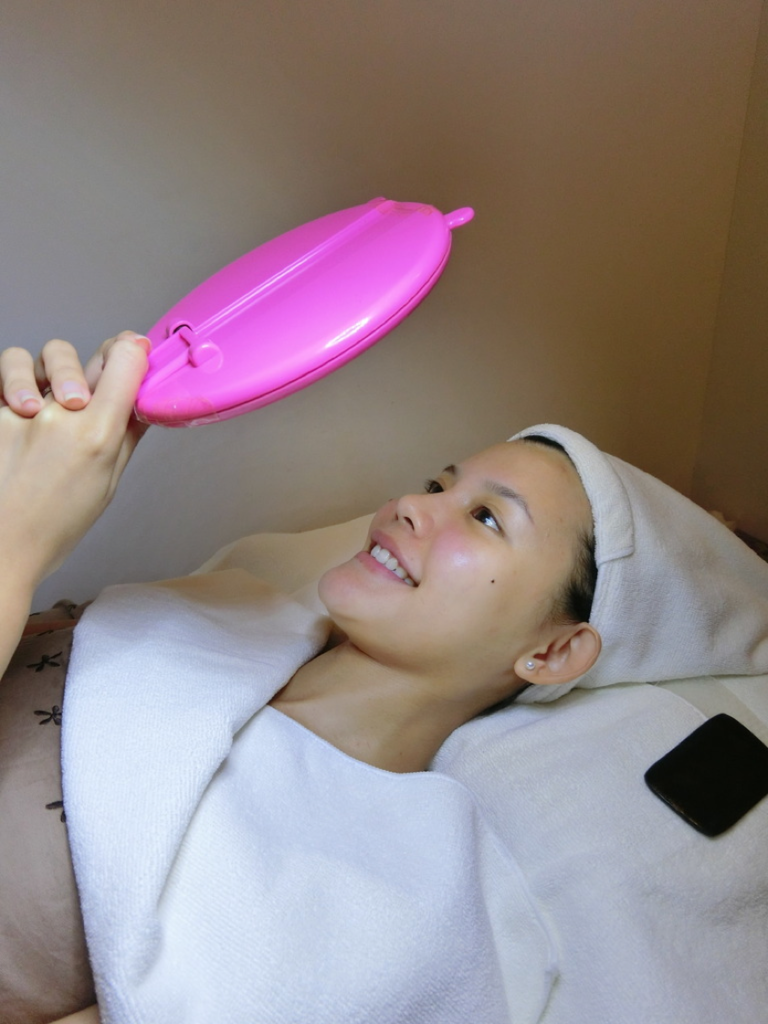 Credit: MyFatPocket Blog Maybeline Sim
If you are looking for a facial salon that can promise you better skin and a relaxing facial experience, look no further than Geranium. Our bloggers went down to try out their services and all of them agreed on their excellent services and they left the salon with bright and glowing skin. You can read our bloggers' reviews on Geranium's facials below:
Blogger Jasmine Yap: Geranium Oxygen Treatment
Blogger Claire Lim: Face Gua Sha and Age Defense Treatment at Geranium
Blogger Maybeline Sim: Geranium Gua Sha Fusion Treatment
Geranium's signature Gua Sha Fusion Treatment
Geranium's signature Gua Sha Fusion Treatment uses pharmaceutical-grade products backed by science, SkinCeuticals, with TCM techniques to introduce an East meet West treatment. It helps to boost skin hydration, reduce the appearance of fine lines and wrinkles, brightens complexion and a gives us a more defined face contour.
Using a board made from buffalo horn to gently massage the skin, our facial muscles are stimulated to achieve firmness. The massage also helps to encourage lymphatic drainage and promote blood and "qi" circulation to promote new cells renewal.
Enjoy 50% off Gua Sha Fusion TM. Valid till 31 January 2017.
And 40% off Geranium's other facial treatments.
Geranium - Artistry in Beauty

Address:
26 Horne Road
BH Building #01-01
Singapore 209062
Tel:
+65 6294 2581
Opening hours:
Tuesday to Friday: 10.00 am – 9.00pm
Saturday: 10.30am – 8.30pm
Sunday: 10.30am – 7.30pm