5 months ago, I had High-Intensity Focus Ultrasound (HIFU) treatment done on my thighs at Halley Medical Aesthetics (check out the post here) and I was really happy with the results. Normally people need at least 3 sessions to see the difference but it only took me 1 to feel and notice.
Dr. Terence Tan also commented that my inner thighs look better now! He was amazed as well and we both know that it would be even better if I were to continue with a few more sessions. But being the impatient me I told Dr. Terence Tan that I would like to try HIFU on my calves instead.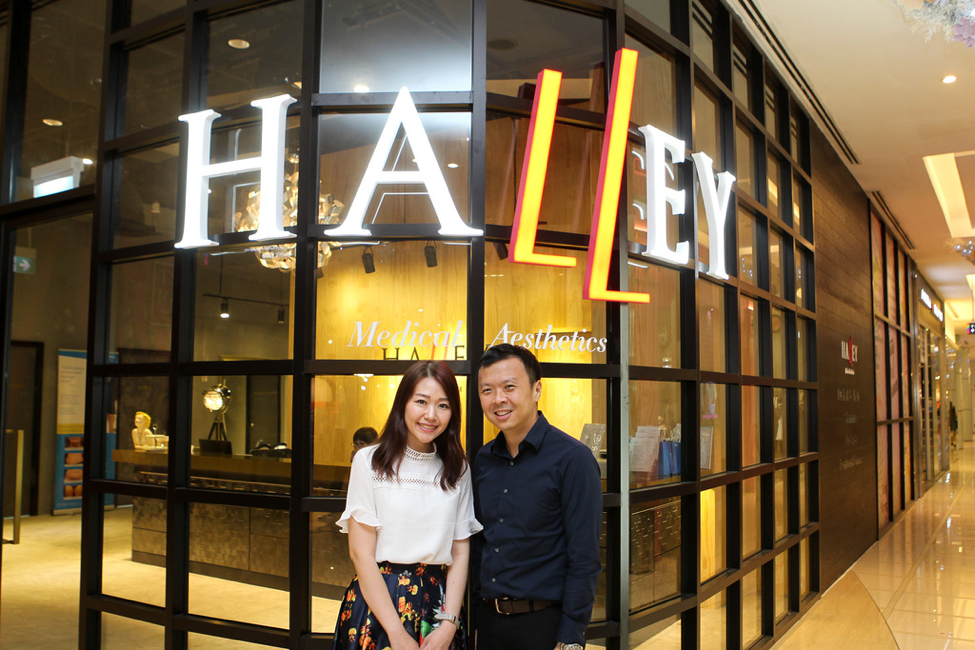 On the review plus consultation day, Dr. Terence Tan measured my calves to make sure that I have sufficient fats for HIFU.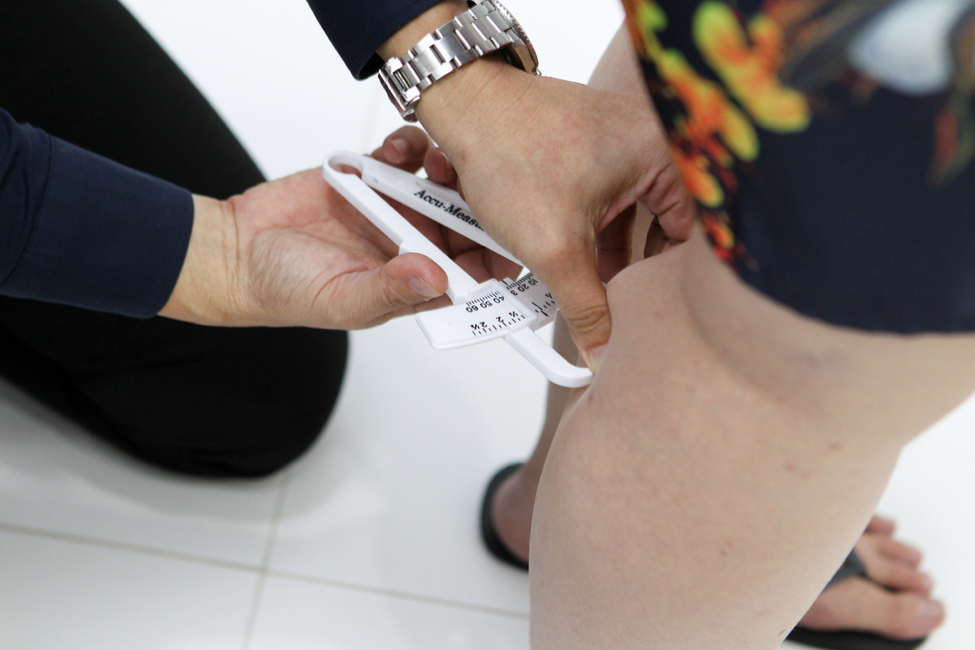 After confirming that it is suitable for me, we finally arranged a date to do the treatment!
The appointment date itself was on 30th November, and I was so excited for it! I really want to see myself having smaller calves and I was looking forward to the treatment! Women are all like that, once they are done getting upset with one part of their body, they complained about other parts. I am a woman, and so now my problem is my calves.
Like how it works the previous time, Dr. Terence Tan first drew markings on my calves.
These are the places where all the fats cells are going to be destroyed.
The assistant then proceeded to apply numbing cream on my calves.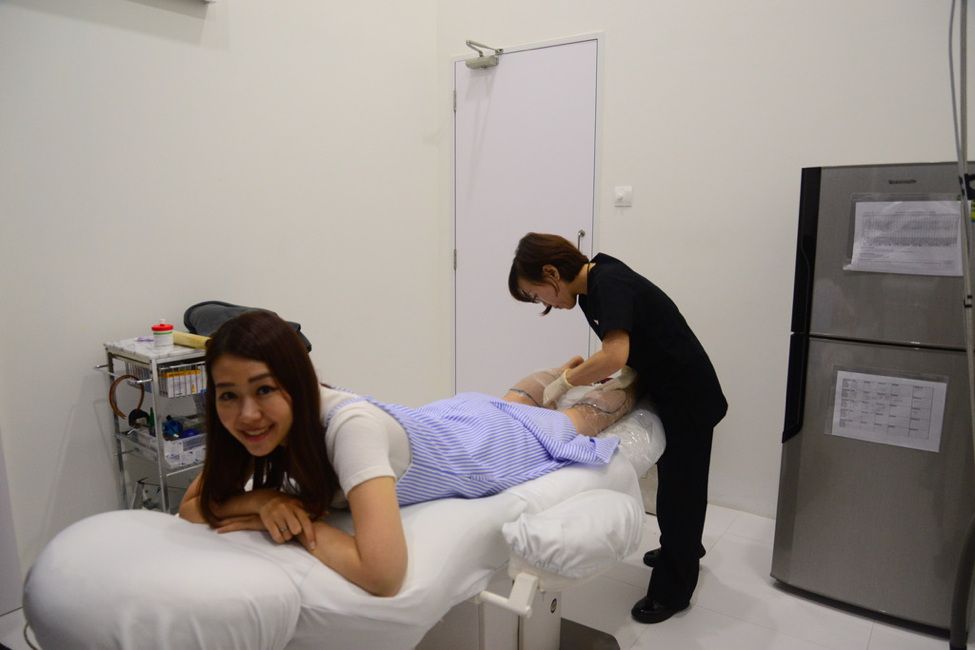 About 20 minutes later, Dr. Terence Tan walked in and asked if I'm ready for the treatment. Of course I am I said! Even though I still remember that this treatment comes with some discomfort too. Lol!
Even though I have done this before I'm still nervous!
Don't worry about the discomfort people, Dr. Terence Tan always cracks jokes and tries to distract you with his jokes. It works by the way. It is also comforting to be treated by a doctor who personally understands the challenges that people face when it comes to weight loss. He himself battled with weight problems, and he even has a personal blog to talk about how he continues to keep his weight down.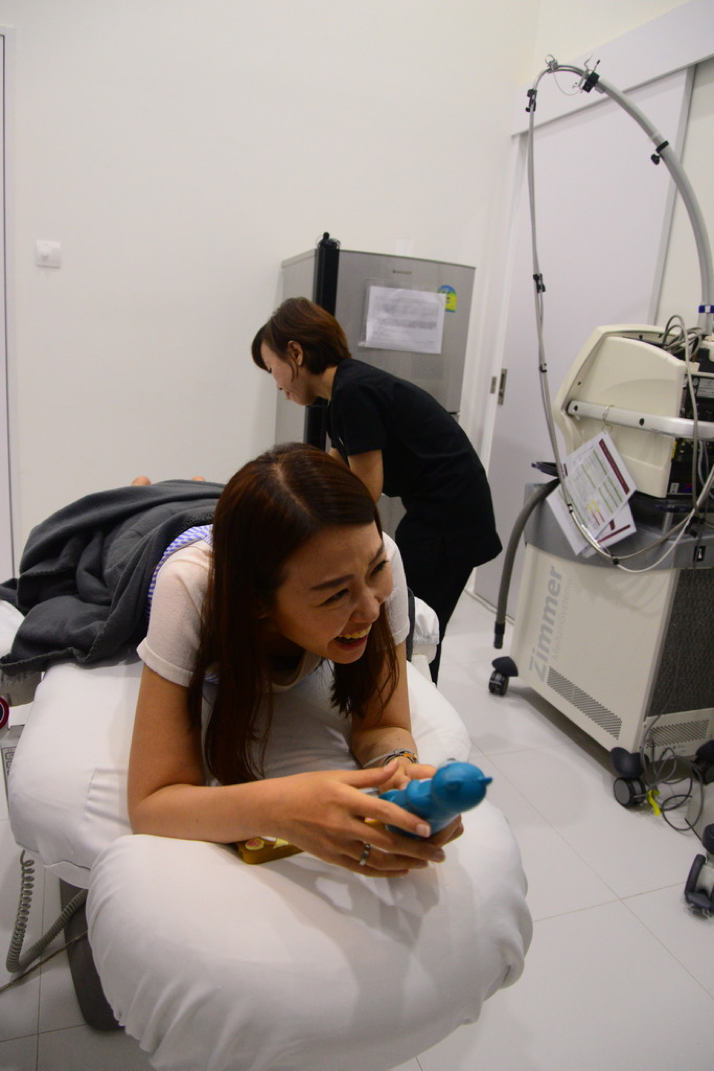 Dr. Terence Tan measured my calves again before the treatment.
and finally the HIFU (High Intensity Focus Ultrasound) treatment starts now!
HIFU on the calves is faster than the thighs because the area is smaller and for fat reduction, the depth of the ultrasound energy used is different too. He only used the 7mm probe this time as there isn't enough fat in the calf area to go deeper than that. What this means is that ultrasound energy is focused directed at exactly 7mm beneath my skin surface to target and remove the fat cells. This technology makes HIFU a no downtime treatment as it doesn't damage the surface of our skin at all.
When the probe is placed on my calves, it felt like many needles are poking deep into my legs but the discomfort is bearable.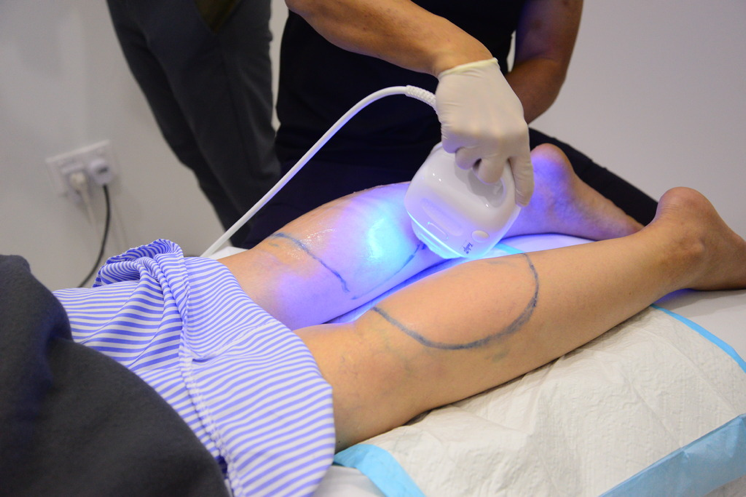 I think the level of discomfort for both the thighs and calves is similar. Just that the treatment for calves is so much faster! The whole session only took about half an hour!
Result will only be seen 1-3 months later as the body needs time to eliminate the fat cells. To see significant results, multiple sessions are recommended as well. The treatment interval is 1 month apart so it's very easy for busy people like us! Now I am patiently waiting to see the difference and I can't wait to do the next treatment!
Once again, Thank you Dr. Terence Tan and Halley Medical Aesthetics for helping me and I really hope that this treatment will help my calves to become slimmer. If it works well for me I will definitely share it with you!!
As usual, if you're interested to know more just feel free to drop me an email at This e-mail address is being protected from spambots. You need JavaScript enabled to view it ! You can also find out more from Halley's website http://www.halley.com.sg/ or facebook.com/halleymedicalaesthetics. Alternatively, drop them an email at This e-mail address is being protected from spambots. You need JavaScript enabled to view it or call them at 6737 8233.
Halley Medical Aesthetics is located at 277 Orchard Road, #03-15 Orchard Gateway, 238858.
Till the next time people!