Not too long ago, it suddenly dawned upon me that my liquid foundation seemed to run out much faster and my make up routine longer than it had been in the past!
I realized that age has taken a toll and the hormonal effects during my pregnancy deteriorated my skin condition quite a bit, leaving it looking dull and tired. And I had been piling on more foundation even without realizing it!
This, was a big no no and quite upsetting to me. I've always been a firm believer that (outer) beauty should come from good skin health and not your makeup! I mean sure, I love me some makeup and I know my friends think that way too, judging from the wide range of makeup products I receive as gifts... But honestly, I'm really quite boring when it comes to my stash. On rare occasions, I'd explore a little colored eyeshadow or bold lipstick. But 90% of the time, I stick to my trusted and boring basics like black eyeshadow liner and a little blusher.
I evaluated my skincare products but also realized that most of these over the counter products and normal facials, while often targeted at prevention, can't do much to reverse the effects of acne scarring, brown spots or ageing.
So I decided to visit Halley Medical Aesthetics where I shared these concerns with Dr Terence Tan. I also explained that I wasn't quite open to anything surgically invasive or even injectables like Botox or Fillers. I was relieved when he assured me that there were many other options available and after a skin analysis, he recommended me 3 sessions of Fraxel Laser treatment that effectively uses laser light energy to target both the inner surface and deeper layers of the skin to treat my various concerns. The Fraxel Laser treatment is able to treat a wide range of different skin problems like wrinkles and fine lines, age spots, sagging skin, skin pigmentation, and acne scars.
Dr Terence Tan explained that there is no to very minimal downtime because this laser only treats a fraction of the skin at one time, leaving the outer layers of the skin surface unaffected. This will allow the skin to heal faster unlike traditional fractional laser. It would involve a little discomfort as with most laser procedures which can be relieved through numbing cream and cool air blasts. After the procedure, there would be some redness akin to a bad sunburn and very slight swelling for 2-3days. But most people return to normal activities immediately after with no problems.
Being the cautious and non-risk taker that I am, I told him to give me a few days to read up more on it and would get back to him. Loved that he wasn't pushy at all and was sincerely ok with the time I needed before deciding.
After much researching and thinking about it for the next 2 days, I concluded that it was worth going for though, honestly, I was a little skeptical about the downtime(most online said 5-7days of redness) and unsure about how uncomfortable it'll be.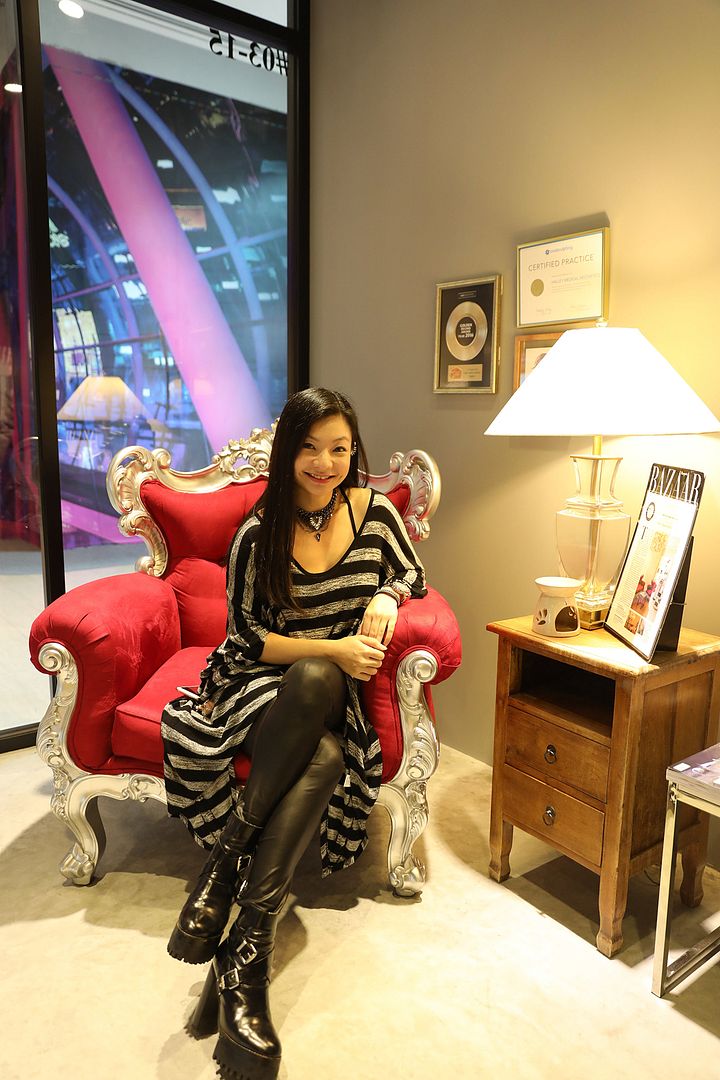 SUCH A PRETTY WAITING AREA...
On the day of treatment, Dr Terence Tan really put me at ease by going to lengths to show me the Fraxel Laser machine and patiently walked me through the whole procedure. The nurses were super thorough and attentive too. You can tell that they valued excellence and customer service. After the numbing cream took effect, doc proceeded with the treatment.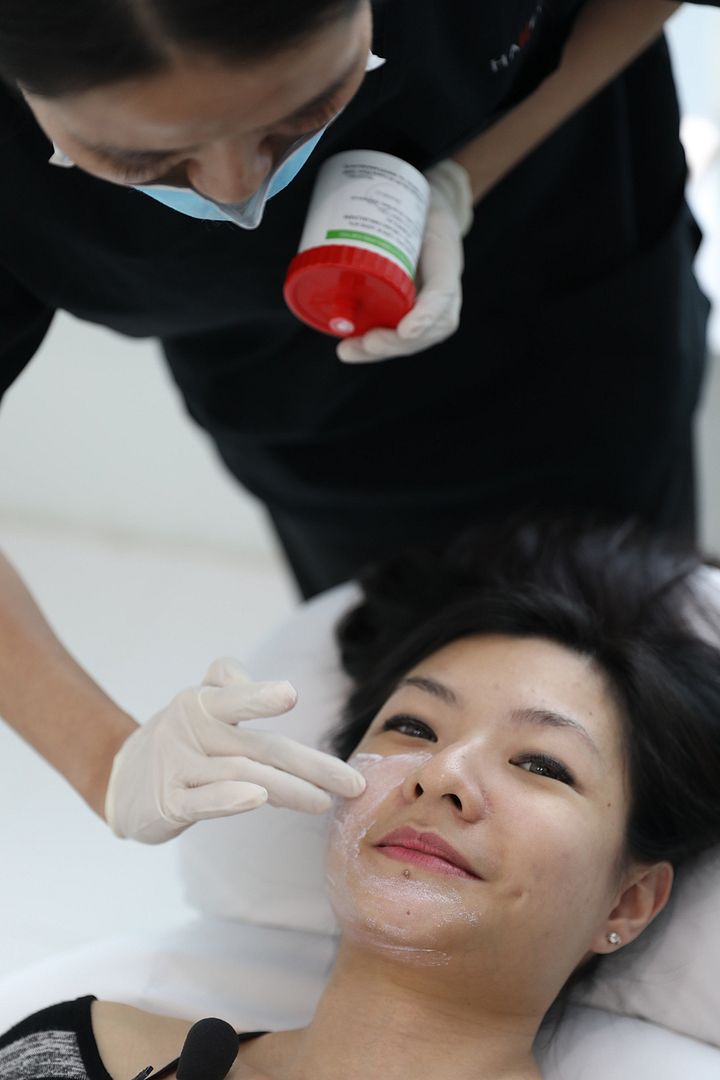 MY VERY ATTENTIVE NURSE APPLYING NUMBING CREAM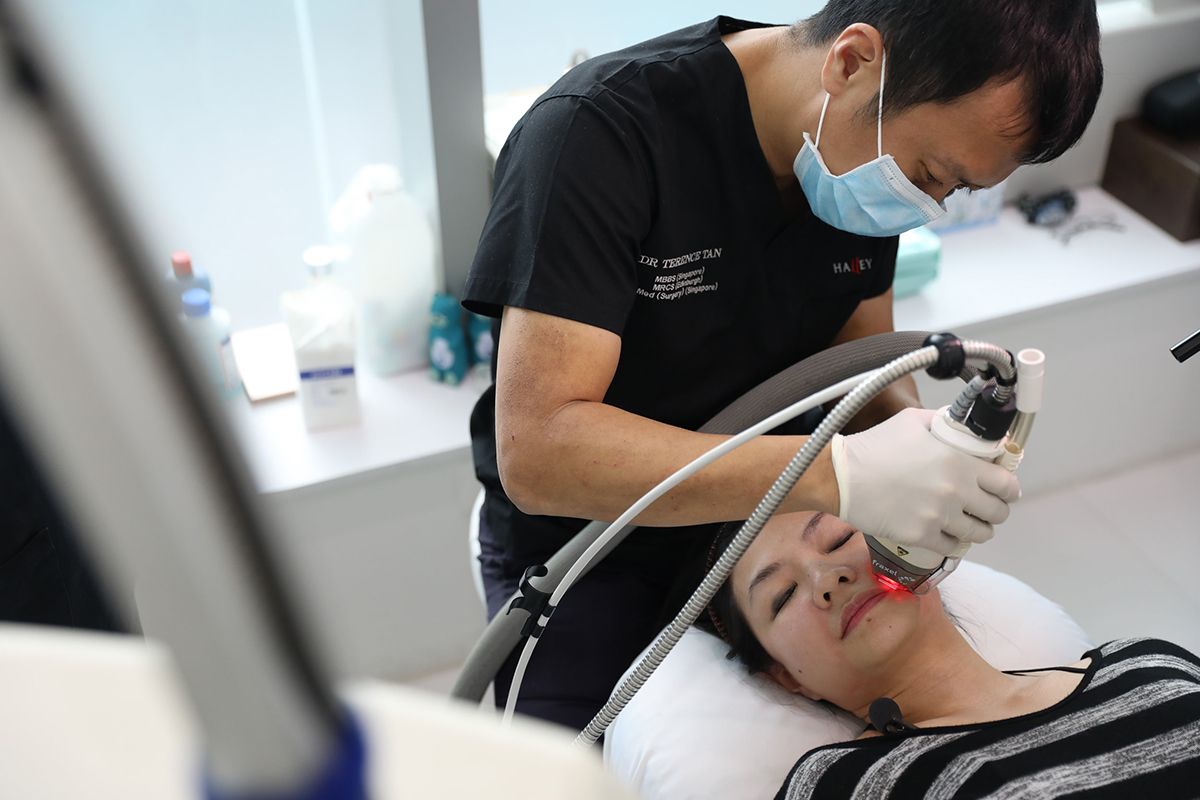 DR TAN SKILLFULLY WORKING THE FRAXEL MACHINE
After the first few swipes of the handpiece, he checked if I was ok and if was it uncomfortable. To which I replied it was bearable. Though after a few more swipes on the same area and on certain areas, there was a slight discomfort. But because Doc kept checking with me as he went along, I felt in control. For e.g., he would ask me to number my discomfort level from 1-10, or he would ask if I want to lower the intensity of the machine a little (which I did once or twice) etc..
IMMEDIATELY AFTER THE SESSION!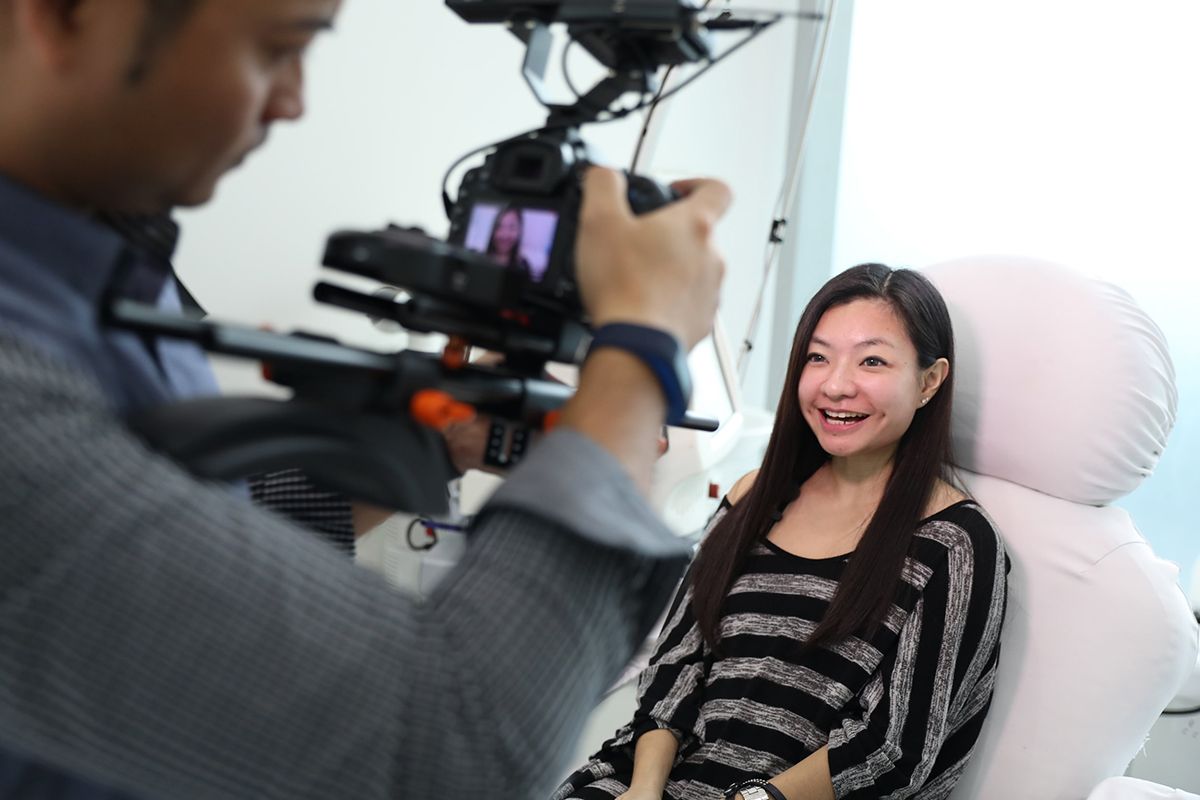 SHARING MY EXPERIENCE ON THE WHOLE PROCESS
Another reason I was really happy with the Fraxel Laser treatment was because I could return to work immediately after and no one noticed the slight redness and swell that he had prepared me for. Even my closer friends didn't notice when I asked them point blank. The second and third day, I had to use a little foundation to cover up the redness to avoid looking like a sunburnt lobster.
But indeed by Day 4, it cleared and by the end of a week, I could start seeing some effects of the treatment! My acne scars and brown spots lightened and generally had more radiant skin. In fact, I reduced my liquid foundation to just one pump for my whole face and even skipping concealer too! As a full time working mummy, the time saved from my makeup routine is so precious and much welcomed! Looking forward to my 2nd and 3rd treatment results already... :)
If you are interested to find out more, you can visit www.halley.com.sg or call 6737 8233 to make an appointment for a consultation. Feel free to drop me a comment below or email me at This e-mail address is being protected from spambots. You need JavaScript enabled to view it to ask any questions! I'd be most happy to answer them... ;)