Beauty
Wednesday, 23 May 2018 09:40
Both peach and pink eye makeup have been in the lead for a while and what better way to wear them than to combine both into one for a fresh Spring/Summer makeup look?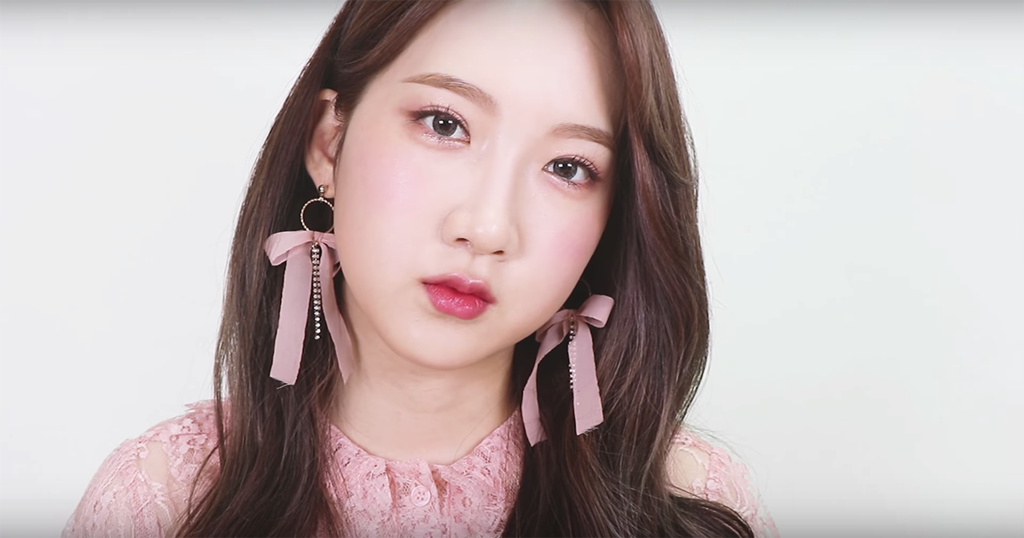 Credit: Youtube cococho 코코초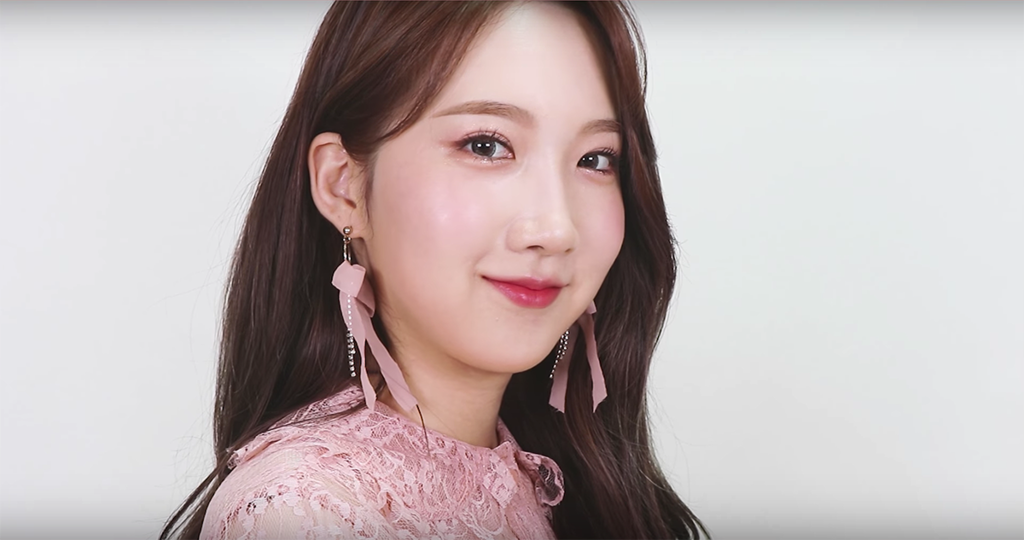 Credit: Youtube cococho 코코초
Korean beauty Youtuber cococho used peach and pink on her eyes, a rose colour on her lips, and combined with the flawless base that she created, she looked absolutely feminine and stunning. Copy her look by watching her step-by-step guide below.
Tuesday, 22 May 2018 14:19
If Leonardo da Vinci is alive, I'm sure he would give Yuya Mika's post a double tap on Instagram.
There are so many great makeup artists on social media who can turn themselves into any celebrity they want to. However, a Chinese blogger, Yuya Mika, decided to take things a step further and transformed herself into... wait for it... Mona Lisa.
Credit: Wikimedia / Instagram @yuyamika
Yuya Mika is rather new to Instagram but she has racked up substantial views on her Youtube channel and Instagram posts with her talent. Watch how she uses makeup to turn herself into the famous Mona Lisa in her Instagram post below. It's jaw-dropping!
Monday, 21 May 2018 11:52
The royal wedding took place on 19th May 2018, and Meghan Markle married Prince Harry in a heartfelt ceremony at St George's Chapel in Windsor.
Credit: Getty Images
The beauty-obsessed amongst us would have noticed not just the coming together of a beautiful couple and the fairytale moments of the wedding, but also the hair, makeup, and wedding dress of the Meghan Markle, now the Duchess of Sussex.
Credit: Getty Images
Meghan Markle's makeup was classy and natural. She got her makeup artist friend, Daniel Martin, to create her look for her, and she specifically asked him to keep her base looking natural and to allow her freckles to show through. Meghan Markle shone with the natural look with brown smokey eyes, a touch of blush, and pretty pink lips.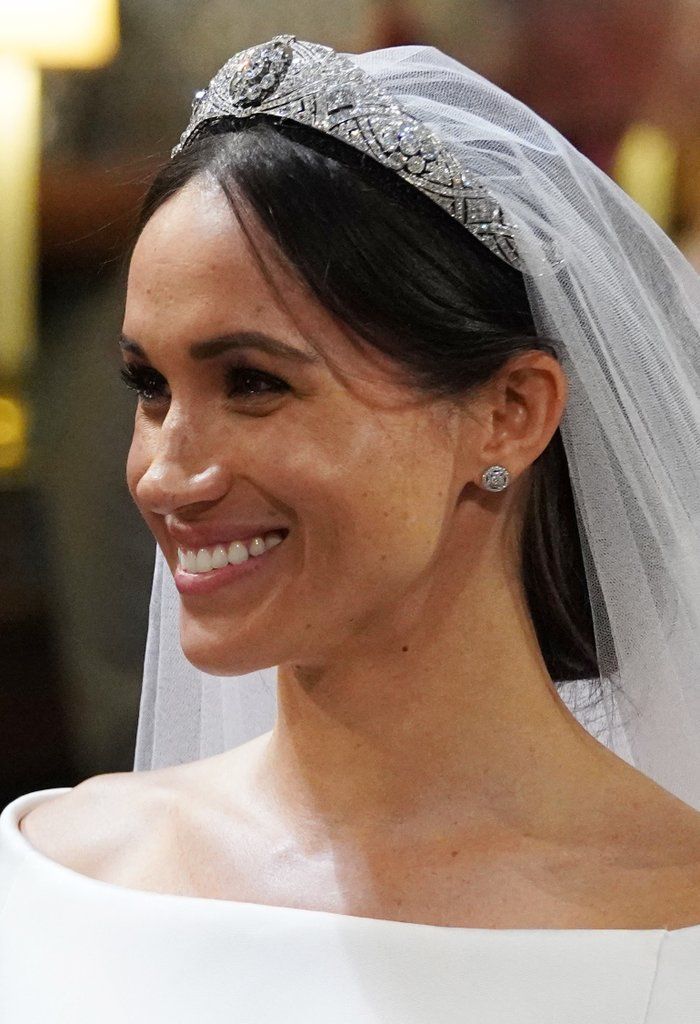 Credit: Getty Images
While Kate Middleton wore a half updo on her wedding day, Meghan Markle opted for an updo done by Serge Normant. Her 5-metre veil was held in place with a diamond tiara which was lent to her for the wedding. The stunning tiara was made in 1932 with brilliant diamonds that dates back to 1893 and the center brooch was a gift given to then-Princess Mary in 1893 by County of Lincoln on her marriage. The crown and the brooch was subsequently bequeathed to Queen Elizabeth II in 1953.
Credit: Getty Images
Congratulations to the royal couple and may they live happily ever after!
Friday, 18 May 2018 21:25
Freeze those stubborn fats with CoolSculpting at Halley Medical Aesthetics! 
STUBBORN MOMMY FATS!!! As a busy working mom who is time-starved and hardly exercise - if you think exercising once a week is good enough - I find it hard to lose those weight accumulated at the wrong parts of my body, and they are so stubborn! I have to resort to aesthetic treatments to reduce these stubborn fats on my mommy tummy and thunder thighs. 
I went to Halley Medical Aesthetics at Orchard Gateway to meet Dr. Terence Tan for a consultation to help me deal with the stubborn mommy fats and he advised to focus on my thighs first. As I wanted to see visible results without going under the knife, he recommended CoolScuplting as a solution because it is non-invasive, non-surgical and there's completely no downtime for this treatment!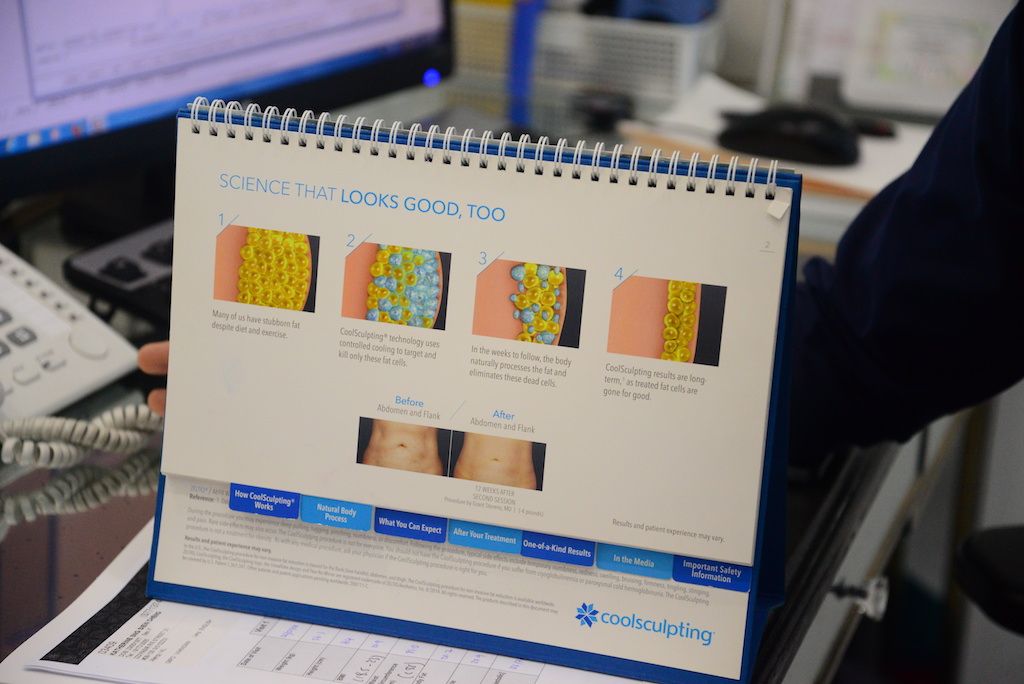 Dr. Tan gave me insight on the CoolScupting treatment - the only US FDA-approved fat freezing treatment, using the concept of cryolipolysis to freeze and destroy unwanted fat cells which will be disposed from the body naturally. The CoolScuplting treatment helps to remove 20-25% of fat cells in the treated area each time, and the fat cells that 'dies' after fat freezing will be gone forever because our body is unable to produce any new fat cells after five years of age. Hence CoolSculpting is preferred to other treatments used to remove unwanted stubborn fats in some areas, which cannot be removed through spot toning exercises. 
Dr. Tan is very experienced and knowledgeable in the field of CoolScuplting and attended to all my questions which were holding me back. He was very jovial and assured me many times that I would be able to see visible results and that pushed me forward to consider and did CoolSculpting Treatment! To make it more convinced, I found out Dr. Tan also uses the latest CoolAdvantage applicator - featuring an enhanced cup design for improved comfort as well as a larger cooling area to treat a bigger area - under the CoolSculpting family which reduces treatment time by nearly half.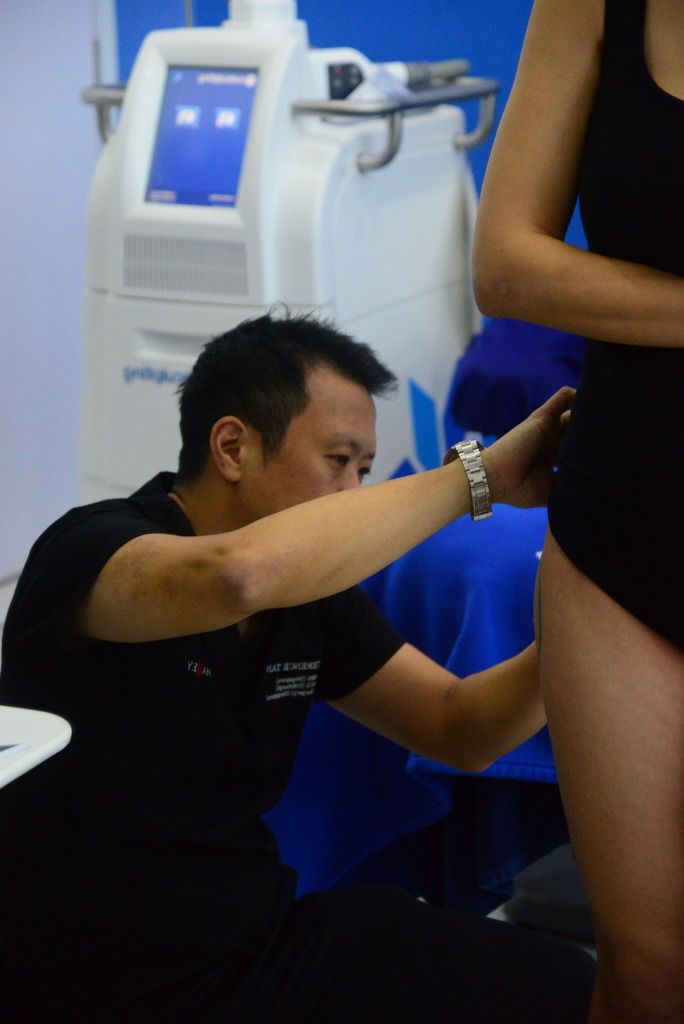 After my consultation, Dr. Tan prescribed the latest version of the CoolSmooth Pro, which features the same CoolAdvantage technology, for my outer thighs and CoolFit Advantage for my inner thighs. To ensure that the CoolSculpting applicators are applied accurately on my troubled areas, he used the CoolAdvantage templates to mark out the areas that needed treatment first.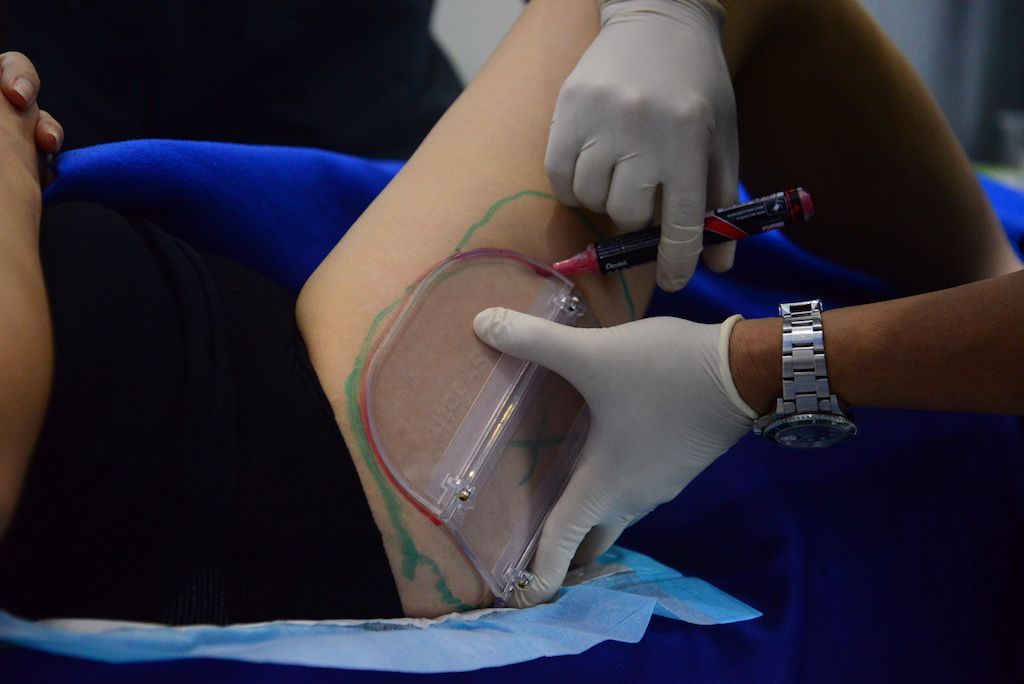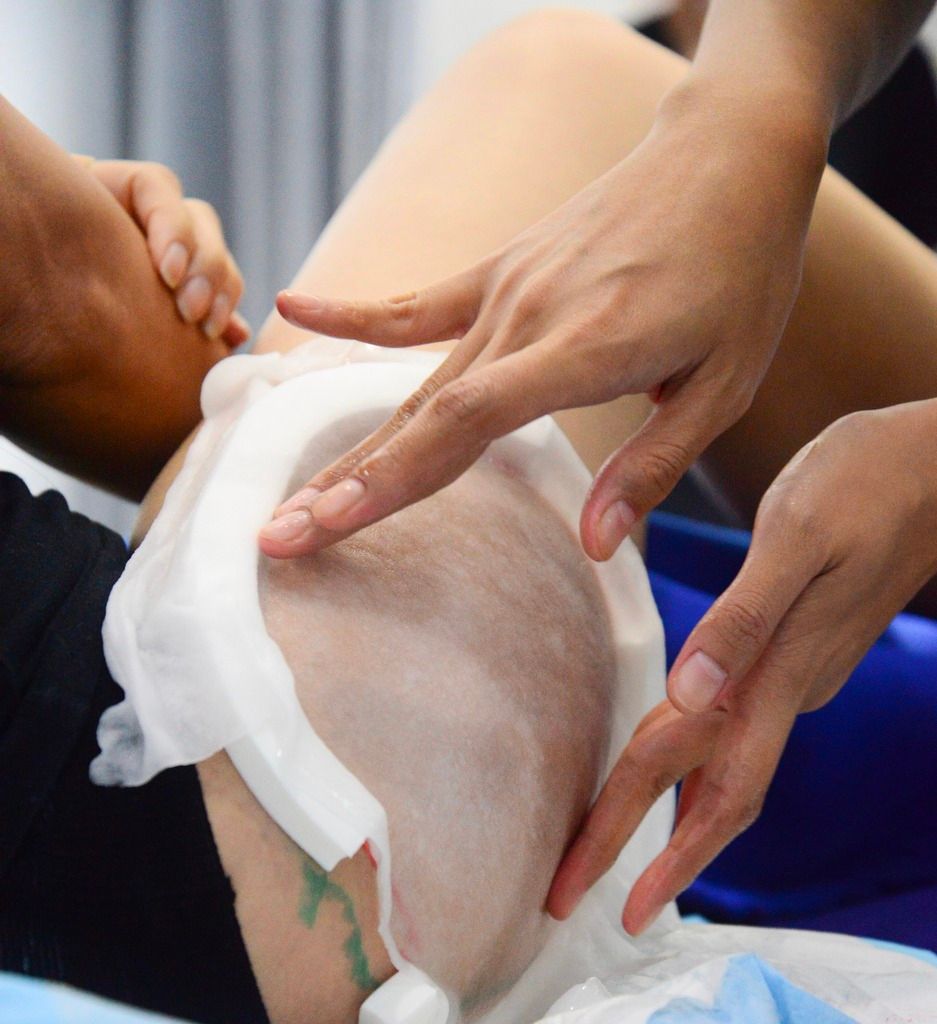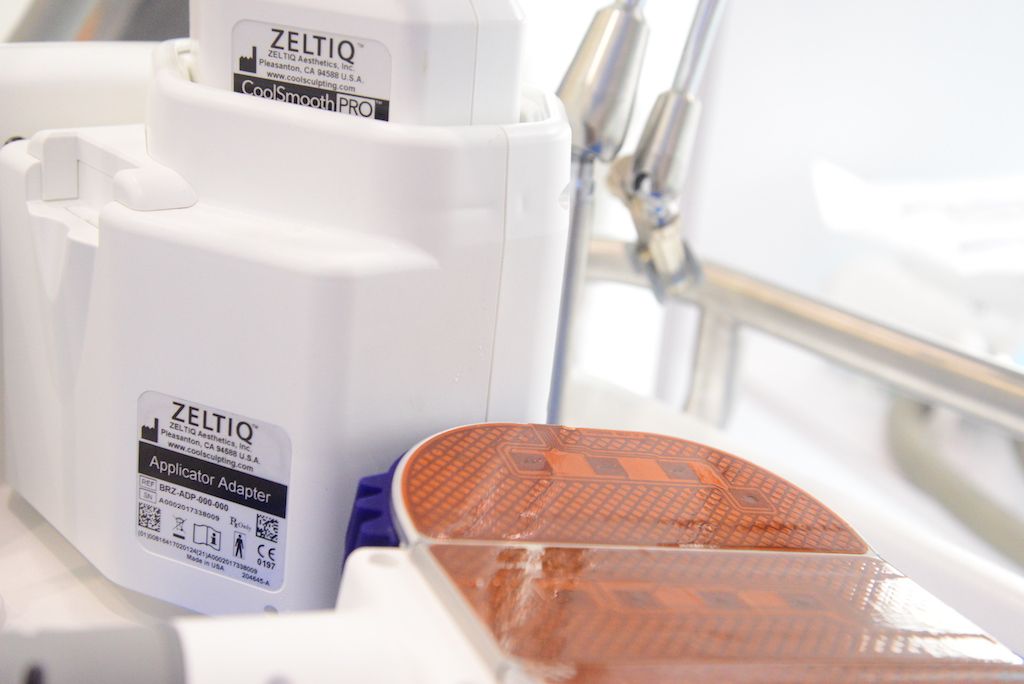 The clinic assistant then applied gel pads onto the marked-out treatment area, which will protect the skin during the treatment. The team then proceeded to use two CoolSculpting machines to treat my left inner thigh and right outer thigh at the same time. Halley Medical Aesthetics is one of the few clinics in Singapore that offers DualScupting, which is the use of two or more CoolSculpting machines in tandem to reduce treatment time by half. Throughout the treatment process, I was comfortably seated and was still able to work on my phone and take phone calls. When this cycle was completed, the team then proceeded to treat my right inner thigh and left outer thigh together.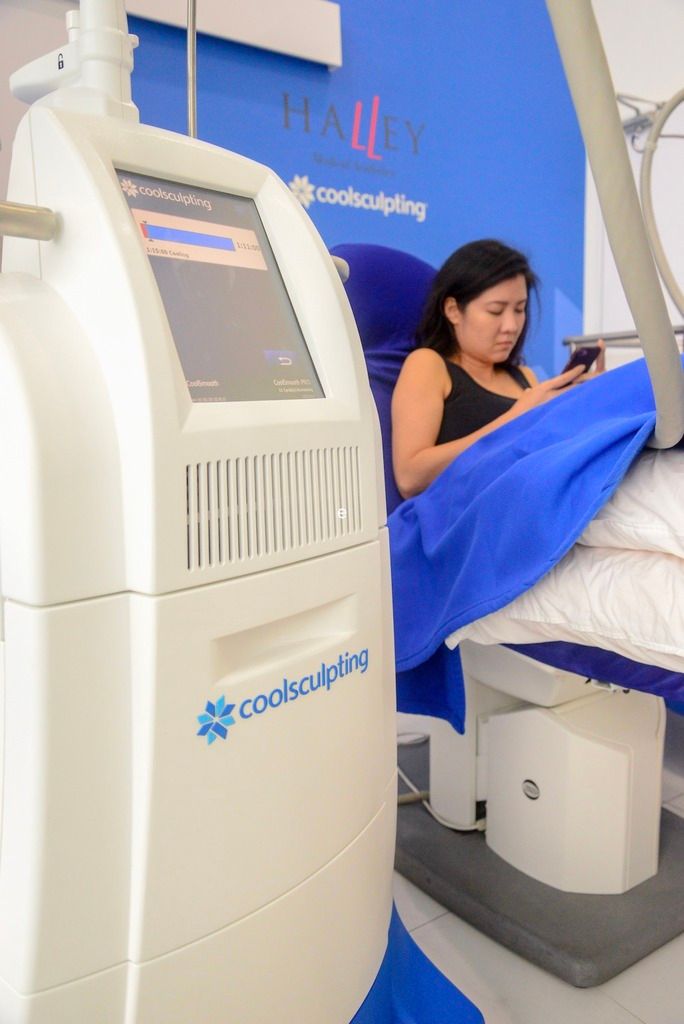 After each treatment cycle was completed (35 minutes for inner thighs and 45 minutes for outer thighs), the clinic assistant removed the applicator and massaged the treated area. When the clinic assistant was massaging the treated areas, it felt really ticklish with jabs of bearable ant-bite sort of sensation. I was told the massage helps to break down the crystallised dead fat cells, which would be passed out by the body.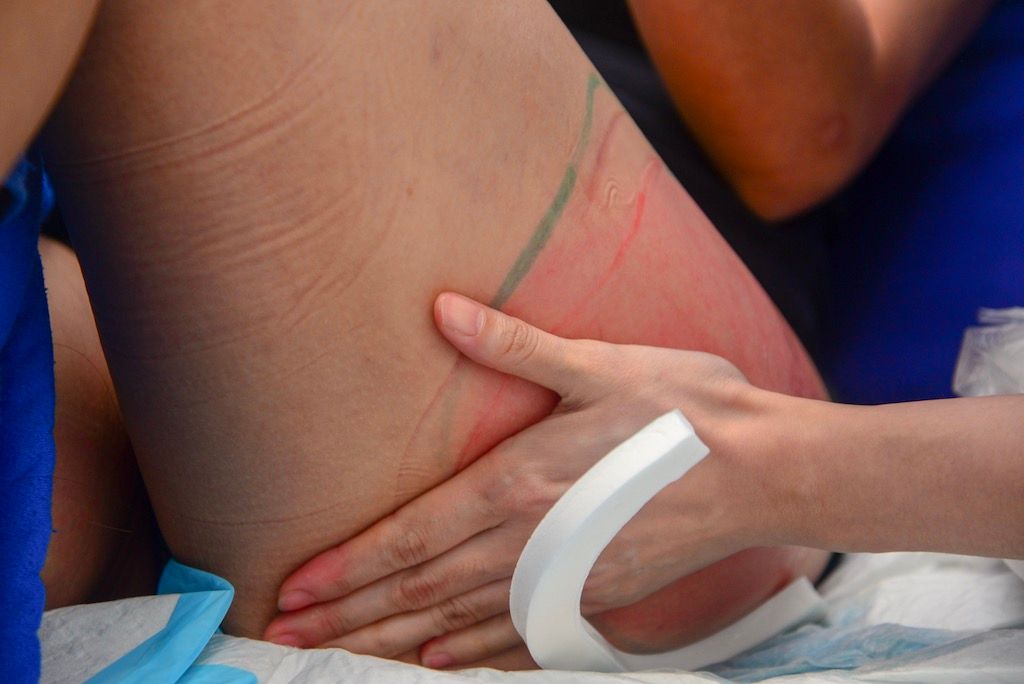 I would highly recommend CoolScuplting to someone who is struggling with stubborn fats and doesn't want to go under the knife. Stay tuned for my review in about 2 months' time.
Halley Medical Aesthetics
Orchard Gateway
277 Orchard Road, #03-15
Singapore 238858
Tel: 6737 8233
Friday, 18 May 2018 07:00
Spring calls for a fresher take on makeup, and as we ditch the darker tones, we welcome the more subtle pastel shades.
Credit: Youtube 체스 CHES
Pinks and corals have been gaining popularity as they give the users a touch of colour and a youthful yet sophisticated look. Let's watch the video below and let Youtuber 체스 CHES teach us how to create a very natural and feminine pink makeup for Spring time.
Page 1 of 297
<<
Start
<
Prev
1
2
3
4
5
6
7
8
9
10
Next
>
End
>>