Beauty
Tuesday, 22 August 2017 09:33
Have you read my Instagram post about my experience at Annabelle Skin?

Here are the details about the facial treatment I had that uses Dr Belter products if you are keen to know more. This is my second month with Annabelle Skin (an exclusive salon for Dr.Belter's treatments!) and I am using Dr Belter products on daily basis now. Without further ado, let's start the story of my journey to better and more beautiful skin!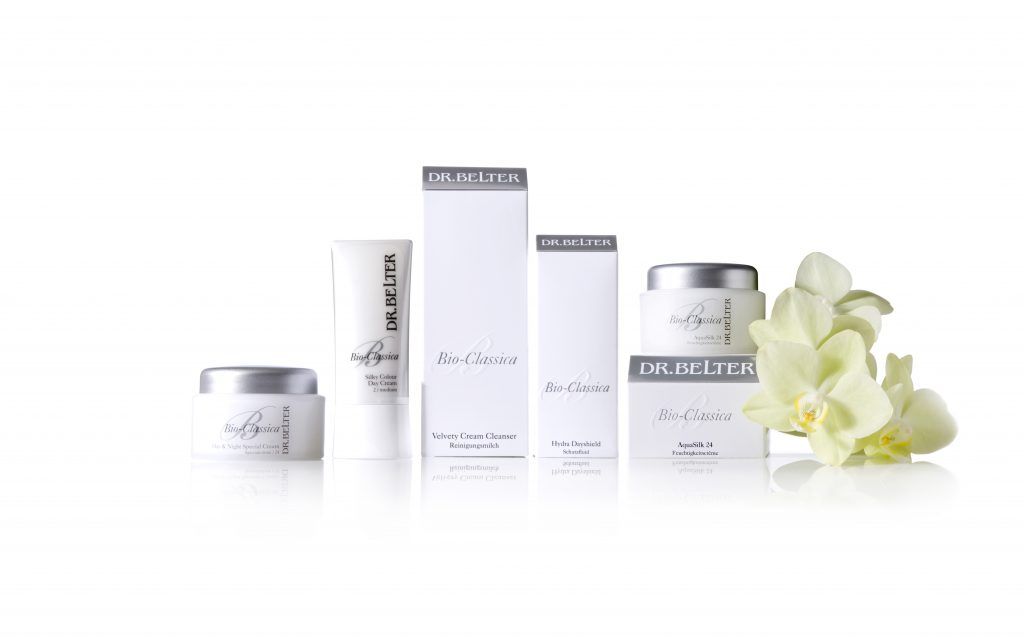 About Dr. Belter Cosmetic
Dr. Belter Cosmetic is a professional beauty care with natural and effective products made from selected, high grade raw materials. Originating from Braunschweig, Germany, the brand's treatment range consists of 11 care lines for the optimal and methodical care of every skin type and age group.
There are a variety of products for personal care as well as an extensive range of products in professional sizes for beauty salons, including various special treatments.

Dr.Belter Cosmetic is inspired by the fascinating diversity of nature and constantly transfers this into new active substance formulations, using precious domestic and exotic botanicals. A special quality feature is the mineral and silicone oil-free basis of all skin care preparations which consist of 95-100 % natural ingredients.
Facial Experience with Annabelle Skin & Dr. Belter Cosmetics
1st Facial: Shake-it! Luxurious Detox Anti-oxidant Mask treatment
Prior the facial treatment, they performed a skin analysis to assess my current skin condition. Shirley (the owner) herself done an assessment on my facial skin. She is very experienced on skincare and I was so amazed by her skin, she maintained it very well and her skin was glowing with minimal makeup.
During the skin analysis, they found my skin to be badly clogged and dehydrated in some areas. As seen on the photo, oil seeds were found on my face and Shirley recommended to have it removed. Besides that, they also found pigmentations that were starting to develop within my freckles area.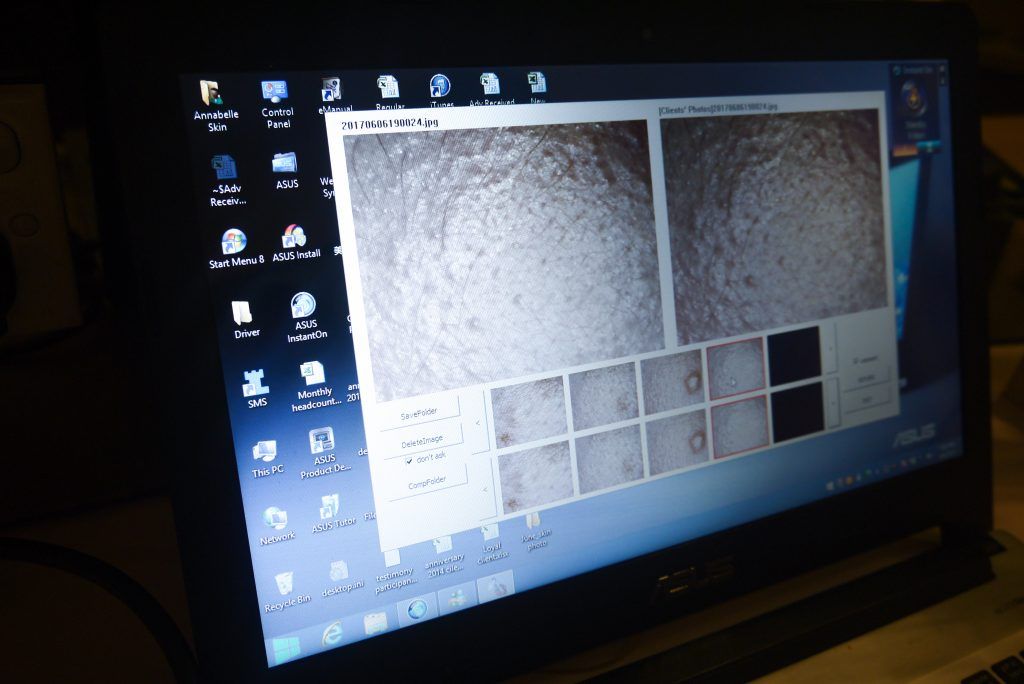 The oil seed enlarged view. OMG, it was super huge!
An enlarged view of clogged pores around my nose area.
Dehydrated skin enlarged view on my forehead area.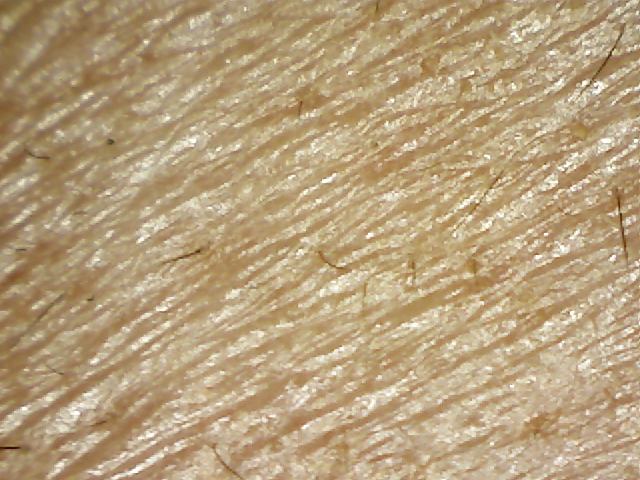 An enlarged view of my freckles around the cheek.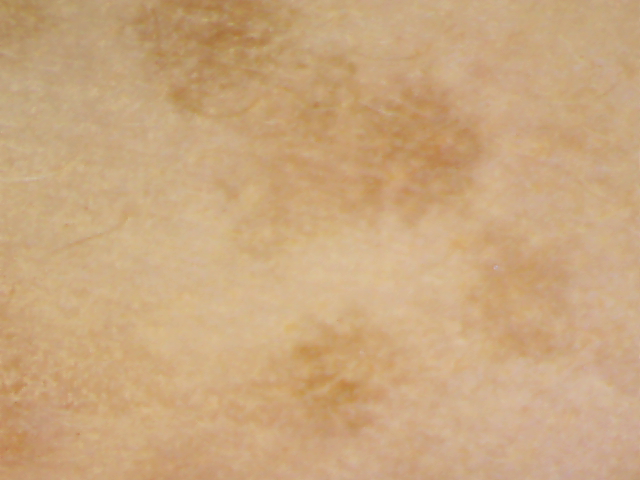 Annabelle Skin customize treatments in accordance with our skin condition which will specifically help to address and target problem areas better. Therefore they recommended The Dr.Belter Cosmetic [Intensa Line] Shake-It! Mask.
It's a detoxifying and moisture-binding double mask treatment that works like an effective anti-pollutant remedy and skin nourishment for the face, neck and décolleté, an area that is often neglected during beauty care.
Developed with the signature GreenTec concept which combines natural and botanical plants with high-tech pro-medical active ingredients, the new treatment targets tired and aging skin by giving it a refreshing boost to energise the skin's overall appearance.
This treatment active ingredients are Phyto stem cells from apple Fucogel®, Strawberry extract, Vitamin C, active charcoal detox-complex.
The treatment started with cleansing by using Line »N« Cleansing Gel & Line »N « Lotion Orange and peeling by using »intensa®« Enzyme Cream Peeling with a mask brush, followed by extraction.
Extraction is done with their unique technique to remove my blackheads, clogged sebum and oil seed. Fine needles are used to prevent the pores enlargement during the extraction process. As a result, it was not as painful as compared to conventional extraction and redness was gone within a few hours.
Subsequently, they followed with an application of detox mask »intensa®« Shake it! Mask PeelOff – Carbon D-Tox (active charcoal, detox complex with ivy and sunflower, alginate).
Followed by ampoule »intensa®« Ampoule 2 Hy-O-Silk (Silk Extract, silk proteins to increase smoothness and fairness of skin tone; 5 elements of Hyaluronic Acids to increase both long-chain and short-chain hyaluronic acid which helps to provide hydration to epidermis and deeper skin tissue, to prevent TEWL – Trans-Epidermal Water Loss, as well as to enhance the production of hyaluronic acid; Vitamin C and E)
Lastly, application of nourishing strawberry mouse mask »intensa®« Shake it! Mask & Massage CreamMousse – Anti-oxidant (Strawberry extract, Vitamin C).
They also applied eye and lips care by using »ocula« Eye Lid lotion on eyes and lip area.
Mandy (the beautician) treated me with massages around neck, shoulder and décolleté which help me relax throughout the treatment. She was very friendly, attentive and caring.
Mandy also shared some useful beauty tips to maintain facial skin. She even knew my habits just by analysing my face shape; she told me that the direction I used to wash my face (downward) can cause saggy cheeks, therefore she recommend me to wash in the opposite direction (upward).

This treatment ended with finishing care by using line »N« Cream Vitagel C/E and a face cream from line »intensa®« Multibenefit CBcolorbalm15.
I love the overall treatment experience! I really enjoyed the summer nourishing mask with intensa® Shake it! Mask & Massage Cream Mousse, that is made from Strawberry extract and Vitamin C.
The strawberry extract smells really nice and the mask is very cooling. Immediately after the treatment, my overall skin tone improved, and it was definitely brighter and clearer. There was an "after facial glow" too!
Within a week after using Dr.Belter Cosmetic's products, my skin condition improved. The spot where they found an oil seed and removed it is now completely healed without any scar. My skin now has better hydration, resulting in a more radiant looking complexion and there are now less clogs on my skin.
*The Dr.Belter Cosmetic Intensa Line Shake-It! Mask treatment is available at SGD238 and is suitable for both male and females, and all skin types. Quote my name "YUNI" and get 50% off your first treatment at Annabelle Skin!
2nd Facial: Dr.Belter Fan Brush Lifting Treatment
On my second visit for my monthly facial, Annabelle Skin recommended Dr.Belter fan brush massage, this treatment is for firming and hydrating facial.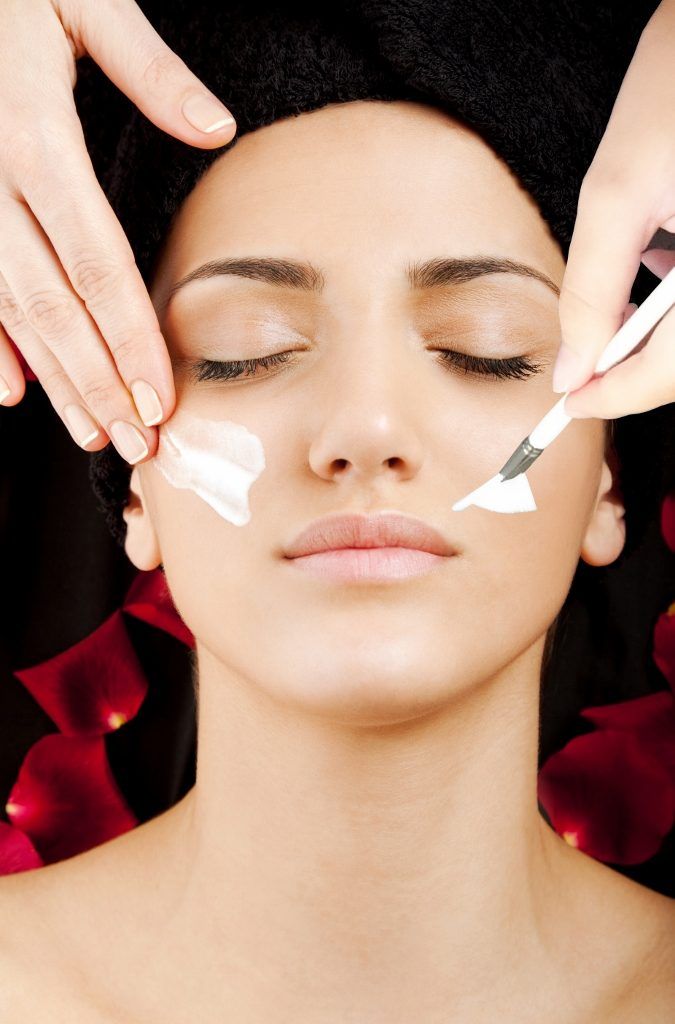 The treatment started with makeup removal and cleansing. Mandy the beautician applied »Bio-Classica« Velvety Cream Cleanser undiluted to face, cleanse, then removed with compress soak cotton pads and complement cleansing with »Bio-Classica« Fresh Blossomy Tensum.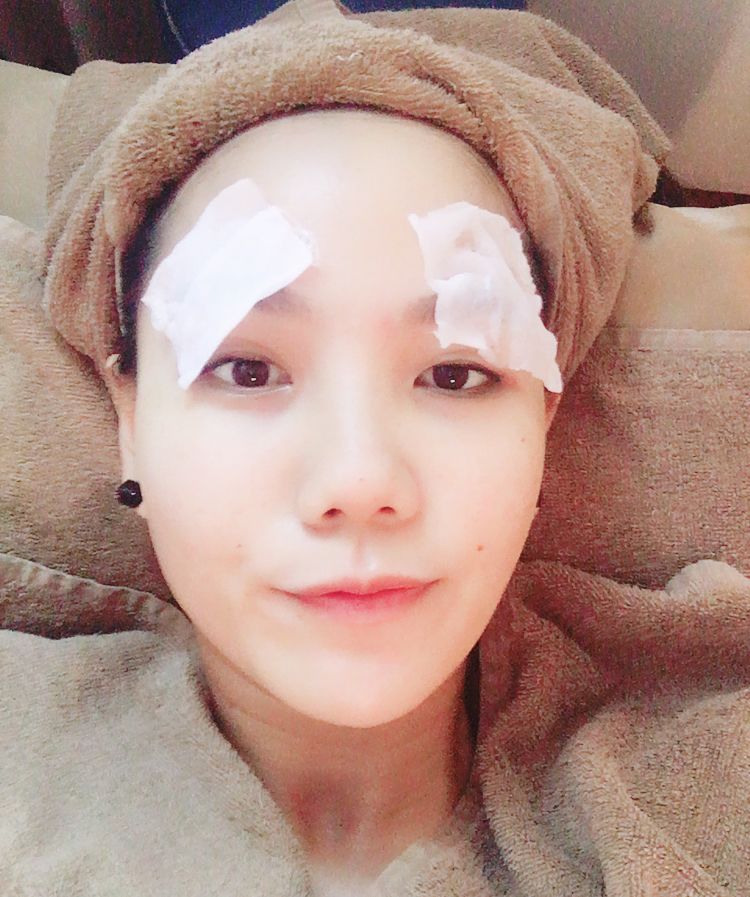 Subsequently, she applied »intensa« Soft Peeling by using circular motions and soft pressure and it was then removed with a sponge. The remaining particles were removed with a soft brush, followed by extraction.
As mentioned earlier, Annabelle used a special technique for extraction to minimise the pain and minimize redness. This time round, Mandy found that the oil seed developed again on the same spot. She told me that it requires few extraction to remove it completely.

Finally, it was my favourite part, the mask time! She applied the mixture of »intensa« CryoMoist Mask – ultra fresh refining mask (this mask is to subside the appearance of blood capillaries, hydrate and soothing, and to refine pores condition and have a lightening effect) & »intense« Hyaluronic Factor 5 –aqua silk hydro boost mask (it is a quick-lift mask, intensively moisturizing and moisture-binding, boosts the skin's own HA production & protects the skin from cellular stress and free radicals).
After that came their signature Dr.Belter Fan BrushLifting Massage. With the technique for lifting and firming massage, the brushes create hundreds of stimulating strokes on the skin, sending a relaxing sensation to the mind. At the same time, the pressure of the brushes on the skin and the massage steps such as pinching and lifting tones the facial muscles.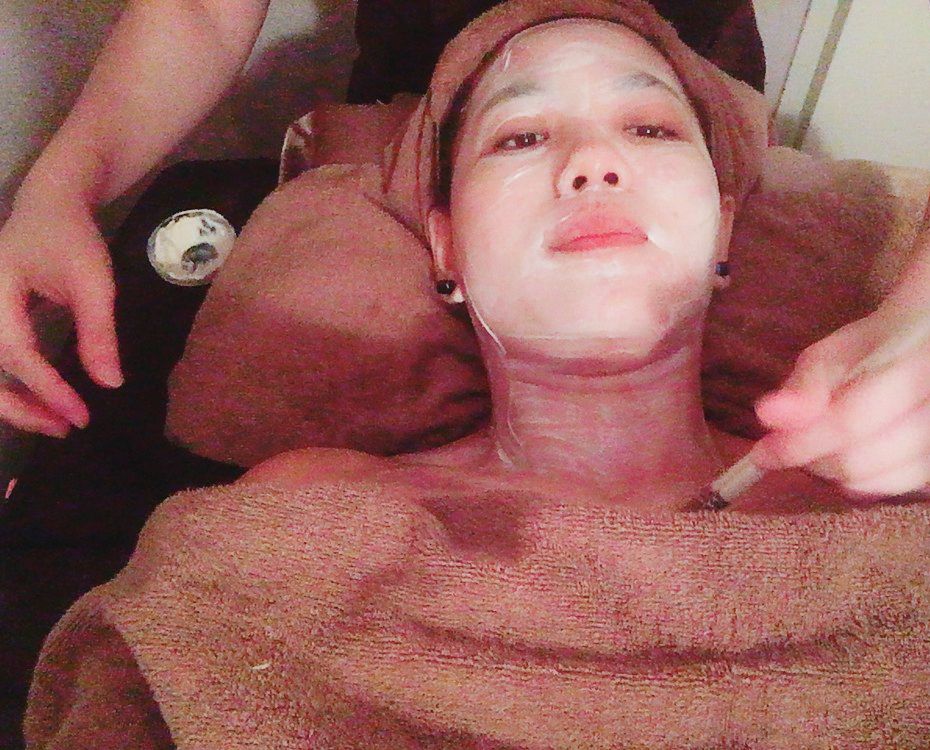 The fan brushes are very soft and it felt slightly ticklish at the same time. Those fan brushes were gliding smoothly on my face, neck and décolleté. I guess I found a new love on the brush massage, it was truly an enjoyable experience.

Mandy carried out Manuel Lymphatic Drainage massage for about 15-20minutes, followed by shoulder massage with Dr.Belter's Basic Massage Milk (contains squalene, allantoin and soothing complex) to enhance skin smoothness. A non-oily lotion was applied and it was fully absorbed into the skin to give a silky feeling.
During the massage she found out that my right shoulder was stiffer than my left one. She told me it was due to my habit carrying heavy bags on my right shoulder, and she was right! She was helping me to loosen the muscle on my right shoulder. I could tell that she is very skilful in handling the customer and she know her customer habits very well by just doing facial and massage.

After finishing the massage, an ampoule care was applied. This time they gave me »intensa« Ampoule No. 12 Anti-Stress (royal jelly, Vitamin A, B, C, Loctocines, Soybean-Matrix) to counteract stress factors, promote regeneration and increase the skin's barrier. It also helps to strengthen the skin's immune system.

Lastly, she applied Matrix Fleece with »intensa« Sensitive Crystal Gel on whole face, then placed the »intensa« Solid bio Matrix/Aloe Vera collagen fleece (pure, insoluble collagen that enhance our skin's collagen and elastin to provide deep moisturising and re-plumping), Solid Bio Matix with Aloe Vera calms and soothes the skin after the active massage. After the mask absorbed into the skin, it created a lifting effect.

The treatment ended with finishing care, by soaked cotton pads and complement cleansing with»Bio-Classica« Fresh Blossomy Tensum. And finished the treatment with»intensa« Moisturising Gel & »Bio-Classica« AquaSilk 24.
Immediately after treatment, my face looked more radiant and glowing. Within few days after treatment, my face was still well hydrated and more firm.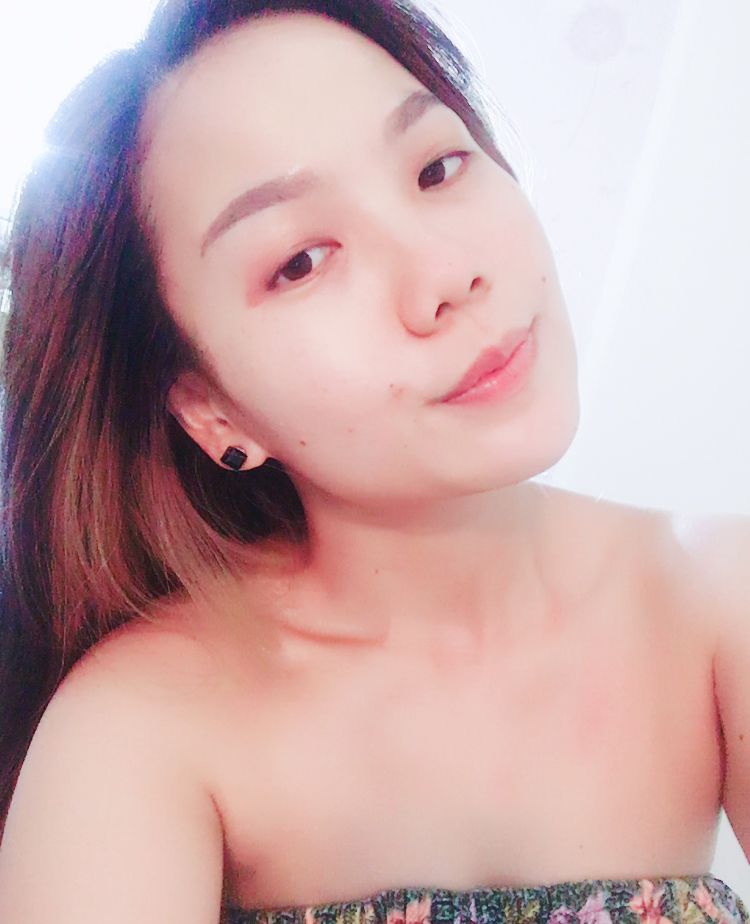 Thank you, Annabelle Skin for such a pleasant treatment! Can't wait for my next treatment and do join me on my journey to achieve a better complexion.

*The Dr.Belter Fan Brush Lifting Treatment is available at SGD238 and is suitable for both male and females, and all skin types. Quote my name "YUNI" and get 50% off your first treatment at Annabelle Skin!
To find out more about Dr. Belter Cosmetic, please visit http://www.belter-cosmetic.com/
Or visit its Facebook & Instagram page: https://www.facebook.com/drbeltersg/ https://www.instagram.com/drbeltergirl/
Annabelle Skin is located at:
The Adelphi, 1 Coleman Street
#02-42, Singapore 179803
To make an appointment, call: +65 6336 8975
XOXO,
YuniQueYuni
Monday, 21 August 2017 10:47
Good skin is the best foundation for your makeup.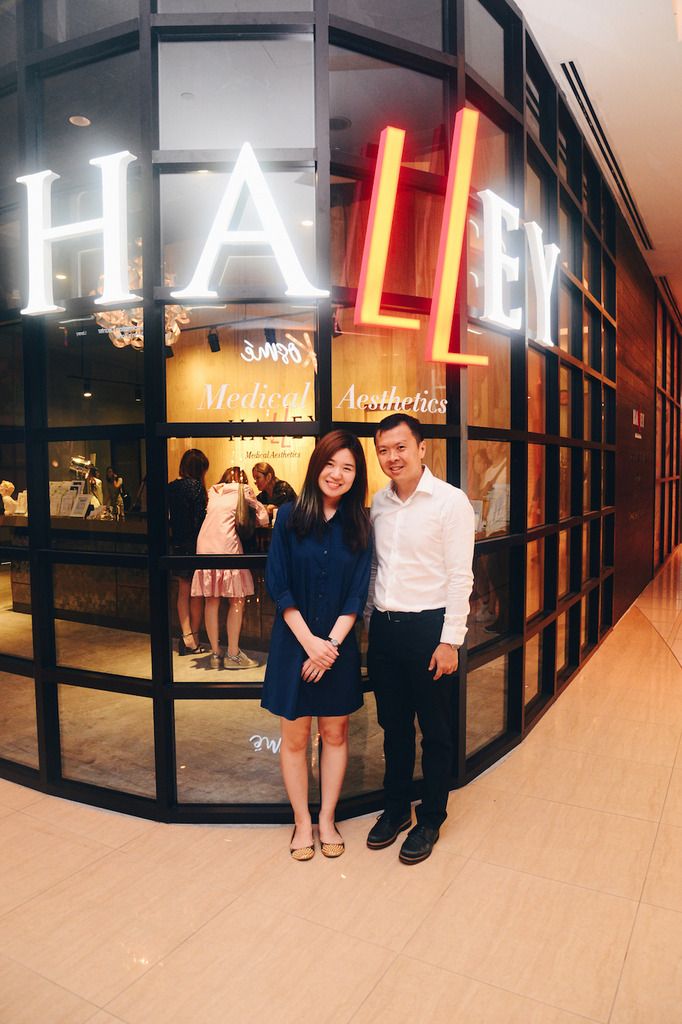 And it seems like that 'foundation' is slowly coming apart as things are really starting to heat up in the work department while I plan my projects for the final quarter of the year, fashions shows, products launches, photo shoots at my studio and writing up that next blog post. It's literally full steam ahead.
Mind you, I don't really have to tell you as the condition of my skin is a surefire giveaway.
My hats off to all you Wonder Women out there who manage to look fabulous while juggling career and family life; I don't know how you do it!
My skin feels tired, simultaneously flaky and oily, with laugh lines and necklines as deep as the Grand Canyon and unsightly brown spots from sun overexposure.
If only there was some short cut to great, healthy and revitalized skin. But there are no such things as short cuts, right? If it sounds too good to be true, then it must be, right?
Topical skin care products can only do so much to prevent my skin condition from deteriorating further down the rabbit hole. Given the lengthy list of media and video appearances I have to make in the next few months, I decided I need a more effective and quicker solution to address my problems.
Enter Halley Medical Aesthetics, a reputable aesthetic clinic nestled in the heart of town, amidst the hustle and bustle of shopping haven, Orchard Gateway. I decided to venture down to the clinic after a shopping retreat to learn more about their offerings.
So did I get the 'short cut' I wished for? Read on to find out!
I met with Halley's head honcho, Dr. Terence Tan for my first consultation, an experienced aesthetic doctor who now specializes in aesthetics with a keen focus on non-invasive rejuvenating procedures and the latest medical technologies.
I've never been a fan of invasive procedures; injectables and the like, so the treatments on offer sounded right up my alley. With several important events coming up, I made it clear that limiting post-procedure downtime was something of paramount importance to me and Dr. Tan assured me he had just the thing I needed in the form of the Fraxel Dual Laser treatment.
I was informed that the downtime for the treatment is so impressive that I would in fact be able to apply makeup immediately after the treatment and step straight out of the clinics impressive central location and straight into my favourite shops next door.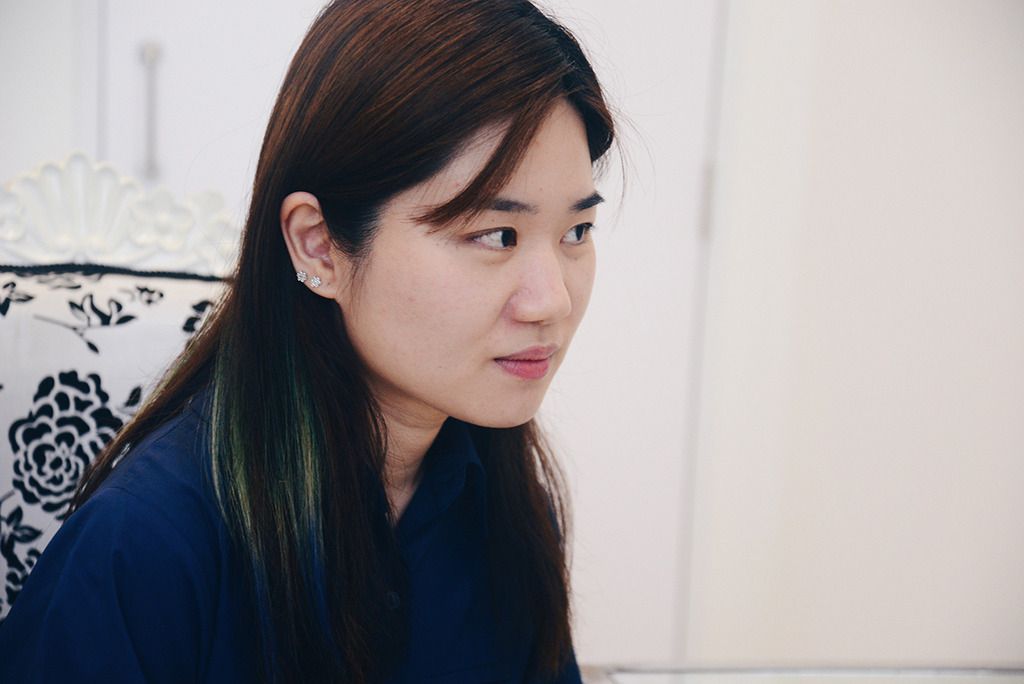 I was keen to know more before taking the plunge so I did a bit of research, AKA snooping around.
The Fraxel Dual Laser resurfacing treatment works by stimulating the growth of new healthy skin cells from the inside out. By penetrating deep into the skin, it expedites collagen remodelling within the skin and thanks to its microscopic focus, surrounding tissue is left intact – which for you and me means rapid healing and recovery.
The Fraxel Dual Laser has two treatment modes, which allow the laser to target both the surface and also the deeper layers of the skin.
Treatment mode 1550 penetrates deep into the skin to help remedy acne and surgical scars as well as wrinkles whereas treatment mode 1927 targets tone, texture and more superficial signs of aging like unwanted brown spots. This is the treatment mode that was recommended for me.
The laser can even be used to treat certain pre-cancerous lesions such as actinic keratosis and can be used safely not only on the face but also the neck, chest, back, arms, legs and most parts of the body.
In case you're wondering, it is actually very different from traditional fractional resurfacing lasers which are ablative by nature. Ablative lasers work by removing a thin outer layer of skin to achieve the desired result. But this results in a longer downtime compared to the Fraxel Dual laser. That is why the Fraxel Dual laser has won effusive praise as I've mentioned earlier, it treats only a fraction of tissue at a time, leaving the surrounding tissues intact and this, in turn, promotes rapid healing.
Now please follow me on a visual journey through my whole treatment process.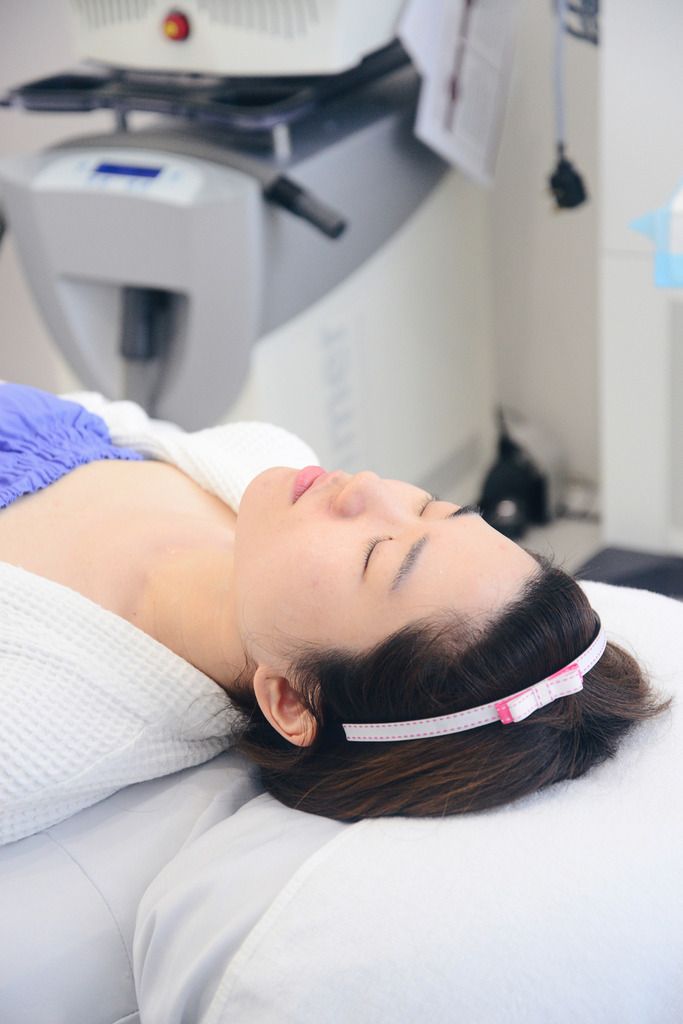 If you've a low pain threshold like me, then this is your new best friend – the numbing cream. The friendly therapists at Halley Medical Aesthetics applied the numbing cream on both my face and neck and left it on for about 20 minutes.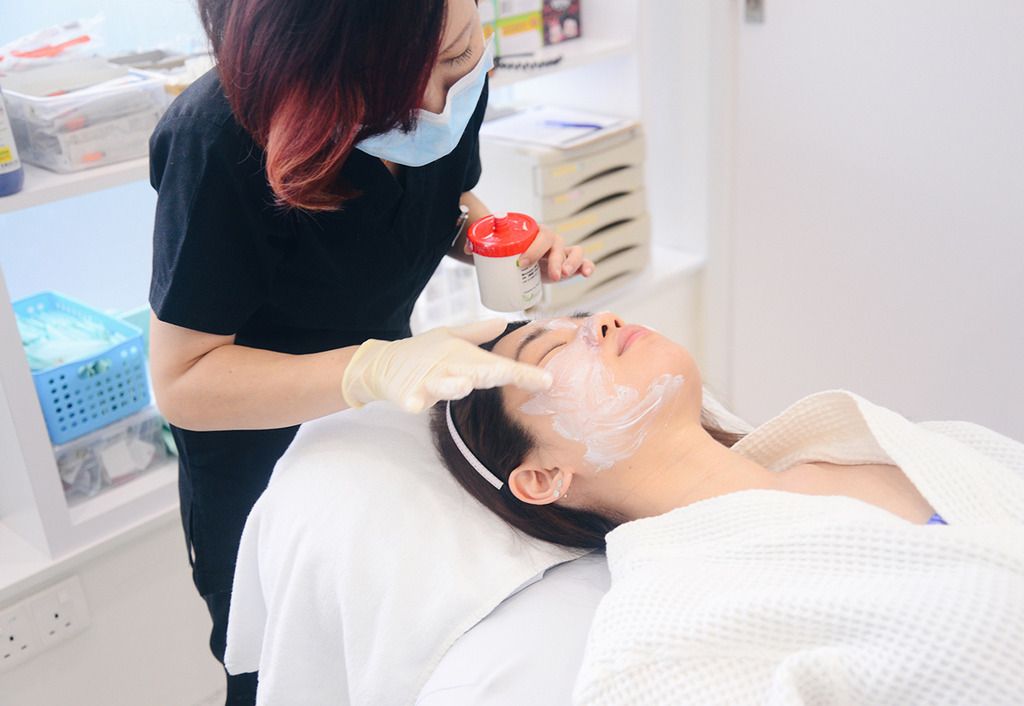 Since my biggest beauty nemesis is my obvious nasolabial folds, the therapist applied more around my mouth just in case Dr Tan needed to go over it a few more times than the other areas.
By the 10th minute, I could barely feel my face. Yay! It's working. Haha!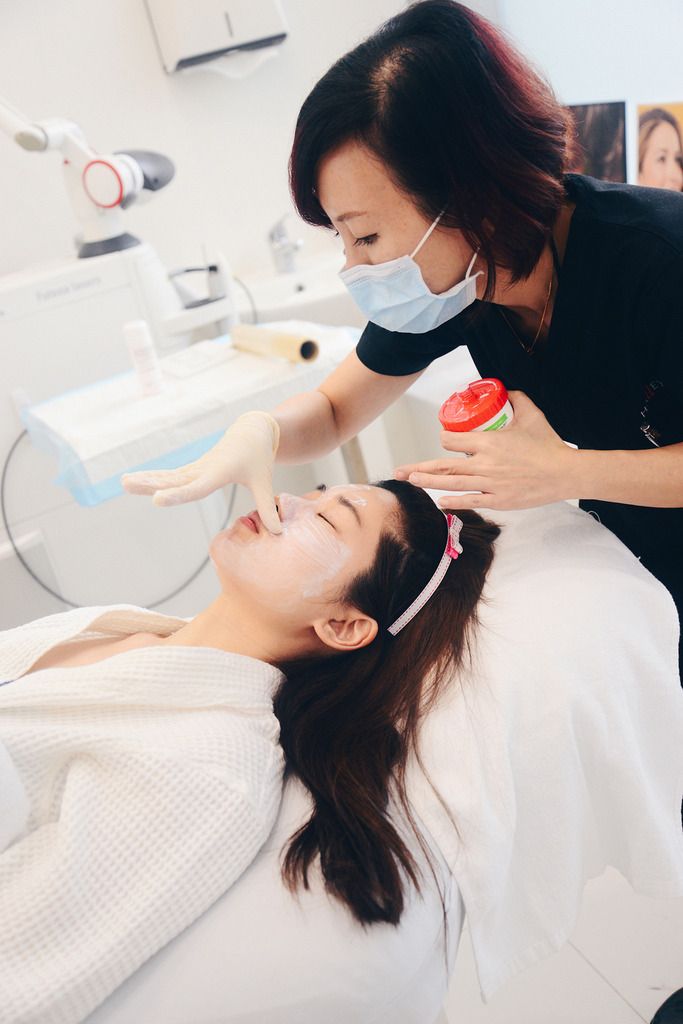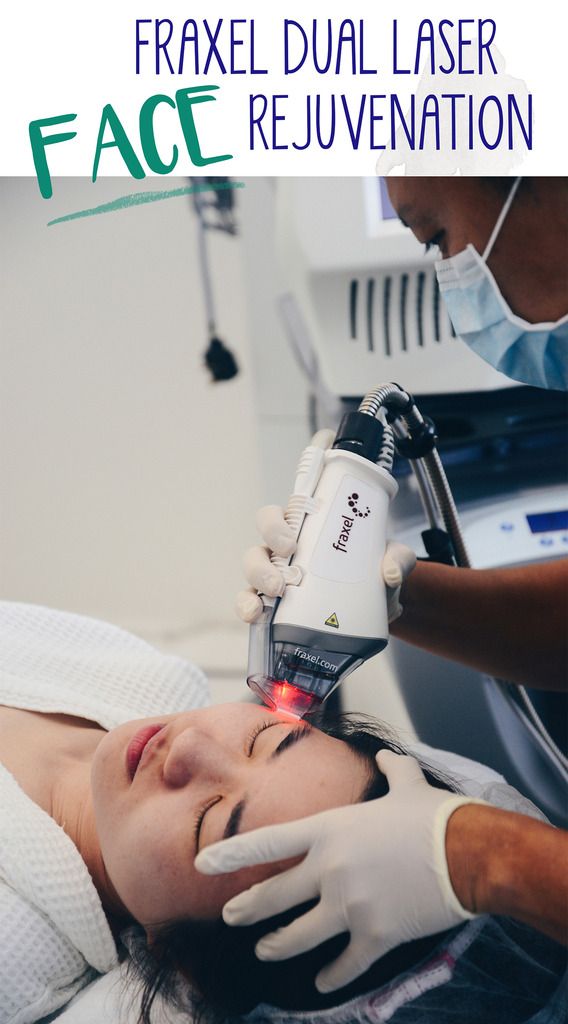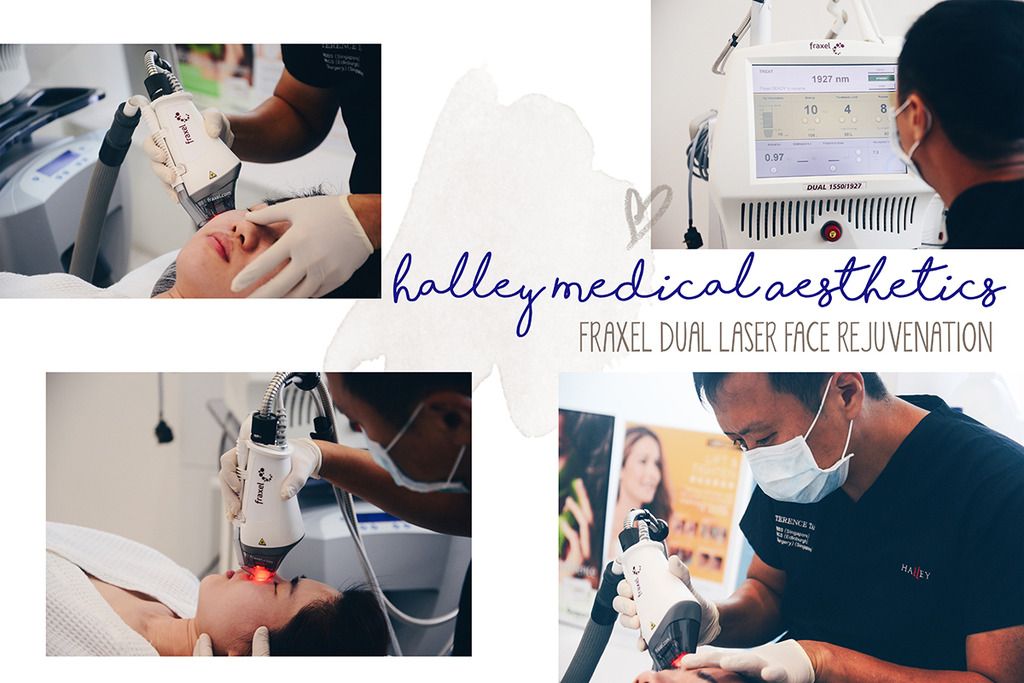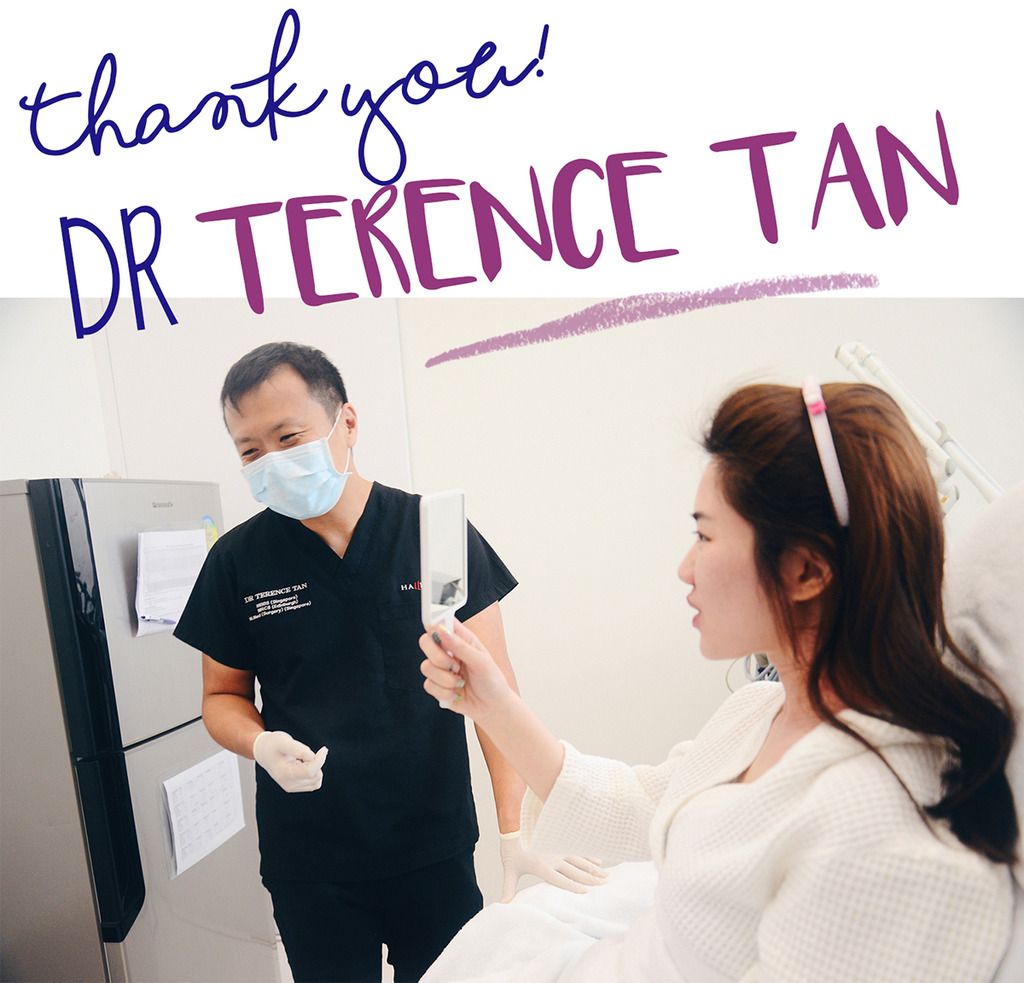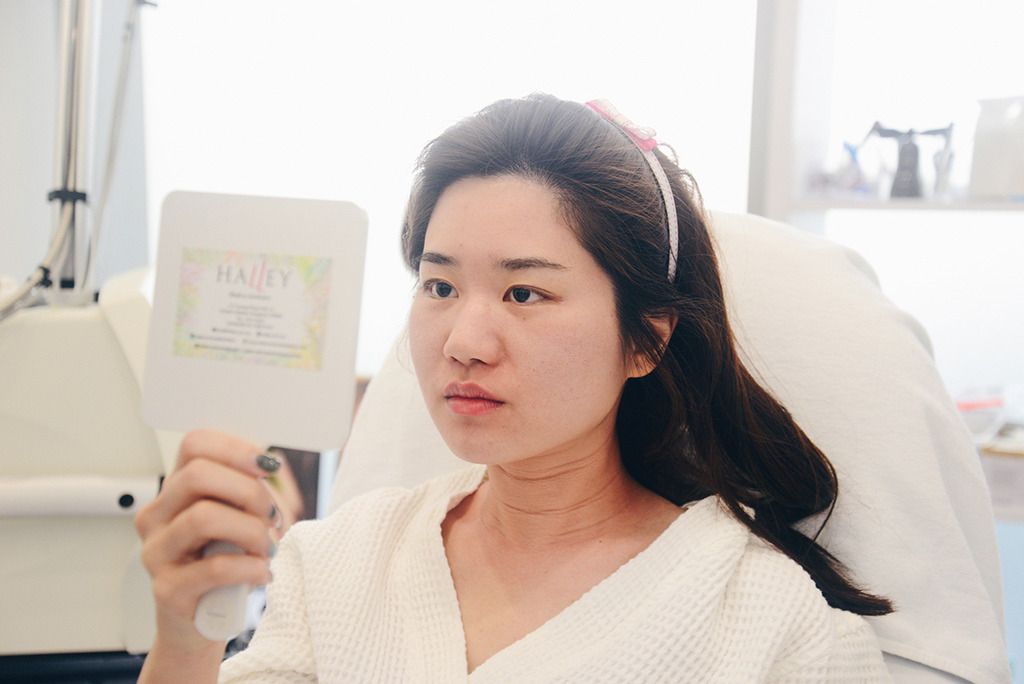 So was the treatment painful and did the treatment live up to its impressive claims? Most importantly, was there any downtime???
Well, I'm sorry to burst your bubble but you're just going to have to wait for my next post to find out! Stay tuned belles and beaus!
Have you tried Fraxel Dual Laser treatments? If so, how many times did you do it before you achieved your desired skin goals? Please share with me by commenting below!
Thursday, 17 August 2017 10:33
Everybody rushed to get those Korean see-through bangs since it debuted a few years back and the trend has been going strong for quite a while. But isn't it time for us to try something new already? This 2017, we spotted a new Korean hair trend that many Korean celebrities and models are sporting -- Korean hippie perm bangs.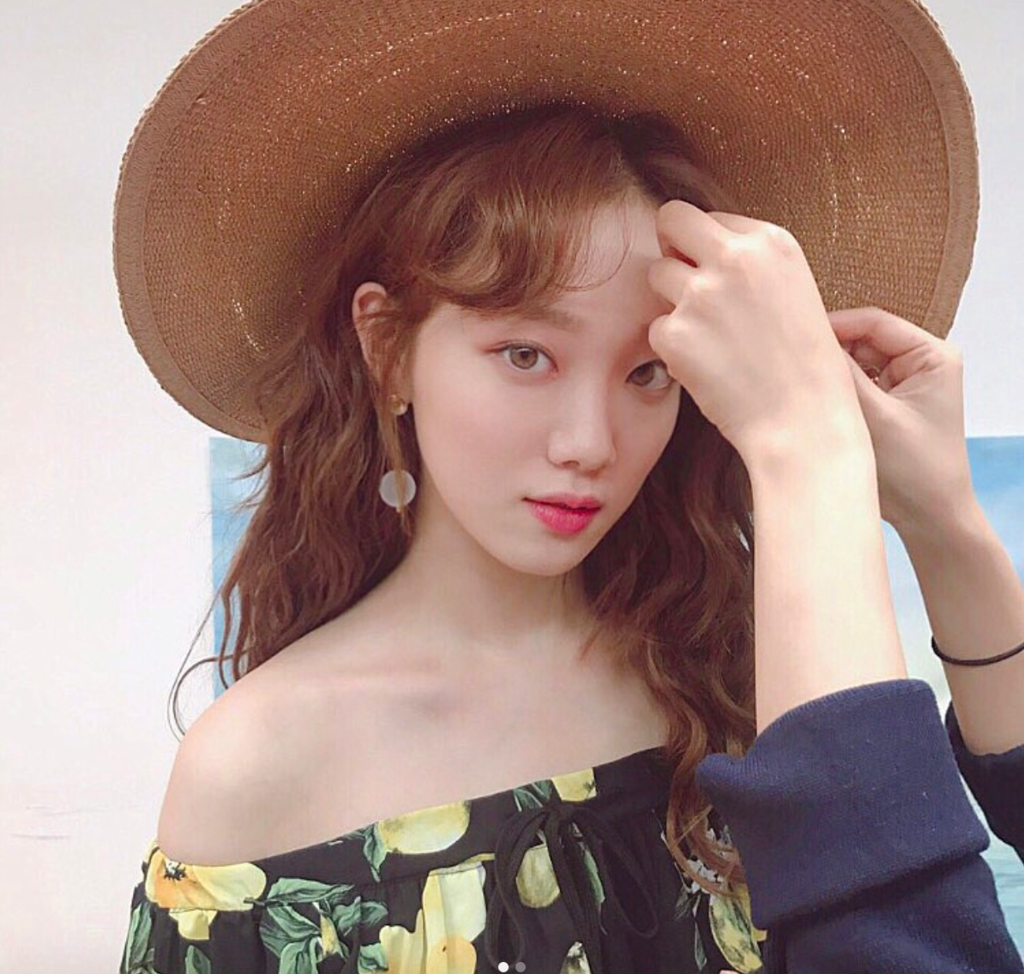 Lee Sung Kyung /Credit: Instagram heybiblee
Celebrities like Sulli, Han Ye Seul, SNSD's Taeyeon and Jessica Jung, and also Lee Sung Kyung, embraced a new hair trend that was coined Korean hippie perm bangs. Many thought that the hippie perm trend first started when Kim Go Eun sported a whole head of it in "Cheese in the Trap". While the whole head hippie perm overflowed on the magazine spreads, many decided to have the hippie perm just on the bangs for a more subtle approach.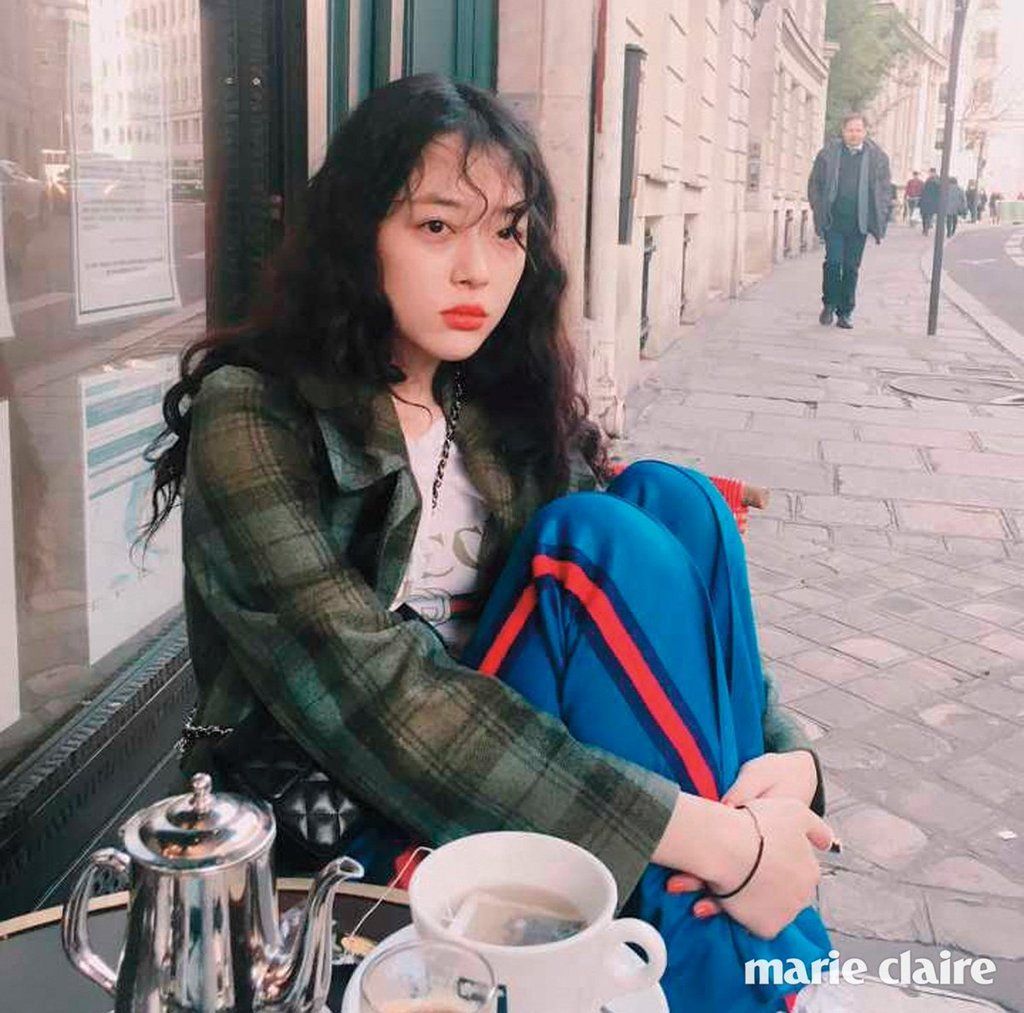 Sulli /Credit: Marie Claire
Taeyeon /Credit: Instagram taeyeon_ss
Taeyeon /Credit: Instagram taeyeon_ss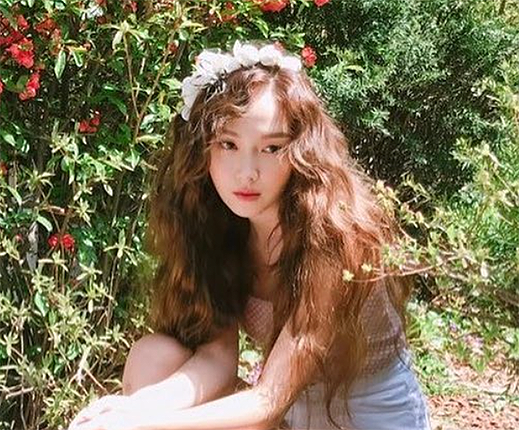 Jessica Jung /Credit: Instagram

jessica

.syj

The hippie perm bangs is especially suitable for those who are growing out their bangs, or those with their bangs at an awkward length. Part your bangs and use a curling iron to get some tighter curls onto your bangs. Continue to curl the sides and the back of your hair and give them some waves to complete the look.
Han Ye Seul /Credit: Marie Claire
Goo Hara /Credit: Instagram koohara_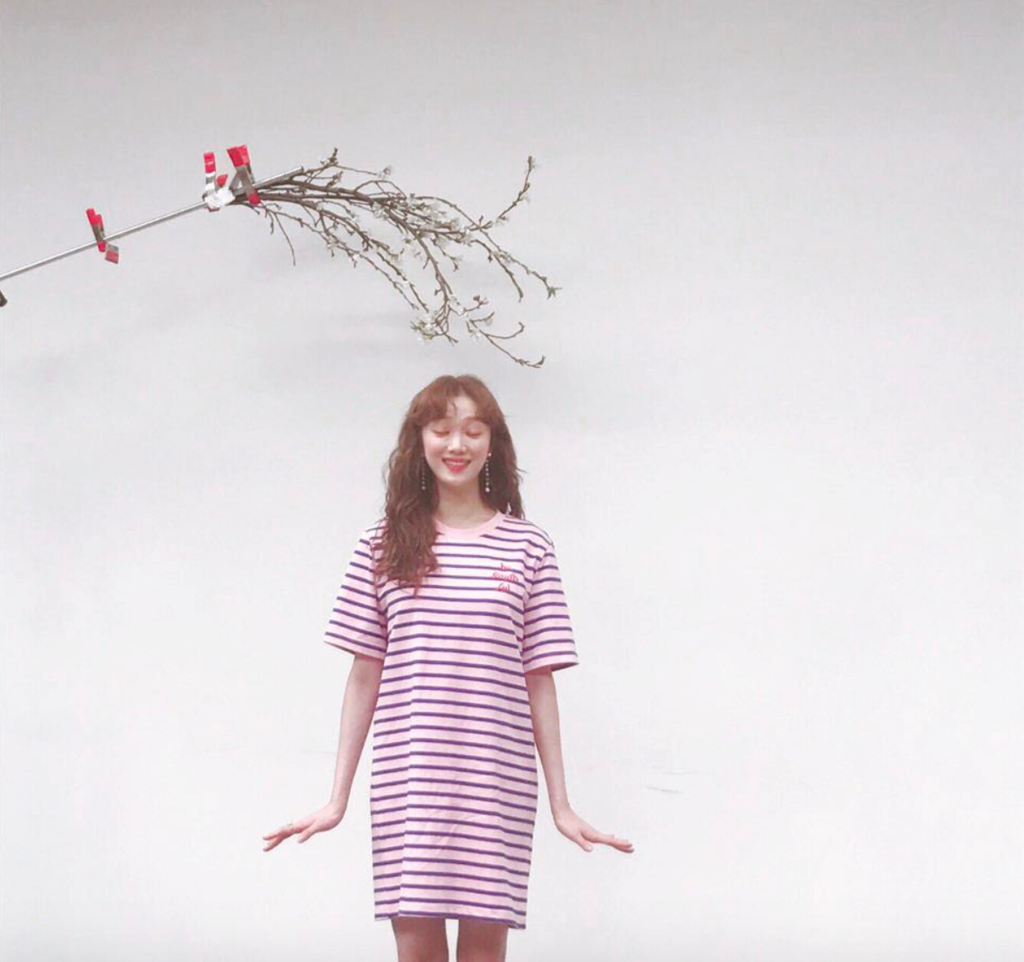 Lee Sung Kyung /Credit: Instagram

heybiblee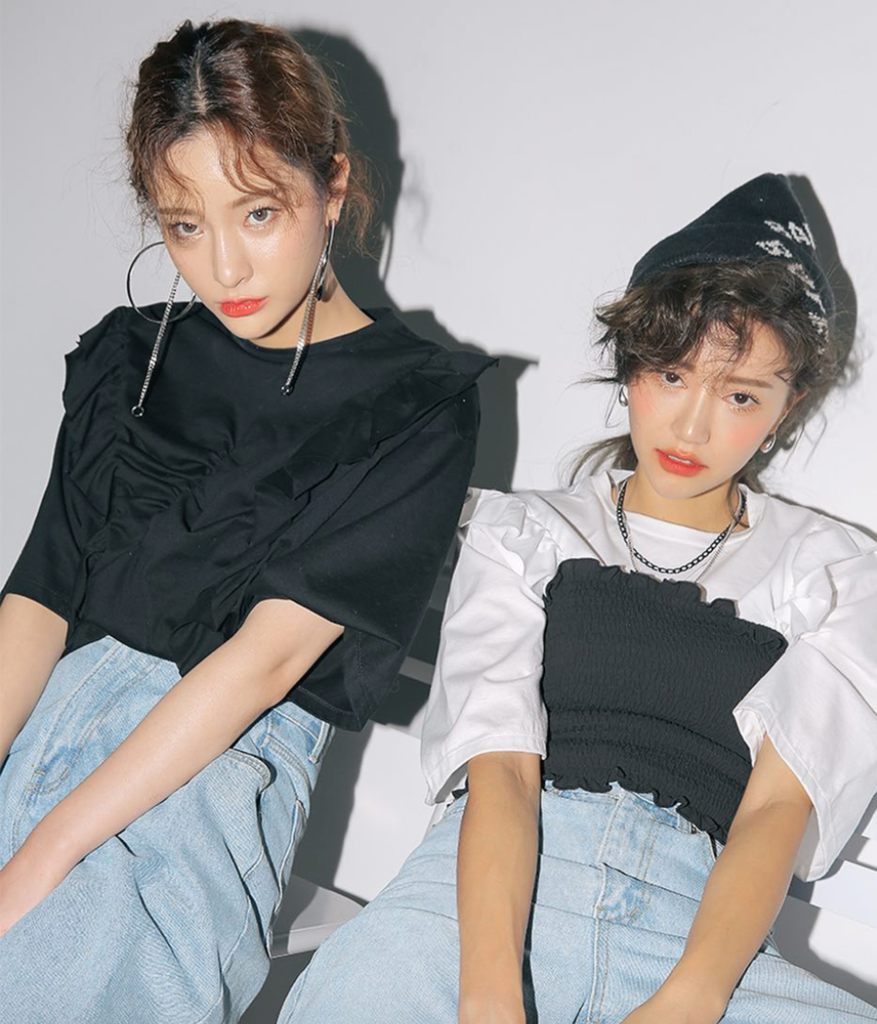 Stylenanda models /Credit: Stylenanda
Here are 2 hippie perm bangs tutorials from Korea and Taiwan to get you started. Although there are no subtitles for both videos, the step-by-step instructions are very clear so don't worry about not understanding them.
Wednesday, 16 August 2017 07:00
Mastering the art of eyeshadow application isn't as easy as it seems. All the gradient, blending, and where exactly to place those colours can be a big headache.
Credit: Youtube Brianna Fox
Most Singaporean ladies seem either skip eyeshadows entirely or go the easy way out by applying only one colour across their whole eyelid. However, when applied correctly, eyeshadows can help to open up your eyes and make them look so alluring.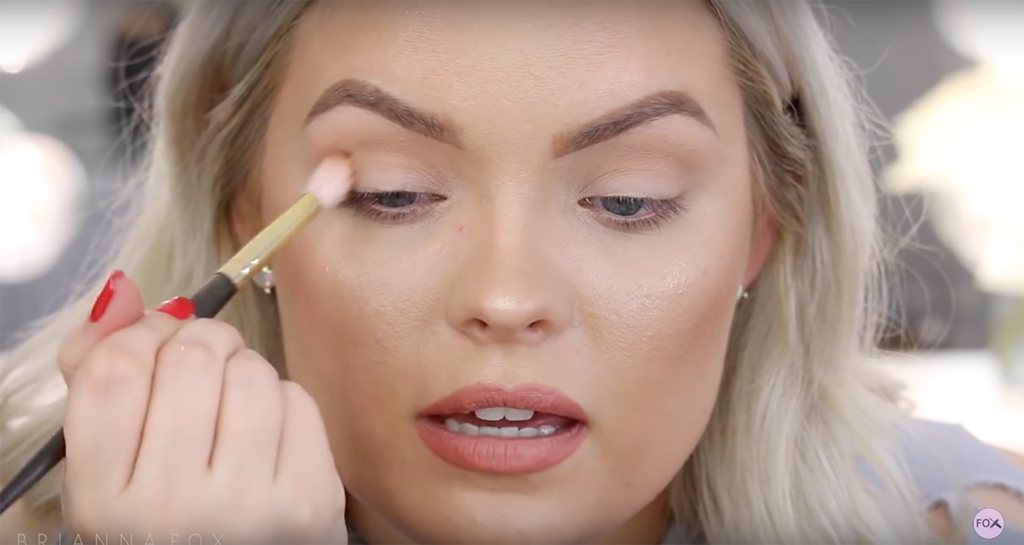 Credit: Youtube Brianna Fox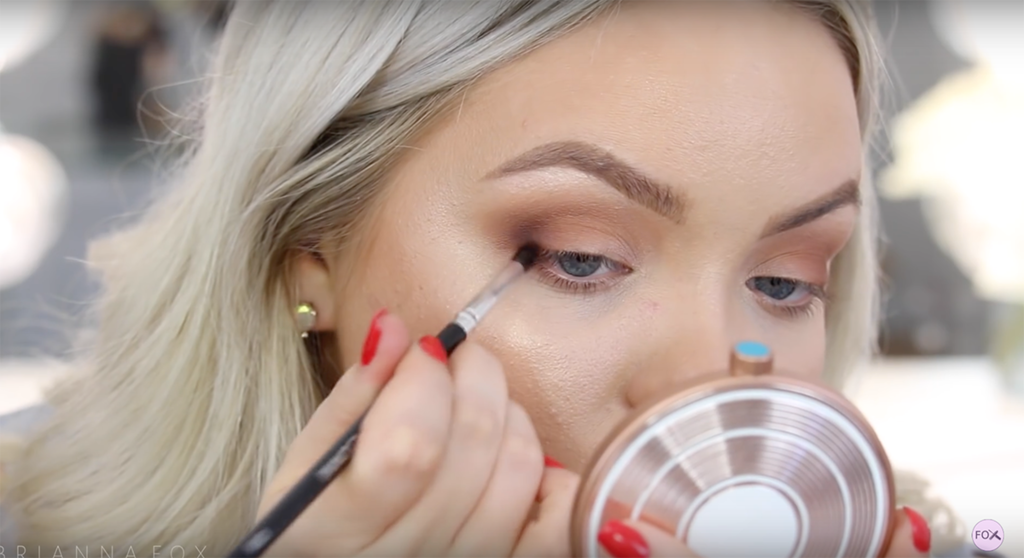 Credit: Youtube Brianna Fox
We found the ultimate step-by-step guide to eyeshadow application for you. If transition colours or the "V" sounds foreign to you, do head in and watch the video for all the tips and tricks to mastering eyeshadow application. Brought to you by Youtuber Brianna Fox.
Tuesday, 15 August 2017 09:06
Our face begins to lose collagen and elastin fibers as we grow older. The lack of these important proteins contributes to sagging facial features. Aging also causes loss of facial volume and elasticity, which then leads to the formation of wrinkles and fine lines.
Credit: Amazon
Although facelift surgery is a procedure used to reduce signs of aging and appearance of facial wrinkles, many people are opting to undergo non-surgical facelift treatments due to possible complications and risks associated with surgery.
"A V-shaped face, stronger jawline, and a defined nose are widely coveted facial features by many people. It gives you a sculpted look, taking years off your face. With latest medical technologies and innovations, these can be easily achieved without surgery." says Dr. Siew Tuck Wah, Medical Director of Radium Medical Aesthetics.
Treatments for Flat, Wide Nose
Credit: Drama Fever
Korean PDO Nose Thread Lift is one of the most popular non-surgical treatments to augment the nose for a higher nose bridge and a sharper nose. This convenient treatment can be completed in about 45 minutes.
PDO Nose Thread Lift is performed by placing dissolvable polydioxanone threads above the nasal bridge and septum and act as scaffolding structure to lift and project the nose. Although the result can last for 12 to 18 months, undergoing PDO Nose Thread Lift about one-and-a-half years apart can stimulate collagen production to sustain a longer-lasting lift even after the threads have dissolved.
Alternatively, dermal fillers can also be used to augment the nose to provide a natural lift. Using dermal fillers made of hyaluronic acid, nose fillers are great for enhancing the nose bridge and tip, especially if you have a flat nose. However, it is important to note that nose fillers carry the risk of blindness and skin necrosis.
Treatments for Thin Lips
Credit: Kpop Map
Altering the appearance of the lips can be easily done by increasing its fullness and volume using a series of hyaluronic acid filler injections. Studies have shown that lips with a ratio of 1:2 of upper to lower lips are the most attractive.
Hyaluronic acid fillers are ideal for contouring the lips because of its versatility. Filler Lip Redefinition can improve the appearance by adding shape, volume, and structure to the lips a soft, natural feel. The effects usually last around 6 to 9 months and regular treatment is necessary to sustain the volume of the lips.
Treatments for Sagging Skin, Jawline, Jowls and Chin
Credit: Pinterest
Using special sutures made of Polylactic Acid (PLA) monofilament, Silhouette Soft Thread Lift treatment is an advanced skin lifting procedure that achieves two outcomes with one treatment – immediate lifting and ongoing collagen stimulation.
Silhouette Soft Threads are resorbable sutures with tiny bi-directional cones to anchor and lift sagging skin. At the same time, the face undergoes collagen stimulation from the threads that act on the subcutaneous tissue to activate fibroblasts. These threads will dissolve after 6 to 9 months but the face will still retain its lifted contours and maintain its shape for a further 12 months or so.
For people with trypanophobia, fret not. Ultherapy Skin Lifting treatment is a suitable non-invasive treatment to lift and tighten the skin.
Using High Intensity Focused Ultrasound (HIFU), Ultherapy targets the deep layers of the skin under the Superficial Muscular Aponeurotic System (SMAS) layer to induce contraction for lifting and collagen production.
It is an excellent option for people who are not willing to undergo surgery. However, visible lifting may not be seen as the full effect of the treatment takes about 2-3 months to stimulate the body to produce collagen.
Which Aesthetic Doctor Should I Choose?
Not all aesthetics doctors have the same experience, medical knowledge, training, or technical capability. Always consult the doctor and have an in-depth discussion to find out his experience in the treatments you are interested in. Make sure you are completely comfortable with the doctor before you decide to proceed with the treatment.
A well-informed patient should choose an aesthetic doctor based on trust, not on hype or cost. Always remember the saying – Buy cheap, buy twice.
By Dr. Siew Tuck Wah
Radium Medical Aesthetics
3 Temasek Boulevard #03-326
Suntec City Mall
Singapore 038983
Opening Hours
Monday to Saturday – 10.30 am to 9 pm
(Last appointment at 8 pm)
Sunday – 10.30 am to 3 pm
(Last appointment at 2 pm)
Contact
Phone: +65 6837-0507
Whatsapp: +65 8868-0356
For more information, please go to:
Website: http://radium-aesthetics.com/
Email: This e-mail address is being protected from spambots. You need JavaScript enabled to view it
Page 1 of 276
<<
Start
<
Prev
1
2
3
4
5
6
7
8
9
10
Next
>
End
>>