It's no secret that women spend the most amount of money and time on their face than on any other parts of the body - and with good reason. Hardly anyone's going to look anywhere else other than your face when meeting for the first time (well, most people anyway), so it's only natural to want to put your best face forward everyday.

But while women splurge on the most luxurious skincare to keep their complexions healthy and the best makeup to hide any flaws, our teeth remain sadly neglected. How many people would go beyond the merely brushing their teeth with normal toothpaste? Or even just flossing?
Caring for your teeth is just as important as care for any part of your body, and you'd be amazed at what a beautiful set of teeth! And really, where would a woman be without a great smile?

It's not at all shallow to assume that people most often judge one another by their appearance, especially when you are meeting for the first time. Whether it's for that job interview, or meeting new friends, it's probably safe to assume that nobody wants to look like the woman in the picture above. A winning smile is key to that excellent first impression, and they say that first impressions are always the most important ones!


Besides creating that first impression, a beautiful smile is reflective of how conscientious you are. While your technical abilities and skills are what gets you your job, it's self-confidence that gets you ahead. What better self confidence booster than a wonderful smile?
The logic is straightforward - having healthy and white teeth makes you look better, and when you know you look good, you radiate that self-confidence that even other people can feel. This non-verbal communication is especially crucial in making a good first impression.

This especially rings true for jobs where meeting and interacting with new people is part of your daily routine. A great smile also shows that you take a certain amount of pride and care when it comes to your physical appearance, and looking groomed by itself reflects a form of respect to the person you are meeting. You would be less inclined to want to listen to somebody who looked like they've just rolled out of bed without taking a shower or brushing their teeth, wouldn't you?
And while we can't all control every part of our appearance, when it comes to something like good oral hygiene, there's no reason not to have some nice pearly whites.

Just think of a beautiful smile as a finishing touch to a well-groomed exterior. You could have flawless hair and makeup, but yellow and crooked teeth would only lose all those impression points for you.

If the eyes are the windows to the soul, then a beautiful smile is the key to success! The National Dental Survey found that two out of three of us are more likely to speak to someone we don't know if they smile at us.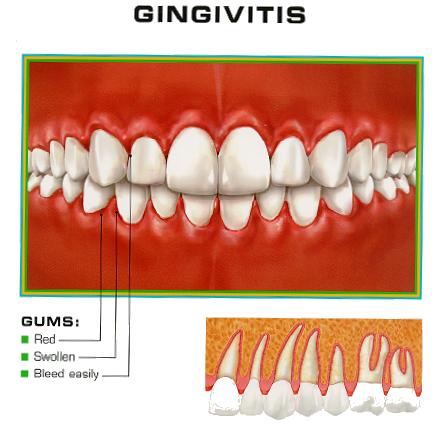 All aesthetic reasons aside, having bad teeth brings along a set of much more worrying problems. It's a well known fact that not taking proper care of your teeth greatly increases the risk of gingivitis and also bad breath. Not only is it embarrassing and unpleasant, you're also more likely to transmit nasty disease-causing bacteria if you don't take good care of your teeth.

The health benefits of having good teeth go well beyond just avoiding gingivitis – a healthy set of teeth can protect you from other diseases and ailments later on down the line. Not only does severe gingivitis leads to tooth decay, scientists have found that there's a link between gum disease and heart disease, mainly caused by the bacteria in gum disease spreading to other parts of the body.

They say that prevention is always better than cure. Start taking good care of your teeth today or you may have to live with a smile that you can't be proud of!

We bet you will love these too!