The much highly anticipated launch of the Coach Legacy 2012 Fall Collection has finally reached our shore at its newest and largest flagship store in Southeast Asia.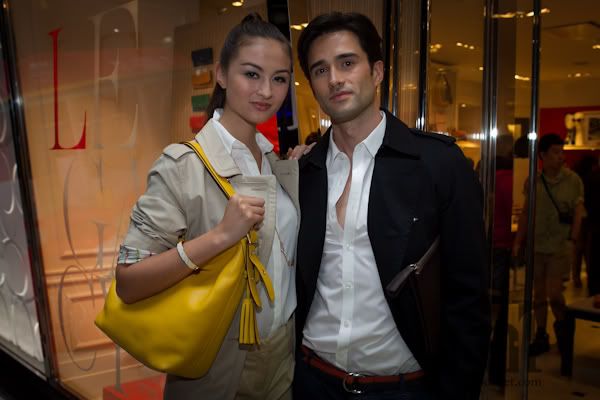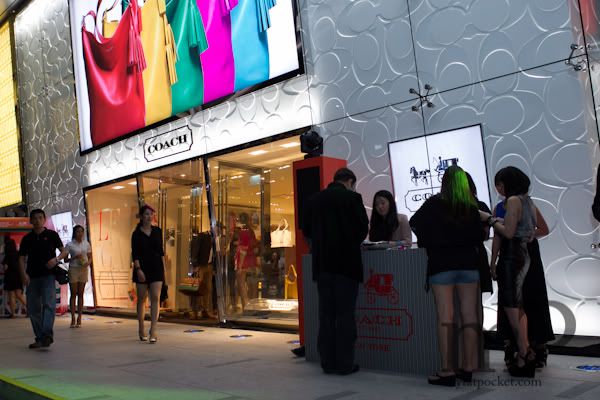 The 4,600 square foot store is located right at the front of the newly-revamped Wisma Atria shopping mall. Standing right outside, just in front of the store, I couldn't help but be mesmerized by the view. The flights of stairs leading up to the store was lit up in blue.
The store's facade is based around Coach's signature Bleecker prints and the two-storied exterior is featured with white sculpted C patterns that is lighted up strategically to make them stand out.
The store's interior is also meticulously designed with white lacquer fixtures and glossy marble floorings for the women section, while the men's section took a cosier and homely approach with dark walnut flooring and brown hand-painted fixtures. I would say Coach has really outdone themselves this time.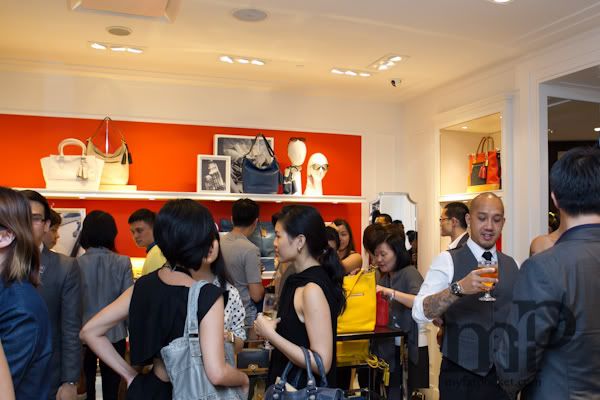 The brand has unveiled a return to its roots with Coach Legacy Collection of handbags and accessories. Bringing its parade of brightest hues and chic design no wonder it was a collection that made a buzz of late.
The eventful launch on 19 July 2012 was graced by a host of celebrity guests, local and abroad. The moment I stepped in the boutique, I was in awe. An arrays of colours greeted me at the center entrance. The first thing that caught my eyes were the duffel bags in a rainbow of colours. The Coach Duffel is a classic and I had a hard time deciding which color suits me best. But I'm leaning more towards the pink since it's my favourite colour of all time.
Definitely this is the Coach I desperately wanted to see make a resurgence. There was a touch of color blocking and animal print, but the majority of the designs stayed true to the classic Legacy by offering wearable designs, classic hardware and sturdy leather.
While Coach has a fan base that crosses generations and it produces items from Poppy to exotics, the re-release of the Legacy has brought back my love for Coach. It is all about the leather, the bag, and the design, and this is what started me off as a "Coachie" to begin with.

Men would be overjoyed over this new store as it carries the most extensive range of men's accessories in the region. Coach has been really upping its game in the menswear department since 2010, and the culmination of all that hard work is a line of bags that are subtle, functional, and just preppy enough to look brilliant at anytime of the year.
Ladies are loving the men's collection as well. Just like oversized watches, oxfords and loafers that have become trendy and a chic option for women in recent years, a men's bag can also add a fresh, slightly unexpected element to an ensemble.
The eventful night continues with good live band music while we chill out in the good company of people, and enjoy the delish finger foods and sharing good companies of people. Every guest could have a memorabilia to take home with, the classic Coach bag tag personalized with your own initials engraved by a tattoo artist.

Good news: beautiful leathers in an array of colours have taken over Coach because the Legacy Collection is now available for purchase. The complete range of Coach products, including fragrances, sunglasses, watches and outerwear also available.

Coach's newest store is at #02-19/27 Wisma Atria.
We bet you will love these too!