May Ying, our lucky Prada bag winner, went shopping today. From the personal transportation service to the luxury boutique shopping experience, we ensured that our lucky winner got the best she deserved.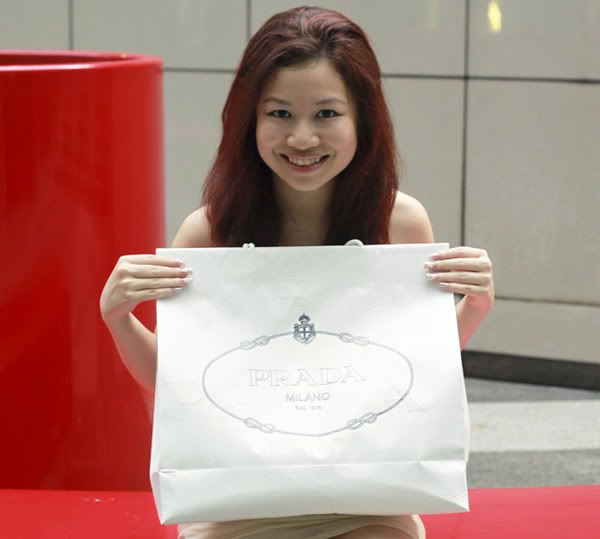 This pretty 23 years old Tax Associate chose a grey Prada Gauffre Bag. She brought her sister and brother-in-law with her to the Prada boutique in Ion Orchard. Donned in a beige dress with a matching pair of sexy high heels, May Ying looked gorgeous!
And I am very glad that I share the same taste as our reader - both of us fell in love with the exact same model and colour. Her sister mentioned that she was in Korea when May Ying texted her on the win. How adorable!
"I will bring the bag to the office to show my boss.
She was so happy for me when I told her I won a Prada bag.
Thank you, MFP!"
Congratulations, May Ying. We hope you had one of the best luxury experiences ever.
Enjoy your bag! We are all envious of you!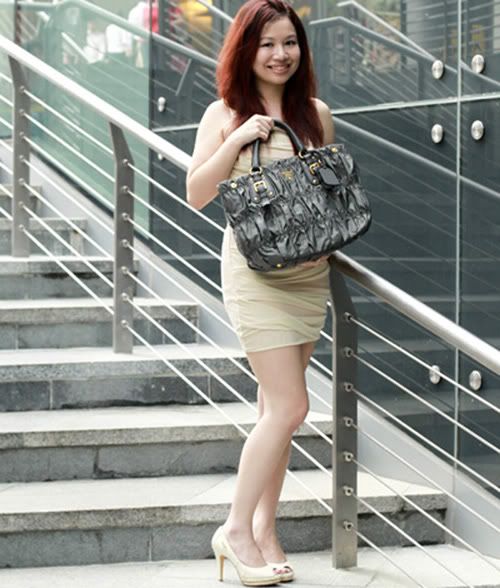 You can win a luxury bag too! All you have to do for the next 5 lucky draws are:
New members:
[1] Click on the 'YES, give me my luxury bag now!' button below to register.
[2] Register now for 1 lucky draw chance that is valid for ALL 7 lucky draws.


Existing members:
[1] You are automatically given 1 lucky draw chance that is valid for ALL 7 lucky draws.
For those of you who want more lucky draw chances, visit our forum and start posting replies.
5 forum replies =1 additional lucky draw chance.
Campaign Period: 01 October 2011 - 27 November 2011
All lucky draw chances are valid for ALL 7 lucky draws.
| | | |
| --- | --- | --- |
| Draw Item | Promotion Cut-off Date | Draw Date |
| Draw 1: Balenciaga | 14 Oct 2011 | 17 Oct 2011 |
| Draw 2: Prada | 21 Oct 2011 | 24 Oct 2011 |
| Draw 3: Gucci | 28 Oct 2011 | 31 Oct 2011 |
| Draw 4: Louis Vuitton | 4 Nov 2011 | 8 Nov 2011 |
| Draw 5: Yves Saint Laurent | 13 Nov 2011 | 21 Nov 2011 |
| Draw 6: Miu Miu | 20 Nov 2011 | 28 Nov 2011 |
| Draw 7: Chanel | 27 Nov 2011 | 05 Dec 2011 |