We went shopping with the lucky winner of Balenciaga bag, Surinah, at Hilton Singapore yesterday. From the personal transportation service to the luxury boutique shopping experience, we ensured that our lucky winner got the best she deserved.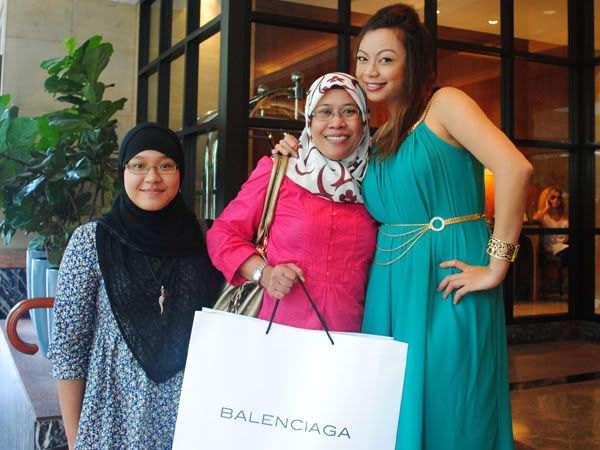 MyFatPocket went to personally pick Surinah up from her home. And in VIP style, she had two chaperones waiting in eagerness for her arrival. We could tell that she was nervous as she was squeezing her hands in the cab. After all, it was probably her first time being treated like royalty from complete strangers.
Stepping inside the Balenciaga boutique in Hilton Singapore, as we held the door open for her, Surinah was smiling with all eyes and teeth.
"Take your time, Surinah. Find that perfect dream bag," I said as I left to give her that space to soak in the smell of leather and warmth of luxury.
The yellow bag that she had in mind was out of stock but thankfully, Surinah fell in love with the purple motorcycle bag.
"I am going to bring this bag to my lunch appointment tomorrow. My sister and husband did not believe that the win was for real. I didn't believe it too. I thought it was a radio prank at first. I am so happy with my new bag.
Thank you, MFP!"
Congratulations once again, Surinah. We hope you had one of the best luxury experiences ever. Enjoy your bag!
You can win a luxury bag too! All you have to do for the next 6 lucky draws are:
New members:
[1] Click on the 'YES, give me my luxury bag now!' button below to register.
[2] Register now for 1 lucky draw chance that is valid for ALL 7 lucky draws.


Existing members:
[1] You are automatically given 1 lucky draw chance that is valid for ALL 7 lucky draws.
For those of you who want more lucky draw chances, visit our forum and start posting replies.
5 forum replies =1 additional lucky draw chance.
Campaign Period: 01 October 2011 - 27 November 2011
All lucky draw chances are valid for ALL 7 lucky draws.
| | | |
| --- | --- | --- |
| Draw Item | Promotion Cut-off Date | Draw Date |
| Draw 1: Balenciaga | 14 Oct 2011 | 17 Oct 2011 |
| Draw 2: Prada | 21 Oct 2011 | 24 Oct 2011 |
| Draw 3: Gucci | 28 Oct 2011 | 31 Oct 2011 |
| Draw 4: Louis Vuitton | 4 Nov 2011 | 8 Nov 2011 |
| Draw 5: Yves Saint Laurent | 13 Nov 2011 | 21 Nov 2011 |
| Draw 6: Miu Miu | 20 Nov 2011 | 28 Nov 2011 |
| Draw 7: Chanel | 27 Nov 2011 | 05 Dec 2011 |
We bet you will love these too!