Ying the Label runs on the philosophy that "less is more, odd is beautiful" and this is clearly epitomised in their designs. With painterly prints, structured lines, and experimental textures, Ying the Label balances fashion and art. And if you haven't seen it, Ying the Label's Spring/Summer 2016 collection gave us a fresh perspective of individuality, infusing art into our everyday wear.

Credit: Ying the Label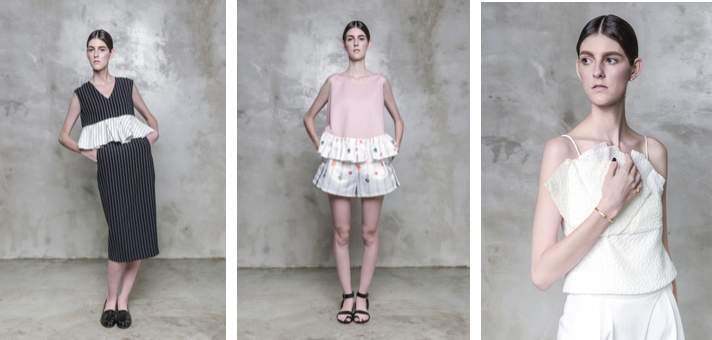 We had a chat with Ying to find out more about herself, and the behind the scenes stories of her new collection.
What inspired you to be a designer?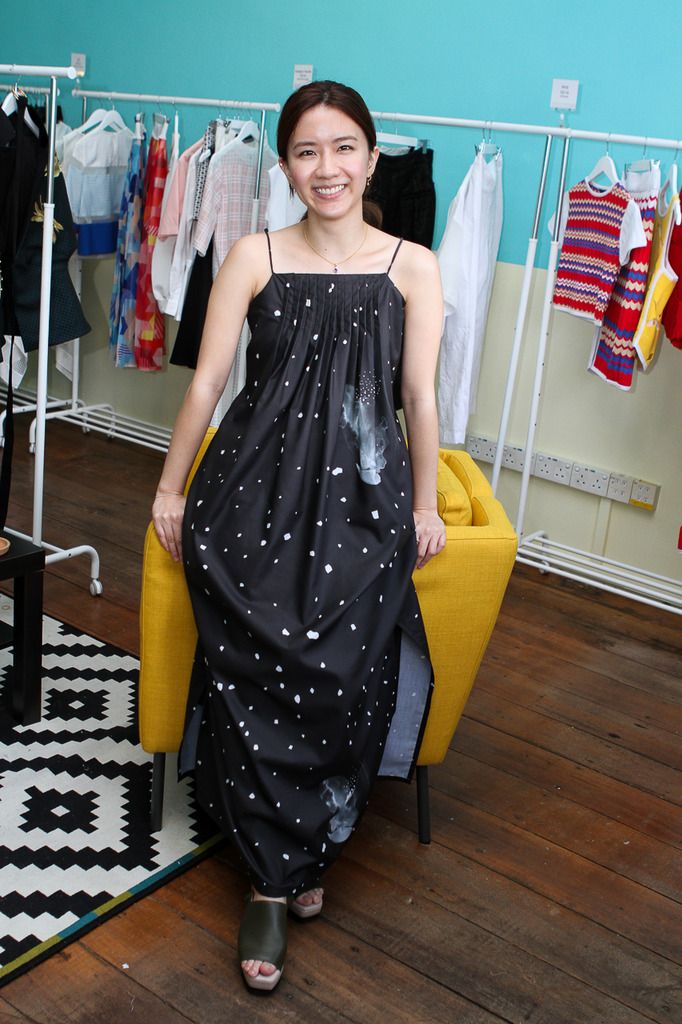 I was inspired by the fashion in Melbourne when I was studying there during my uni days. They had a wide selection of designs and when I came back to Singapore, I couldn't find clothes that I really like. At the same time, I always alter my clothes into designs that I like after wearing them for a few times, so after some time, I thought why don't I start designing clothes instead.
Did you go for any fashion design course since you didn't start out as a designer?
I took part time fashion design courses both when I was in Melbourne and Singapore. I did courses with LaSalle and NAFA while working at the bank.
So how did Ying the Label started?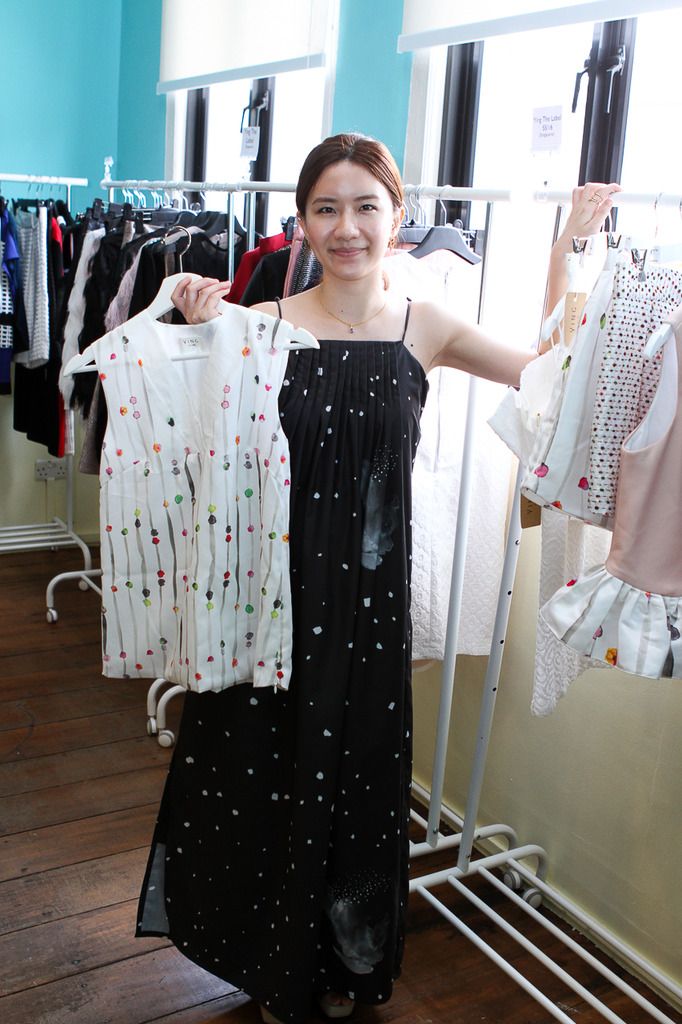 I'm always inspired by paintings and I love painting in my own free time. I really wanted to put my paintings onto the prints and that's how Ying the Label started.
No wonder we see lots of prints using paintings on your collection! Next question. What do you think sets Ying the Label apart from other brands?
I always feel that my brand is fun and whimsical, and besides the unique prints, Ying the Label is always colourful, which is a little different. The feedback that I've gotten is that the silhouette and the foldings are unique, and different from how other brands are doing it. For example, if it is a simple pencil skirt, I'll try to either add some hand-made foldings to it, or add prints that stand out in a more artsy manner.
So there are more details to it?
Yes, and because I paint the stuff, every piece is different, like how the colour combinations and the folds are different.
So did you face any challenges when you first started out?
The capital was definitely a challenge but because of passion, we really wanted to do go ahead and do something. Another challenge that I faced was getting people to believe in the combination of art and fashion because Singaporeans aren't as adventurous in fashion and aren't as open to trying new things. So usually for my collections, I will still include some tone down colours like neutrals and nudes in addition to the louder colours. I guess the culture in Singapore is probably one of my biggest challenge.
What are your inspirations behind this Spring/Summer 2016 collection?
I was travelling and I spoke to a lot of people. I was inspired by how different people expressed themselves differently. So when I was painting, I decided not to paint things that are physical, but to just blend colours together to form a droplet that showcases the different types of people around and the different personalities they have. And by blending the colours, the colours combined together to form all sorts of different droplets and looked really pretty together. In short, this collection is about the individuality of people.
So any interesting behind the scenes story for this collection?
It was my first time on a bigger fashion show during the Digital Fashion Week for this collection and it was quite crazy. The whole process didn't just start from the drawing and sketching, but in fact, it started when I started painting and throwing canvases out! It took me about 3 to 4 months just to get the final canvas right.
So was it very hectic during the Digital Fashion Week?
Yes it was, from the designs to selecting the models. But it was a very good experience for me.
And you had to do everything on your own?
Almost, but my sister helps me on the operations side.
But you have the final say?
Yes! (Laughs)
Which one is your favourite piece from this collection?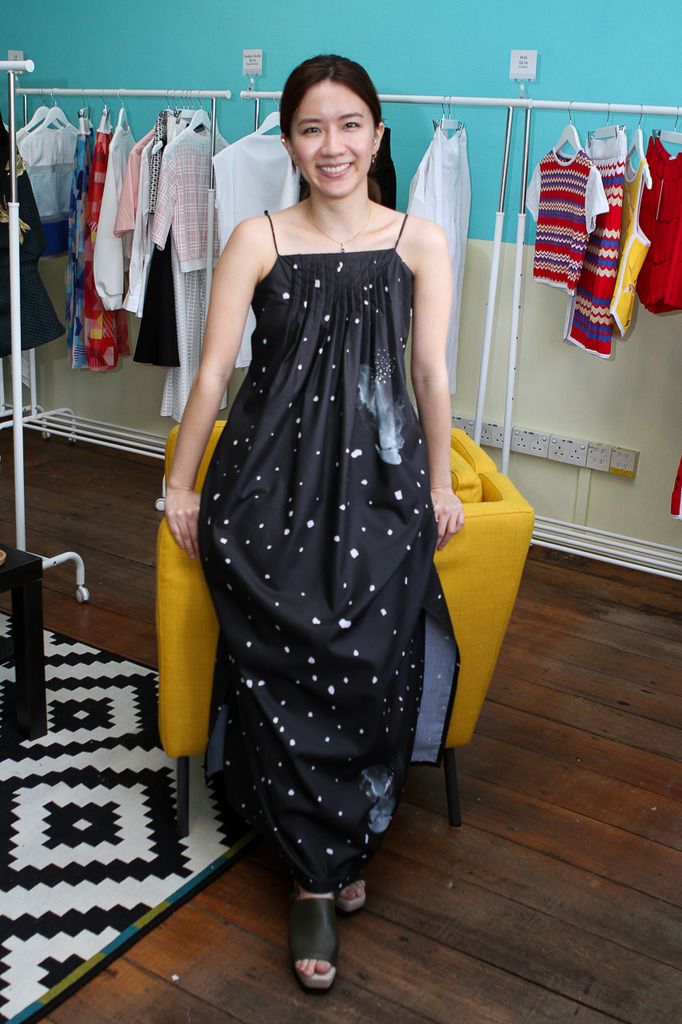 I would say that it is the current dress that I'm wearing! I like dresses with simple silhouette which doesn't hug my body too much, and this piece definitely has the artistic feel to it. It really shows what Ying the Label meant, a little oriental, but yet it has my paintings on it. The whole piece is really like an art meets fashion blend.
What is your wardrobe must have?
I'm a very simple person, so to be frank, my must haves is a plain black blouse and a plain white blouse because they matches everything. I like printed pants so my plain black and white blouses can match them easily. I love prints, so plain classics are a must to go with them.
Any fashion advice for Singapore women?
Well I would say try to be adventurous, be confident, and try colours. I think colours bring the outfit alive. You will naturally feel a little happier!
Lastly, something a little more personal. Tell us something about yourself that not many people know of.
I love multi-tasking! People know that I am doing a lot of things at once but I really enjoy the process of doing many things at once. I can multi-task very well! I do have a full-time job, so I'm juggling between my work and my passion. In the night, I sit down to think through my day and to chill out. But in the day, I think I can do 5 things at once.
Wow that's really hectic!
Ya…(Laughs) But I do enjoy it so its ok!
You can shop Ying the Label on on Yingthelabel.com and SocietyA.
About SocietyA/ Society-a.com
SocietyA was established in 2014 and is in place to be a serious mover and shaker in the Asian fashion scene. It is a multi-label online and retail fashion brand that features carefully-curated garments, shoes, bags and accessories from leading, and up-and-coming Asian designers and labels. SocietyA exemplifies its vision – "From Asia, for all", by making its brands more accessible to the global network. Headquartered in Singapore, SocietyA is helmed by KF Channel Singapore. KF Channel Singapore offers shopping experiences that are both unique and imaginative. It helps its partners grow their brands locally and regionally, and provide quality levels of customer service to its customers. KF Channel Singapore is continuously looking at new, exciting and strategic business opportunities and will continue to bring trend-setting Asian brands onto a global platform. For more information about SocietyA, please visit http://society-a.com/.
SocietyA Shoes & Accessories Lounge, orchardgateway #03-07