Bored of your wardrobe and looking for some style inspirations?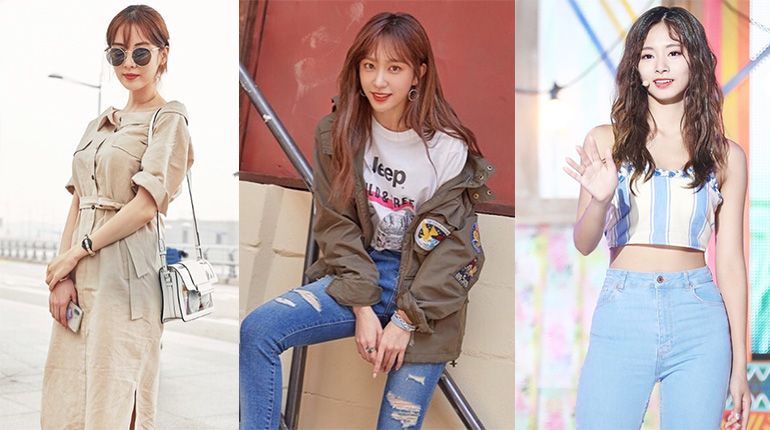 Credit: Instagram @seojuhyun_s /@ahnhani_92 /@queentzuyu
Take some cues from these K-pop stars for your next wardrobe update, and learn to style the way they do to look like a K-pop star too!
A black or grey suit can look too serious. Suzy wore a dark red checkered blazer with a matching skirt for her photoshoot and we got to say that she looked professional yet feminine.
Space buns and a headband together? Why not?
Shirts have taken on many interesting silhouettes. Try different cuts and designs instead of sticking to your good old button down all the time. Sandara Park matched an off-shoulder shirt with a pleated, flowy skirt.
Min Hyorin looked totally glamorous in an orange maxi dress, which she matched with the It bag of 2018, the Dior Saddle Bag.
Go colourful like HA:TFELT did with a colourful top and yellow boots. Those boots popped the whole outfit.
Crop tops and high-waisted bottoms always elongate our legs. Twice's Tzuyu wore hers in shades of pastel blue, and showing off that little bit of skin made her look both sweet and sexy at the same time.
Twice's Mina put on the perfect summer vacation outfit - a feminine eyelet off-shoulder cropped top with high-waisted light denim shorts, and she pulled the whole look together with red earrings and red flip flops. It is hard not to fall for her girlish charms.
A lightweight, chiffon dress is great for the hot weather. Taeyeon goes boho chic in her yellow dress and brown boots.
What did Jessica wear when she came to Singapore last month? A simple fitting pink checkered dress with pearl earrings. Definitely a look to copy if you want to look oh-so-feminine.
BLACKPINK's Lisa wore a pink oversized tee that covered her denim shorts, and she completed her simple style with a half-up topknot.
You worked hard for that body so show it off! BLACKPINK's Jennie looked great in her forest green off-shoulder cropped top and cute shorts. Perfect for the weekend.
We got our attention on BLACKPINK's Jisoo's high socks and cute purple sneakers.
EXID's Hani went for the cool girl look with her patchwork bomber jacket, matched with a white tee and a pair of jeans. To avoid looking too boyish, you can always pair the look with heels instead of sneakers like Hani did.
Sooyoung opted for a dark floral dress with black socks and loafers, and completed the look with a YSL crossbody bag.
Don't have a cropped top? Tie up your tee. Don't have a belt? Use a shoelace! We really love Red Velvet's Joy's interesting take on her casual outfit.
Seo Hyun chose an utilitarian dress in khaki brown, matched with a white bag and a pair of white heels for her airport fashion. Don't forget your sunglasses so that you can look like a K-pop star!