Tips for Halloween Costume and Halloween make-up and how to be your favourite movie characters for Halloween Parties.
Halloween makeup is very important for your Halloween party beside your costume dress that you must carefuly choose, and actually Halloween makeup is also inexpensive and will allow you to be much more creative. If you have your own favorite movies characters and want to bring those characters to your Halloween party, here we have some makeup ideas inspired from famous movies characters, a chance for you to be creative and unique during Halloween night!

Japanese Anime character look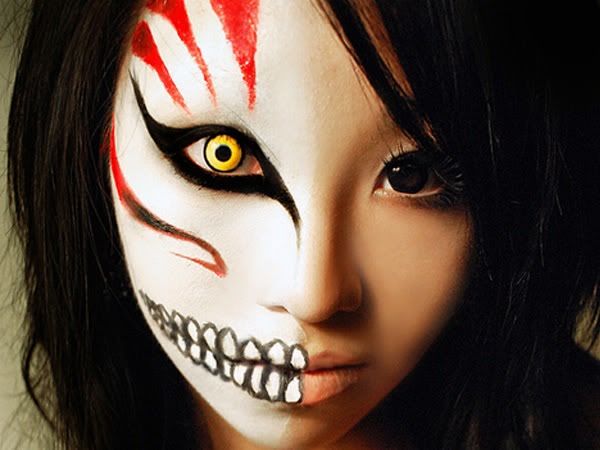 Japanese anime characters are great ideas for Halloween and one of the best and most famous Japanese anime character is a teenager named Ichigo Kurosaki (picture above) who wear hollow mask and who is the main character of Bleach animation program.

Half hollow mask face painting is very easy to do. You will need white, black and red painting color and also your favorite crazy contact lenses to complete this hallow mask.
First, half of the face is colored with a white base to start, then get black pen eyeliner to accentuate bone teeth structure on your lips and hollow around the eyes to draw demon look.
Use red color to shadow your temple and cheeks and to make red stripes just like the hollow mask, and don't forget to finish this hollow mask look by wearing cool crazy contact lenses.
Corpse Bride look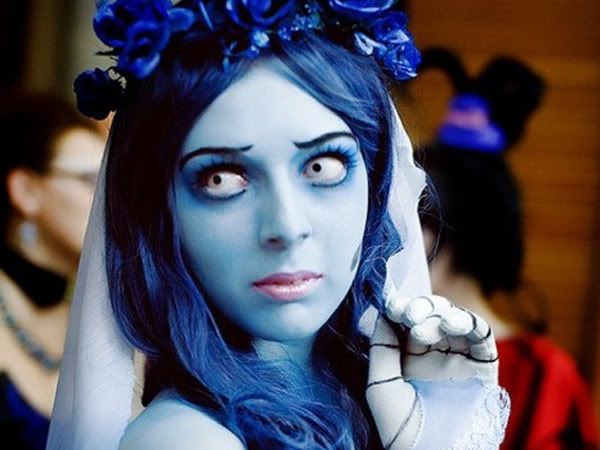 Here is a cool Tim Burton's Corpse Bride makeup look just in time for this Halloween 2011. This Corpse Bride makeup idea is a lovely Halloween costume for women, teens as well as for younger girls. This Corpse Bride is just the right combination of prettiness and creepiness for those who want to look beautiful but still enter into the spirit of a Halloween horrible.

You don't need much painting for this look and you can only use regular cosmetic make up. Start by using a sponge to apply the pale blue paint on your face and use a darker blue color into eye socket area and on your eyelids.
The Corpse Bride has large eyes, so you need to use black paint to create the eyebrows higher than your own eyebrows and use white paint to create a pale area under your eyes to make your eyes look larger.
Now you need to add some false lashes underneath the pale area to reach a doll look. You can balance by adding false lashes to the upper eyes.
Use darker blue paint all around the edge of your face and soft blend into the pale blue. Add bright pink color or nice lipstick on your lips and create wound details on your cheeks if you like.
Finally, you can achieve this look by holding a bouquet of dead flowers and wearing white crazy contact lenses.
Avatar Makeup Look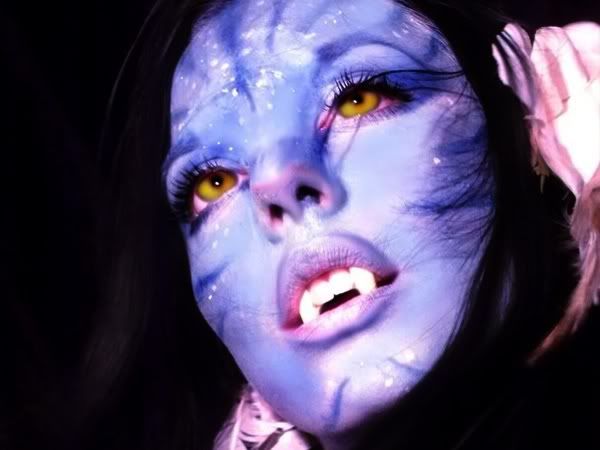 Take a step into another world by creating your own Avatar look for this 2011 Halloween. This Halloween makeup is inspired by the Avatar movie. Everybody can enjoy being this beautiful and brave Neytiri or Na've warriors.
You need a pale blue and a darker blue, and also a pink color or some white for details of this Avatar face makeup.
Take your sponge and apply a thin layer of white color on your face to tone down your skin and then use two shades of blue paint to contour your face.
A light blue and a dark blue can create your desired shade of blue to look like Neytiri's as much as you want.
Apply the dark blue shade around the hairline, inner corner of the eyes, underneath the cheekbones and your jaw line. You need to create the illusion of a higher brow bone by using blue paint to cover your eyebrows.
The lighter blue is great to highlight the center of the forehead, nose, outer corners of the eyes, chin and temples. You should use a makeup sponge to blend well on your face.
Finally, use brush to mimic an Avatar character's forehead stripes by painting the dark blue lines first and outline each stripe with light blue paint for the best highlighting effect, then draw a dark blue stripe down the center of forehead toward the bridge of your nose to create a branching effect at the hairline.
One last thing, you need light brown contact lenses if you want this Avatar Makeup to really be perfect.
We bet you will love these too!