Spring summer is upon us again but this season this year, let's explore a new palate of colours instead of the same old overrated hues of browns and greens. Have more fun with colors this season.
Aileen Lee, a professional makeup artist teaches us how to apply strong colours on Asian skin correctly. Like morning dew on a verdant garden, this makeup will make you look both graceful and fresh! Here is the step by step Spring/Summer Makeup.


STEP ONE - The first step to is to apply a light foundation. Light foundation will not only allow your skin to breath easily but it also gives a natural finish. Your base is very important as it determines if your makeup can last throughout the day, or not. Prepare light foundation after applying moisturizer and sunblock. It is important to protect your skin from UV rays especially in our angry weather.
The way to hold the sponge is to hold your thumb on the side and your fore finger on the length to control its pressure. This is to enable smooth application of even strokes of the foundation. The wedge should fit your thumb and forefingers perfectly for maximum control of the pressure - movement of fore finger allows short even pressure strokes of foundation application which in turn gives an even and smooth finish.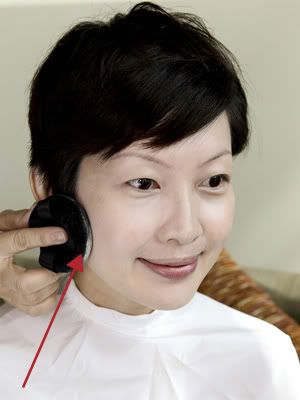 STEP TWO - After your foundation, apply loose powder from Dodo Palgantong. Do remember to change the sponge. Clean sponge is not only free from bacterial and stale makeup, but it also gives a clean and fresh finish.
For a matt silky finish, press the powder in instead of sliding it. Dodo Palgantong's Loose powder maintains your skin's moisture all day long. It prevents moisture evaporation and thus creates silky skin.



STEP THREE - Eyebrows are the most important feature on our face. It defines your facial features and frames your face. Notice how the eyebrow is shaped? Apply stroke by stroke. Aileen recommends Shu Uemura's pencil eyebrow. Use a color that matches the eyebrows. A synthetic contrast of hair and eyebrows is very unflattering as it fights with the colour of the hair.

Application with short stroke-by-stroke gives a natural finish – like the growth of eyebrow hairs. For natural finish, by right, choice of color should match with the head hair because it covers a large area above the face but unfortunately, a lot of ladies bleach their head hair but maintain their natural dark or black eyebrows.



STEP FOUR - Apply sunshine yellow on the eyelid, extending upwards. If you have single eyelids, slowly fade off just above the double eyelid to create an imaginary double eyelid.





STEP FIVE - Apply white eyeshadow just below the outer corner of the brows. A dip of contour extended from the inner corner of the eyebrow that fades off along the side of the nose ridge will help to give an illusion of a higher nose bridge.
Also apply contour colour or a darker colour at the outer corner of the eye to create depth or 3-D effects to the eyelid. After which, layer it with a touch of pink to bring life and brilliance to the eyes.





STEP SIX - Apply a touch of green at the inner corner of the eye to brighten up the whole eye.

Important tip to remember – use a proper eyeshadow brush to pick up the powder with the side of the brush, pressing on the powder and not sweeping them. Always blend well so that one can identify the different colors but cannot see the joining line of the different colors.






STEP SEVEN - When you are done with the eyeshadow, it is time to pay attention to your eyelashes. Aileen recommends an awesome method to curl your eyelashes so that it will be naturally curved (and not look angular!) and will last the whole day. The trick is the triple curling motion.




STEP EIGHT - Apply mascara onto top lashes by smearing mascara onto top and bottom layer of top lashes. This will help to hold up the lashes for the whole day. We can enhance the look by applying false eyelashes that flick at the end. This will give the summer look a more flirtatious feel.





STEP NINE - Complete with a dash of coral blusher and coloured lipgloss.

Doesn't Eileen look like a breathe of fresh air? Makeup is all about the art of beauty. What is art if you do not explore colours and techniques?

Original production of www.myfatpocket.com

Check out what the rest are sharing about Beauty, Cosmetics & Skincare in our Forum!
We bet you will love these too!