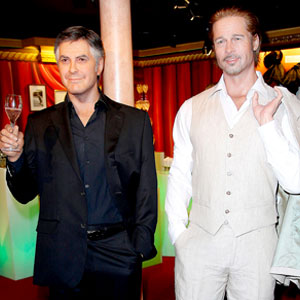 Weeeeeeeird.
Wax figures always give us a mix of the heebie-jeebies and total fascination, so you can guess our reaction when we saw the new statues done of Brad Pitt and George Clooney.

So what's the story with these dummies?
The actors, who look like they came out of a scene from Ocean's Eleven (except for Pitt's long hair), were sculpted courtesy of Musee Grevin in Paris, and although it's not their first wax experience, this threw us for a loop.
Pitt is featured in a three-piece suit, with his body language totally on point, and his facial features showing him as Brad Pitt—the person and dad—not an actor featured as a certain character from a film.
As for Clooney, well he just looks good all the time. And call us crazy, but is that a "Hey, I'm single."  twinkle in his eye?
What do you guys think? Totally awesome or totally creepy?

Source: Eonline

We bet you will love these too!