Lindsay Lohan has found yet another place to rest her head.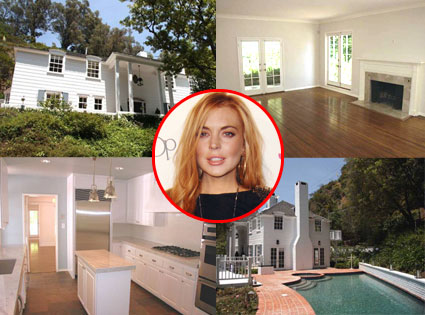 And Britain's Daily Mail is reporting that the house-hopping starlet is renting a glamorous spread in Beverly Hills for a whopping $25,000 a month. That sum may be chump change for Brangelina types, but for Lohan?
The Saturday Night Live-hosting, Glee-guest-starring actress cited financial hardship in 2010 as to why she needed to work rather than continue treatment at the pricey Betty Ford Center. Still, that was ages ago in Hollywood years, so she could feasibly be paying top dollar for a rental house now, right?
Hang onto your government subsidies, guys, because this story is...

So false!
A source confirms to E! News that Lohan is renting the roomy house identified by the Daily Mail, but that $25,000 a month is "nowhere near" what she's paying.
"That number is almost four times what she's really paying a month," the source says.
See, just like any smart shopper, Lohan apparently appreciates a good bargain. Her newest digs boast four bedrooms, five bathrooms, a high perimeter wall for privacy, lushly planted grounds and a pool and spa.
The frequently on-the-move starlet once upon a time lived in the Hollywood Hills, but moved to a West Hollywood condo for security after her house was burglarized. Then she moved to Venice, but ditched her cute house by the beach for WeHo's Chateau Marmont after getting the fish-in-a-bowl vibe from lurking fans and paparazzi.

Source: Eonline


Check out what the rest are gossiping about in our Forum!

We bet you will love these too!