First specialty store in Singapore tailors accessories and connectivity solutions to the needs of mobile communication device users across various operating systems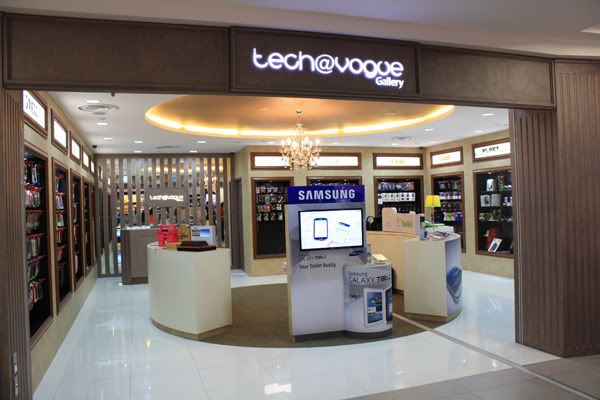 Singapore, July 13, 2012- Midas Marketing will launch tech@vogue Gallery at nex Mall, #02-22/23, 23 Serangoon Central tomorrow on 14 July 2012 This store is the first of a new chain of specialty stores that focus on accessories and connectivity solutions for smartphones and tablets across various operating systems including Android, Blackberry, iOS and Windows. The new stores will be managed by the same team that brought you Nubox. An arm of Newstead Technologies, Nubox currently runs 11 Apple stores in Singapore.

The tech@vogue Gallery experience
The new tech@vogue Gallery boasts an extensive selection of premium accessories that enables shoppers to get the most out of their mobile devices. Be it for communication, work, travel or entertainment, shoppers can easily find the best solution to suit their lifestyle needs. The accessories are catergorised under eight zones namely Blast It, Dress It, Gotta Have It, Hear It, Juice It, Link It, Perk It and Style It.
"With over 45 stores in Singapore, we hear the frustrations of our customers in their relentless search for the perfect accessories for their mobile devices. Often, style is compromised by the need for function and that is something which tech@vogue is set to change. With our fingers on the pulse in the market, we have accessories that consumers may not even know they need before visiting our store. Some product functions will surprise you! In a nutshell, there is always something new for your mobile devices at tech@vogue" said Evelyn Chua, Chief Marketing Officer, Newstead Technologies.
There will also be an "experience zone" at tech@vogue where shoppers can see, hear, and feel the various solutions first-hand. A number of international brands including Belkin, InCase and Just Mobile debut their first demo corners in Singapore at the new store. Be inspired by the Belkin products that enable you to connect to your home electronics anytime anywhere with a smartphone; learn how InCase products protect and enhance the technology that is essential to our lives and immerse yourself in the suite of stylish and award winning accessories from Just Mobile. Other exciting displays include Slingbox which allows users to watch and control their home television on their mobile devices and a dedicated Samsung corner that demonstrates the integration of functions through technology to provide a seamless experience.
The second tech@vogue Gallery will open at Marina Bay Link Mall in August 2012.
Zones:
1.

Dress It

Tired of the monochromatic black, white and silver tones for your mobile devices? Here's the place to go to add a personalised touch to your treasured devices and let them stand out in the crowd! These three zones feature a wide range of cases for smartphones and tablets. From glamorous to cutesy to stylish, you can definitely find the perfect fit here.

2.

Perk It

3.

Style It

4.

Blast It

Looking for an all-in-one speaker to rock out or one that runs wireless? We have got it all covered at the "Blast It" zone.

5.

Gotta Have It

This is the zone to get all the essentials for your mobile devices. From screen protectors to stylus, you "Gotta Have It" all!

6.

Hear It

Turn your music a notch up with our range of earphones and headphones.

7.

Juice It

Get power on-the-go for your mobile devices from a wide choice of portable battery chargers at the "Juice It" zone.

8.

Link It

Go wireless and unify your mobile devices with the connectivity solutions.