Cirque Mother Africa is a two-hour extravaganza filled with a cocktail of circus acts with an African theme. Moving to the pulse of the continent's music, acrobats, feet jugglers, contortionists, and dancers (among others) have all come together to express to the world the love for their homeland.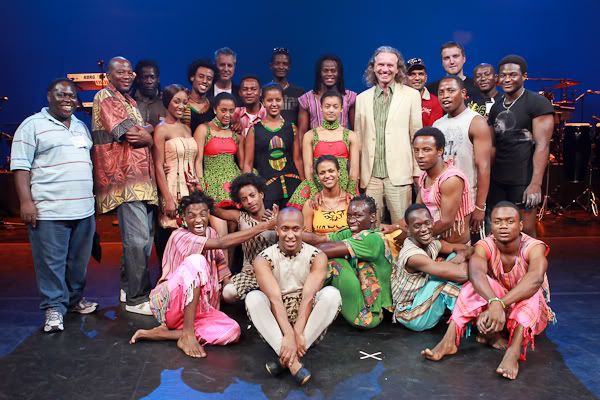 Just exactly how was it made possible that Africans from nine countries, belonging to various religions and speaking assorted languages have come together as a family to rock the world?

Hubert Schober, producer extraordinaire, came from a ten-year exposure to Chinese circuses. He came up with the idea of bringing the circus to town. Quite literally, too. He wanted to introduce the concept of a circus to Africa but not without challenges. He scoured numerous embassies, initially, in search for natural talent. Then kismet, he met Winston Ruddle, a Zimbabwean artist (who became the show's director), who had the same aim as him. Together, they made history and ushered the African circus into the world in 2006.

Frequently compared to the legendary Cirque Du Soleil, Hubert says that Mother Africa's focus is not quite on the technical side but instead, to bring the joy and beauty of African dance and music to the audience. While Cirque Du Soleil is a profoundly big production, Mother Africa is still quite small but nevertheless full of heart. He humbly corrects the misconception that they are the African answer to Cirque Du Soleil. "Maybe just a try," he suggests with a smile. No doubt, however, Mother Africa will reach the same colossal success.

The tremendously talented cast hails from different parts of Africa. Some are hand-picked from circus schools while others have been discovered from the streets while doing stunts. "In Ethiopia, we find the best educated artists in the whole of Africa because of their athletic background," Schober shares. He and Ruddle eventually established their own circus school in Tanzania where they trained star performer and contortionist, Lazaro Gitu from Kenya (someone whom they stumbled upon on the streets). He has carried on to be the world's most flexible man having intermittently performed in front of European and Chinese audiences.

Due to the act-oriented nature of the show, the stunts of Mother Africa continuously develop. From year to year, minor changes take place resulting into a completely new show every couple of years. "But next year, we will put a small storyline about an African tale about happiness coming back to the people," Schober reveals. "There will be actors, new artists, a new stage set – everything will be new." It seems there is always something to look forward to every time.

The team also continues to work relentlessly offstage. The live band that accompanies the circus acts plays a mix of traditional and popular African songs. The artists train together and individually every single day – and with their expertise, they also help in putting together the show's choreography. The director's wife, an ex-contortionist from Mongolia, designs and creates the costumes donned onstage. With the harmony, discipline and determination instilled in the family of Mother Africa, there is no stopping them.

When the Schober-Ruddle team brought the circus over to Tanzania for the first time, there was no Kiswahili word for circus. "Sarakasi is the word for circus now," he conveys. "They liked the performance, they went completely crazy!"

Mother Africa has created history and has taken the Western world by storm. And they have also created quite a splash in Africa (especially with having contributed a new word to a language). Just like how they will most probably do the very same thing in Asia.

Mother Africa was showing in Singapore on April 12 to 15.

Check out what the rest are sharing about Entertainment & Lifestyle in our Forum!