K-Beauty, in my opinion, is all about keeping your skin looking well hydrated, dewy and bright! If you follow me on my socials you'd know that this look I'm documenting is a go-to so let's dissect it shall we?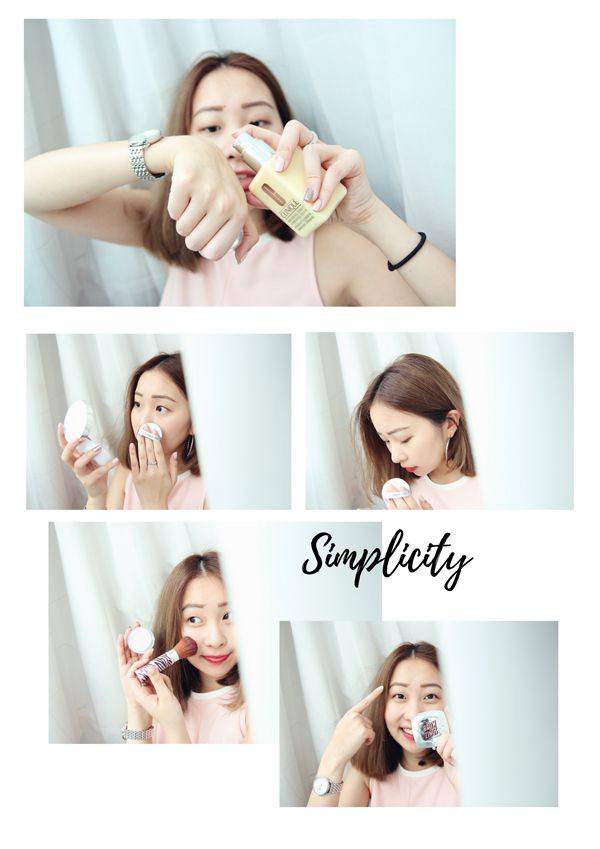 Every makeup look needs a solid foundation – a clean, moisturized canvas. For me, I've sold my soul to Clinique's 'dramatically different moisturizing lotion +', never looking to other brands for alternatives. It really is DRAMATICALLY different. Try it, you'll have no regrets. Next, my trusty BB Cushion! If you read my previous post on achieving the Bambi look for Halloween, you'd know that I was a fan of Laneige but I've since left that behind. The Face Shop is definitely the way to go. Easy to use, pigmented and covers any uneven patches of skin very well.
Moving on, Korean makeup is subtle so there's no bronzer, no contouring and no crazy amounts of blush or highlighter. Sparingly swish on some pink blusher and dust on the glitter. Be careful not to overdo it else you'd look like a tomato! As for brows, this product shouldn't be a stranger to you and needs no introduction. Benefit gets it right every time. Korean styled brows are straight and tend to be quite thick. It is said to make you look younger than if you adopt the American arch. Eyeshadow isn't a must but I've been loving the application of colour on my lids recently so yup personal preference.
To finish off the look, add mascara, a bold red/pink lip colour and spray on your setting mist of choice. I personally use MAC's 'Prep + Prime Fix+' that successfully keeps my makeup intact and well hydrated throughout the day. Korean trends stay away from nude, matte lip looks but focus on lip tints, glosses and ombre styles.
Check out the second last photo of me doing aegyo. I tried. LOL See what lengths I go to to be entertaining? Haha okay got to run along now. Toodles!