One of the most important things for career satisfaction is having a positive relationship with your boss.
Credit: Getty Images
Often, the key reason why employees stay in a company is that they have healthy working relationships with the people around them – especially with their line managers – and the opposite holds true for employees who resign and leave. Managing up is a necessary skill to have and it's everyone's responsibility to make the dynamic work – of course, it's a two-way street, but here are some tips to help you navigate this tricky yet essential connection, whether you're a newbie or an experienced employee.
Managing Up Doesn't Mean Sucking Up
Let's get this out of the way – most employees fail at managing up because they think that it's all about kowtowing to whatever their managers say, do, or direct at them. It is not about buying your boss his or her favourite grande, iced, sugar-free, vanilla latte with soy milk at the exact temperature of 85 degrees Celsius every single day (unless that's your key responsibility!), nor is it always about going out for drinks and lunches with them. Keep it professional. You are not on a mission to make your boss your BFF (although that's great too, but that is a different topic altogether), you're there to help make their business, team, and career goals achievable and see where you can genuinely help out.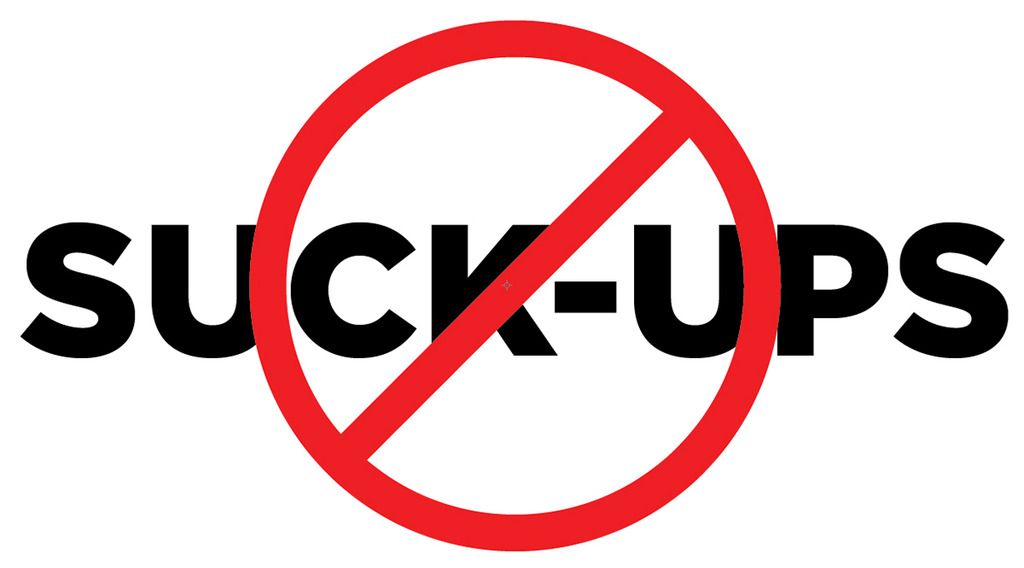 Credit: Careerstone Group
Do Your Job Well
The most basic tenet of managing up is to ensure that you are doing an excellent job in your role. It's all about doing your current scope well, raising your hand up to work on additional responsibilities (managers love initiative!), and sometimes even going above and beyond the call of duty. No one likes a slacker (what are you being paid for then?) – and if you're doing a helluva of a job in your role, you are likely in your boss' good graces already. Every manager loves a team member who knows what to do and does it well – and that includes recognising when to red-flag any issue that you need help on. Be an efficient and effective worker. Stephen Covey, of The Seven Habits of Highly Effective People fame said, "Effective people do two things: They strive to do excellent work, and they prioritize."
Offer a Solution
Speaking of red flags … if you're coming to your boss with a problem, think first if it's worth the escalation. Don't try to escalate too quickly before you've tried solving it yourself. If you have to table it for discussion with your boss, then offer one potential solution. Managers appreciate it when team members provide a point of view. It shows that you're thinking and trying out ways to solve the challenge. Unless your boss is a dictator, it is almost always a team effort when it comes to solving problems. Your boss will have the added advantage of years of skills, expertise, wisdom, and experience under his or her belt, while you will have the most in-depth knowledge of the issue at hand since you do the day to day work. It's the perfect combination and well – two heads are always better than one.
Understand Their Goals and Desired Outcomes
Every single member in the team will have business and career goals and especially if your boss is in the senior management level, he or she will have the added responsibility of targets and KPIs to achieve in order for the company to be profitable. That's a whole lot of pressure. This is why subordinates and team members need to know what the boss' goals are and how they can help achieve them. No manager wants a team who drags them down and jeopardizes their goals, visions, and ambitions. Frankly, they look for people who make them and the team look good. They want to make a name for themselves (and the team). They want to be relevant in the organization. They want to be seen and heard in the company. They want to be rock stars. If you help achieve that goal for them, you are going to be a rock star groupie in no time.
Credit: Financial Management magazine
Communicate, Communicate, Communicate
Managing up requires us to adapt and change our approach at times. Often, the root cause of disagreements between leaders in the organization and their team is the lack of proper communication and transparency. Nowadays, more and more employers talk about a "chemistry check" before hiring people and that ability to build rapport and work together effectively is crucial in every team – before, during, and after joining. Early on, discuss working and communication styles, decision-making processes, goals, and expectations. Good bosses will normally lead this process, but there's no reason why a non-leadership team member can't suggest it. It shows an openness to collaboration and real partnership. It's best to take assumptions and guessing or guesstimating out of the equation – ask, discuss, and align. Understand what makes your boss tick, what riles them up and pisses them off, and what type of help they need in order for you to be of real value to them. This way, you can slowly but surely anticipate what they need in future projects, discussions, presentations, etc. and at the same time, put yourself right smack in their line of vision… and that is exactly what you need – visibility, relevance, and value to your boss and the company.
Truth be told, managing up is an ability that can shape your career more than anything else – it can be a make or break. It requires extra effort, moving out of your comfort zone, and going the extra mile. There are so many instances where employees have done a great job in their respective roles but failed to build relationships with their bosses, leaving them with few to no allies when it comes to making themselves heard, getting a promotion, negotiating a bonus or increment pay, and yes, even saving their jobs. It's not enough to just get the job done and let the work speak for itself. It pays to put yourself out there and not work in isolation to your boss, team, and organization. No matter what type of manager you have, these skills are universally important and provide a good primer on how to build and maintain an effective and productive working relationship with your own boss. Now go and try it out!