Riding on the waves of various seafood culinary delights for Singapore Food Festival 2012, Covelli Italian Bistro & Wine Bar is proud to present the first ever Seafood Dessert dish – a contemporary creation that adds a hint of freshness to the sweetness of your dessert.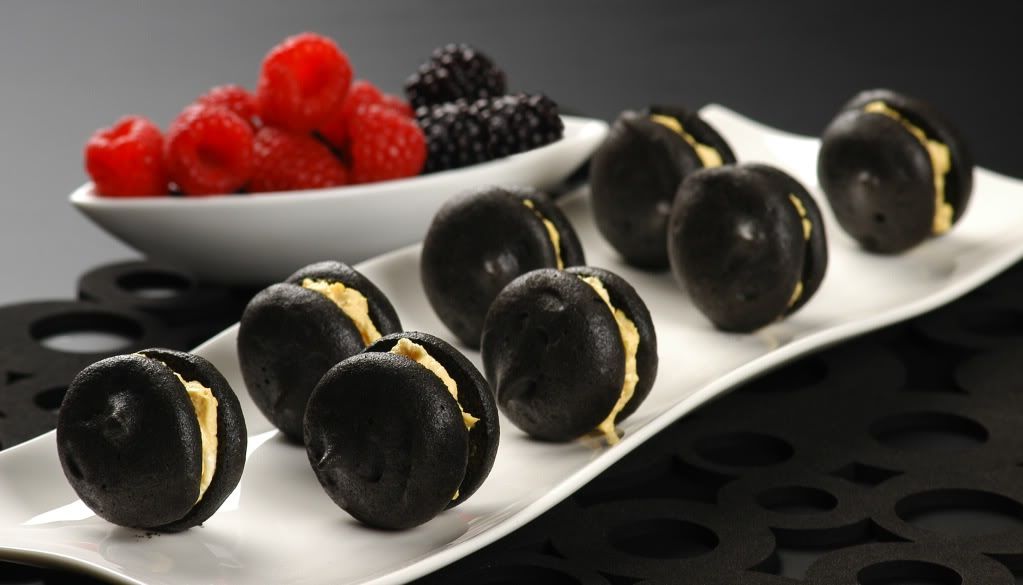 Singapore, July 2012 –The Squid-Ink Meringue and Sea Urchin-Mango Cheese Mousse marks the inaugural venture into the endless possibilities of culinary adventures. This modern invention defies all conventions of your traditional dessert as Chef Dean Ng incorporates the best of both worlds into a single dish. For the Squid-Ink Meringue, a witty addition of squid ink is whipped with egg white and sugar to create a light, airy and sweet confection. As for the Sea Urchin-Mango Cheese Mousse, the name says it all - Fresh
sea urchin mixed with mango flesh and cheese to produce a luxurious and savory mousse for your enjoyment.

The seafood dessert is a first for the Singapore culinary scene as we continue to advance in our culinary creations. Let the unlikely pairing of seafood and dessert surprise you with its exquisite taste as you entice your palate to whole new levels. Savor and experience the flavorful invention that Covelli's Head Chef Dean Ng has thoughtfully prepared, whilst journeying through the various gastronomical delights this Singapore Food Festival 2012.

Covelli Italian Bistro & Wine Bar will be stationed at stall number 27 during Singapore Food Festival 2012. Visit our booth to learn more about Covelli's seafood dessert, how it is prepared, as well as our signature favorites like the Antipasto Fruitti di Mare and Pasta al Pesto Gamberi.
Singapore Food Festival Village Covelli Italian Bistro & Wine Bar
Stall No.: 27
Date: 13-22 July 2012
Venue: Waterfront Promenade at Marina Bay
Time: 11am – 11pm daily
Price: Admission is FREE

Covelli Italian Bistro & Wine Bar is open daily from 11:00 am to 10:00pm. The 80 seater bistro overseas a 3000 sq feet space and a wine bar neatly tucked towards the end of the restaurant. Alongside Covelli is ʻESYE', a fashion label located in the restaurant's premises, which enables customers to browse through the boutique after enjoying a lovely meal.

Address:
181 Orchard Road, Orchard Central
Basement 2/13-22 Singapore 238896
Tel: +65- 6328 6400 / +65- 8181 8023
Email: This e-mail address is being protected from spambots. You need JavaScript enabled to view it Reservation: This e-mail address is being protected from spambots. You need JavaScript enabled to view it
Facebook: www.facebook.com/covelli.singapore
Twitter: https://twitter.com/CovelliB