We guess that Miffy had seen how much fun her Japanese friends (Hello Kitty, Gudetama, and Cinnamonroll) had on our sunny island via their IG stories. That's why, she decided to hop her way here from Dutch, and set up a café dedicated to herself at Jalan Klapa. 

Credit: Mothership
The pop-up café (concept by Kumoya) will open its doors from 5th October to 31st December 2017, and here are some of the dishes that you can look forward to.
Wonderfully Waffles with Karaage Chicken (S$21.90)
Looking for the perfect sweet-savoury combination? If so then this dish is definitely your choice. The thick and buttery waffle comes with shoyu glazed crispy karaage chicken, and a colourful array of garden salad consisting of cute Miffy shaped carrots, cheese stars, and Miffy potato cakes. We are already feeling wonderful just by looking at its picture.
1 piece plain waffle- 352 kcal
Karaage chicken (3 pieces) - 300 kcal
1 cup of garden salad-78 kcal
Shoyu sauce (30 g)-22 kcal
Total calories: 752 kcal
Egg-citing Miffy Smoked Duck Cold Pasta (S$17.90)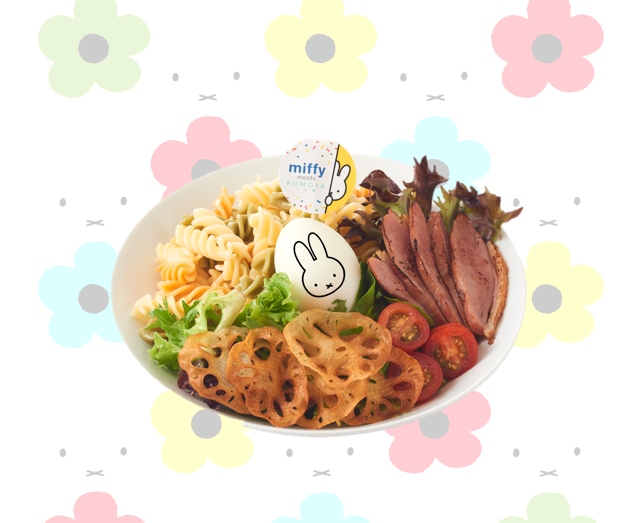 Don't you agree that the Miffy egg is so irresistibly cute? Add some "egg-citement" to your protein diet with this tri-color dish that comes with cold pasta, juicy aburi smoked duck, lotus root chips and garden salad topped with sesame (goma) dressing.
Pasta (200 g)- 288 kcal
1 hardboiled egg- 73 kcal
100 g smoked duck- 170 kcal
1 cup of garden salad- 78 kcal
Renkon chips (11 pieces)-110 kcal
Total calories: 719 kcal
Splashing Good Fun Japanese Seafood Curry Rice (S$24.90)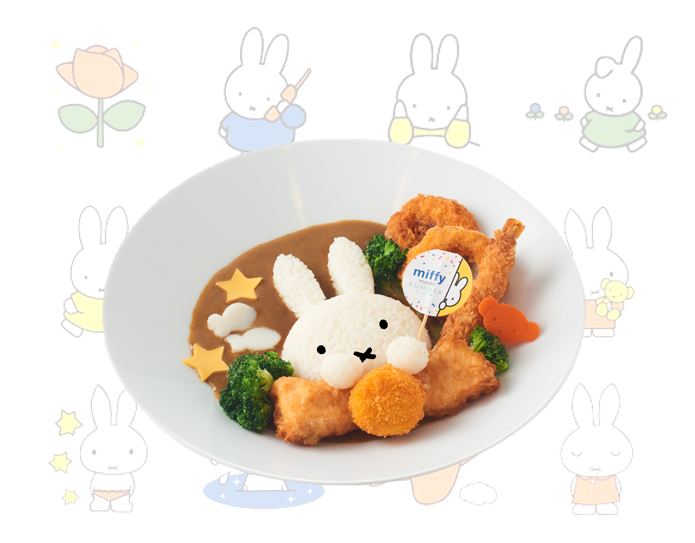 Do not expect to find usual suspects like chicken katsu curry rice at Miffy café. At the café, you will be glad to discover Miffy shaped Japanese rice swimming in a sea of flavourful curry with breaded seafood like calamari, ebi, scallop, and tempura salmon! We are sure that our palates will have loads of splashing good fun while savouring this dish.
Steamed white rice (1 bowl)- 271 kcal
Curry Sauce (100 g) - 68 kcal
Steamed broccoli (1/2 cup) – 22 kcal
Tempura salmon (3 oz.)- 193 kcal
Breaded scallop (1 piece)-33 kcal
Breaded calamari (1 piece)-12 kcal
Breaded ebi (1 piece)-107 kcal
Total Calories: 706 kcal
You, Me & Miffy Makes 3 Chicken Katsu Burger (S$18.90)
The faceless chicken katsu burger that we are once familiar with is finally given a mantou face. Now, it even comes paired with thick cut fries (with BBQ dipping), garden salad, cheese teddy, and cheese stars. With such an adorable appearance, our team just couldn't bear to sink our teeth into it.
Chicken Katsu (1 piece) -305 kcal
Mantou (1 piece)-132 kcal
Steak Fries (100 g)-152 kcal
BBQ Dip (30 g)- 40 kcal
1 cup Garden Salad-78 kcal
Total Calories: 707 kcal
Souperlicious Hot Udon with Breaded Ebi ($20.90)
Thank goodness for the addition of Miffy shaped kamaboko, shimeji mushroom, teddy carrot and chikuwa, the seemingly boring wakame udon soup instantly transformed from boring to appetising! For those who think that the dish is too "vegetarian", do not fret, for it comes with breaded ebi to satisfy your meat cravings.
Prawn Tempura Udon Soup-574 kcal
Wakame (30 g)- 35 kcal
Shimeji mushroom (100 g)-15 kcal
Chikuwa (1 piece)-36 kcal

Total Calories: 660 kcal
The calories values are based on rough estimation and will definitely differ depending on the portion size.
Calories Saving Tips
Put Your Fork Down Between Bites

Credit: Cosmogirl HK
Grab hold of yourself! As much as we know much you want to devour the adorable dishes, slow down. Put your fork down between each bite. Take time to savour each bite, before taking another bite. If you slow down, when your body says, "Hey, I'm full," you will actually be able to hear it.
Enhance Your Satiety
Wanting to eat more and feel satisfied without the extra calories? Then request for a bigger portion of salad (without sauces). The fibre from the vegetables, bulk up your food and increases your feeling of fullness. The best thing is, vegetables are of low energy density, meaning you get more food for fewer calories.
Recruit Your Squad
We know how much you want to gobble the mains down all by yourself. But hang on! Take a lead from the various carpooling services, share the heavy calorie fee portion of dishes with your squad.

Credit: Weekender SG
Be prepared to spend at least $10 per person, and that you might be asked to leave after 90 minutes as the cafe expects a huge crowd. 
Miffy Cook Book

Credit: Little Miss Bento
For those who can't wait till October to savour the dishes above, why not get hands on  Little Miss Bento Miffy Cookbook, and whip up the dishes yourself? Pre-order the books here.
KUMOYA X MIFFY CAFE
Address:  8 Jalan Klapa S199320


Operating Hours: Tuesday - Thursday, Sunday (12.00pm - 9.30pm); Friday and Saturday (12.00pm - 10.30pm) 
Nutrition information: Health Promotion Board, Canadian Nutrient File, Calorie Slism, Fatsecret SG,and USDA.