Between work, house chores, kids and everything in between, eating healthy can feel like a luxury for most of us. However, it seems oh-so-effortless for Kai Ying who constantly needs to juggle between her duties as a digital marketing manager, freelance yoga instructor and lady boss of Grand Nolan. We sat the busy bee down and got her to show us "in pictures" how easy it's to start eating healthy.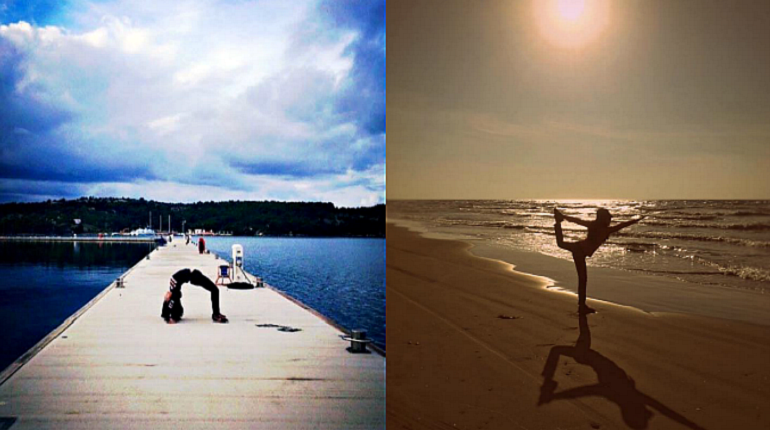 Breakfast- Homemade Masala Granola (Preparation: 5 minutes)
"I love kick-starting my day with granola, for it packs a big nutrient punch including protein, fibre and healthy fats from the addition of oats, nuts and seeds", says Kai Ying. The primary ingredient of granola- oats, is rich in beta-glucan (a fibre) that dissolves inside our digestive tract, where it forms a viscous gel. This gel binds to the excess cholesterol and cholesterol-like substances within the gut, and prevent them from being absorbed into the body [1]; thus helping us to maintain healthy cholesterol levels. 
Do pay attention to these if you're going for store-bought granola:
1. Avoid products that list many sources of added sugar (e.g. molasses, oat syrup and cane juice)
2. Keep the portion small (1/4 of a cup) to avoid taking in excess calories
Lunch- Mentaiko Salmon Don (Delivery)
We agree with Kai Ying that, with the sprouting of healthy food deliveries, one has no excuse for not fitting a healthy meal into their busy schedule. For lunch, Kai Ying opted for a fatty fish meal- Salmon that is rich in astaxanthin (an antioxidant). For the uninitiated, astaxanthin helps to protect our eyes by defending against oxidative damage from exposure to blue light and sun rays. Additionally, it improves the microcirculation among the cells in our body, and this is especially important for our peepers. A good microcirculation improves cell longevity of the eyes, and in turn, retards ageing related eye ailments.
Mid Day Snack- Rolled Oats with Dr Q
For her snack, Kai Ying chose to mix a sachet of Dr Q into her oats for a nutritious, hassle-free and yummy mid-day pick me up. "I just need to pour the sachet into the oats, add water, mix and drink it. It's so convenient and simple", says Kai.
In case you've not heard, Dr Q is the first Quinoa drink with collagen that is specially formulated to support women's day-to-day activities. Though small in size, quinoa's nutritional profile is indeed impressive. Naturally high in protein* and fibre, quinoa helps promote satiety and appetite reduction, and therefore, weight control. The protein in quinoa stimulates the production of cholecystokinin (a hormone that signals satiety) and suppresses the release of the appetite-increasing hormone-ghrelin [2]. While the fibre (mostly insoluble) bulks up the food and delay gastric emptying; coupled together, quinoa brings a gradual release of energy that helps to keep one energetic all day long.
*Quinoa is a complete protein that provides nine essential amino acids that most grains lack
Dinner- Mushroom Omelette (Dine Out)
" A useful tip when dining out is to look out for meals endorsed with the healthier choice symbol to make informed choices. Alternatively, one could visit the Healthier Dining Programme's website to locate a nearby restaurant that serves healthier choices", says Kai Ying. If you're lazy to do so, follow Kai Ying and include 3 to 4 different food groups onto your plate to make up a well-balanced meal. We see that she have a good mixture of carbohydrates (wedges and toast), protein (scrambled eggs) and vegetables (romaine lettuce and mushroom) for her dinner.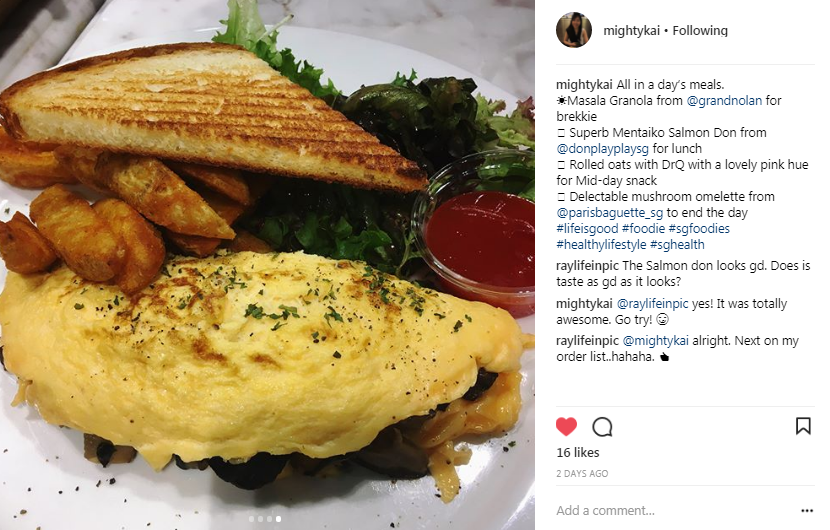 Dr Q
As a bonus, the quinoa in Dr Q is also extremely high in iron (4 times higher than brown rice) and folate. Iron is critical for the synthesis of red blood cells, for it makes up the active part of heme*. The iron molecule in each heme group directly binds to and transports oxygen [3]. Without sufficient intake of dietary iron, one cannot produce adequate heme to make functional red blood cells. While folate is required for proliferation of red blood cells during their differentiation [3]. Deficiency of folate not only impairs DNA synthesis and results in anaemia from ineffective erythropoiesis, but also elevate the risk of congenital anomalies during early pregnancy.
*Heme is the pigmented, iron-containing portion of haemoglobin in red blood cells.
The presence of valuable amounts of Omega fatty acids also make quinoa a great addition to a heart-healthy diet; this is wonderful for the ladies, as heart disease is the leading cause of death among women in Singapore. Studies have shown that oleic acid (Omega 9) and alpha-linolenic acid (Omega 3), like the ones in quinoa exhibit cardio-protective properties by increasing the levels of good cholesterol while minimising the levels of bad cholesterol and inhibiting the synthesis of pro-inflammatory substances respectively [4, 5]. Quinoa too has a potassium edge (provides10% of RDA), that helps keep the heart muscles healthy by relaying electrical signals between the myocardium (heart's middle thick muscle layer) and the nervous system.
Experience the goodness of Dr Q like Kai Ying does too!
Here are some other interesting facts about Quinoa
Dr Q is now for sale in a bundle pack with Dr Oatcare. Best of both worlds! Visit here for more details or to purchase.
References:
[1] Heart UK. The Power of Oat Beta Glucan. Retrieved from: https://heartuk.org.uk/images/uploads/healthylivingpdfs/HUK_factsheet_F09_OatBetaGlucanF.pdf
[2] Koliaki, C., Kokkinos, A. , Tentolouris, N. and Katsilambros, M. (2010) The Effect of Ingested Macronutrients on Postprandial Ghrelin Response: A Critical Review of Existing Literature Data. International Journal of Peptides. Retrieved from: https://www.hindawi.com/journals/ijpep/2010/710852/citations/
[3] Koury, M.J. and Ponka, P. (2004)New insights into erythropoiesis: the roles of folate, vitamin B12, and iron. Annual Review of Nutrition, 24, pp. 105-131.
[4] de Lorgeril, M., Salen, P., Martin, J.L., Monjaud, I., Delaye, J. and  Mamelle, N.(1999) Mediterranean Diet, Traditional Risk Factors, and the Rate of Cardiovascular Complications After Myocardial Infarction: Final Report of the Lyon Diet Heart Study. Circulation, 99 (6), pp .779–785
[5] Fleming, J. A. and Kirs-Etherton, P. M. (2014) The Evidence for α-Linolenic Acid and Cardiovascular Disease Benefits: Comparisons with Eicosapentaenoic Acid and Docosahexaenoic Acid. Advances in Nutrition, 5 (6), pp. 663S-876S