It's not an everyday affair when it comes to eating seasonal fruits to our heart's content due to their availability. Since it is the durian season now, fans of the King of Fruits can rejoice as Marriott Tang Plaza Hotel presents a slew of savoury and sweet premium Mao Shan Wang and D24 durian pastries and desserts at their Decadent Durian High Tea Buffet.
We suggest starting off with something warm such as the Durian Bread & Butter Pudding with Coconut Sauce to whet your appetite. The dessert is infused with luscious D24 durian puree sandwiched between layers of custard and buttery brioche slices and is sure to satisfy your sweet tooth craving. One of our favourites from the dessert table includes the popular Durian Crème Brulee Tartlets. Every piece of the tarlet is encased in a buttery tart shell that exposes a caramelised golden layer and provides a smooth texture of melt-in-the-mouth custard that imparts the moreish flavour of durian. Trust us on this, one piece is never enough!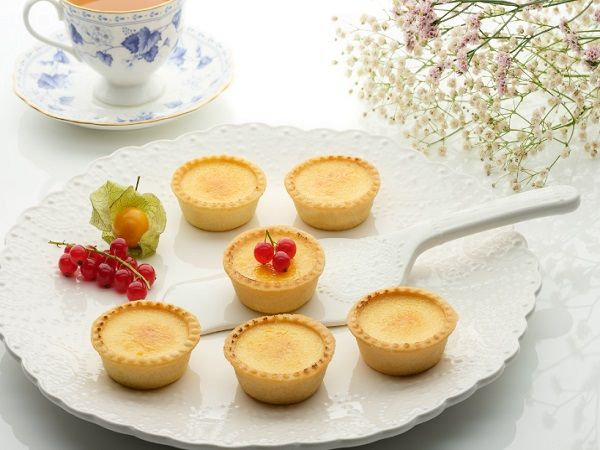 Something not to be missed is the Baked Durian Strudel which comes with thick layers of durian mousse and cream slathered between flaky crusts. With each bite, your lips will be caressed by the soft creaminess of the pulp that leaves a lingering sweetness. We got to say it's indeed a very euphoric feeling for us.
Other crowd pleasers include the Glutinous Rice with Durian & Coconut Cream; Durian Crêpes; Durian Mochi; Durian Panna Cotta; Durian Swiss Roll; Durian Crumble Cake and more.
Besides the decadent desserts, the buffet also offers an extensive spread of Local Delights and International Delicacies. Diners can look forward to Freshly Cooked Seafood such as Oysters, Gravlax Salmon and Poached Prawns; All-Time Favourites- Char Kway Teow, Spicy Carrot Cake and Nasi Lemak; The Classics- Laksa and Bak Kut Teh; Indian Delights- Biryani Rice, Malai Kofta and Aloo Gobi; Dim Sum- Shanghai Dumplings, Steam Egg Curd Bao and Chwee Kueh along with Western Delights- Scones with Fresh Cream and Jam, Fresh Finger Sandwiches and Baked Pizza and more.
Wait no more and make your way to Marriott Café to feast on the King of Fruits now!
Marriott Cafe
1 June to 31 July 2018
3pm to 5.30pm Daily
Adult: $45++ per person (Weekdays) / $48++ per person (Weekends)
Child (5 to 12 years old): $27++ per child (Weekdays) / $30++ per child (Weekends)