Hands up if you think that you need to bury the thought of sinking your teeth in Michelin delights unless you're willing to sacrifice your month's worth of salary. Thank Goodness, with PUTIEN Clam Festival, you can now destroy that thought (forever), and blow your taste buds away without blowing up your bank account.
Much to our delight, this year the Michelin-starred restaurant brought back its ever-popular Clam Festival (till 31st August). For the health conscious, rest assured that all these dishes are minimally seasoned and of low calories. The greatest thing is none of the dishes exceeds $33 (before GST).
If you're curious, the clams are sourced from Duo Tou Village in the Hanjiang district (renowned for being breeding grounds of the world's finest clams). The rare black mud at Duo Tou is pure, high in nutrients and contains no sand particles, thus producing especially plump, meaty and long (6cm) golden shelled clams.
Our team was glad that we managed to savour the succulent and juicy clams in not one but 7 different culinary ways:
Salted Spicy Putian Clam ($19.80 S, $29.80 M)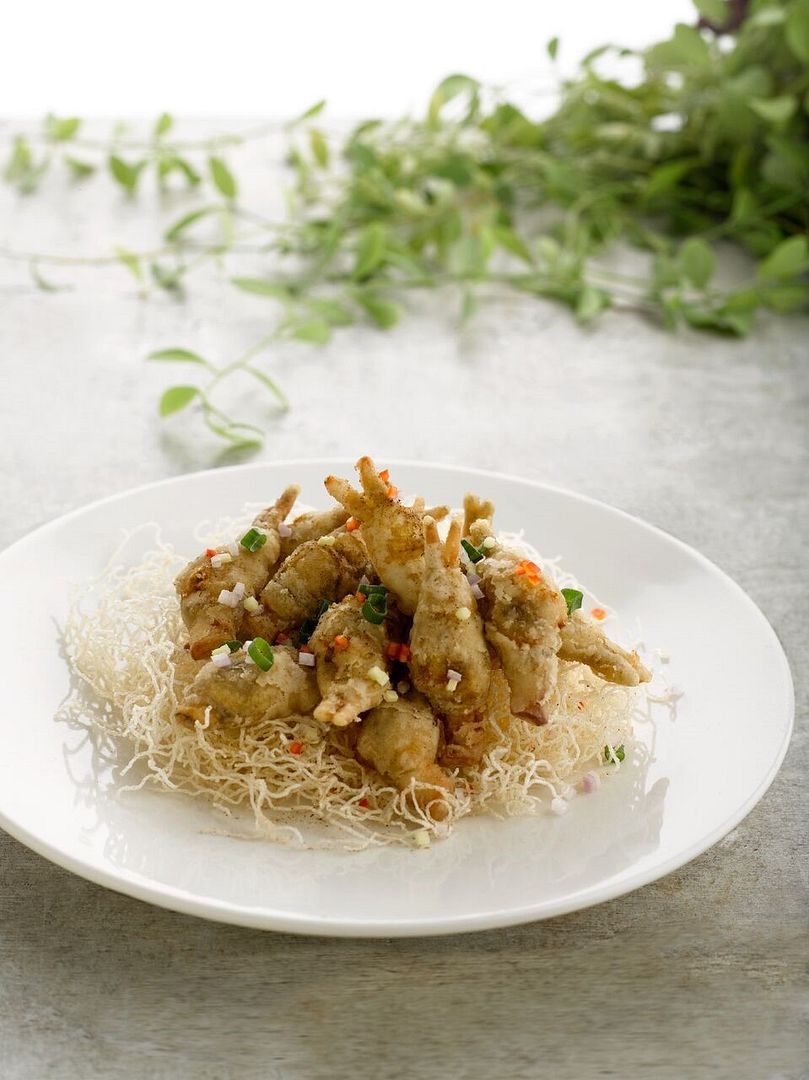 This dish instantly reminded us of the Taiwanese Popcorn Chicken (Yan Su Ji), with its crispy skin and juicy meat. We particularly love how it is lightly flavoured to enhance the overall fragrance, without being too spicy. Before I forget, we were also surprised at how the clams manage to retain their moistness and tenderness even after a relatively long period of time. Trust us when we say you just can't stop at one.
Stir-fried Putian Clam with Ginger & Spring Onion ($19.80 S, $29.80 M)
Despite its simple execution with ingredients like ginger and spring onion, this dish managed to exude the comforting feeling of home dining. It certainly did not disappoint us.
Steamed Putain Clam with Minced Garlic ($19.80 S, $29.80 M)
If you are worried (like us) that this dish will leave you with stinky breath, fret not! The garlic in this dish was specially treated to remove the garlicky aftertaste. Despite the rich amount of garlic, we were glad that the flavour of the clam wasn't masked. In fact, the garlic enhances the sweetness of the clams.
Boiled Putian Clam Soup with Tofu Meatballs ($19.80 S, $29.80 M)
The star ingredient of this dish is definitely the "made in house" tofu meatballs that sit humbly among the assortment of cauliflower and snow peas. Just a bite of it and our palates were instantly engulfed with beany flavour.
The commendable thing about the dish is no gypsum coagulant was used in producing the tofu, as it is high in calcium and may result in accumulation of calcium oxalate stones in the body. We learnt that the soup was boiled with the clams to release the sweetness of the seafood and vegetables, no wonder we found it particularly tasty.
Baked Putian Clam served on Hot Plate ($19.80 S, $29.80 M)
Our team agreed unanimously that this is our favourite. Other than how "Instagram-worthy" it appeared with the bed of pearly white sea sand and Szechuan pepper, we almost went to "food heaven" when the savoury-sweet and fresh crustacean flavours (or should I say juices) exploded in our mouth upon the first bite.
According to the Executive Chef- Mr Li Wen Bo, the best way to enjoy the clam is to dip it into the sea salt. However, we felt that even without the salt, the clams were already yummy on its own.
Putian Clam Omelette ($19.80 S, $29.80 M)
If you're a huge fan of fried oyster omelette, then you really need to try this. We assure you that there is no weird pungent flavour (like some oysters do). With its minimal usage of salt and oil in the preparation, this dish is definitely a healthier & refreshing rendition of our orh jian.
Steamed Putain Clam with Wine ($21.80 S, $32.80 M)
Delicately presented and steamed in the porcelain white bowl, here the Hua Diao wine gently infuses into the clams, while the clams impart their natural sweetness into the wine soup. All we would say is the 2 ingredients work in perfect harmony with one another. Remember to drink the soup for this!
All photos credits go to PUTIEN