There's no need to be a beauty fan to know Maybeline Sim, you would've probably recognised her pretty face from your Instagram feed. With her busy work schedule, full-time influencer status, and soon-to-be Mrs Awyong duties, we just wonder how Maybeline manages to look so fresh-faced all day. To satisfy our curiosities (and yours) we ransacked her bag and dug out her beauty secrets (and of course copied it too!).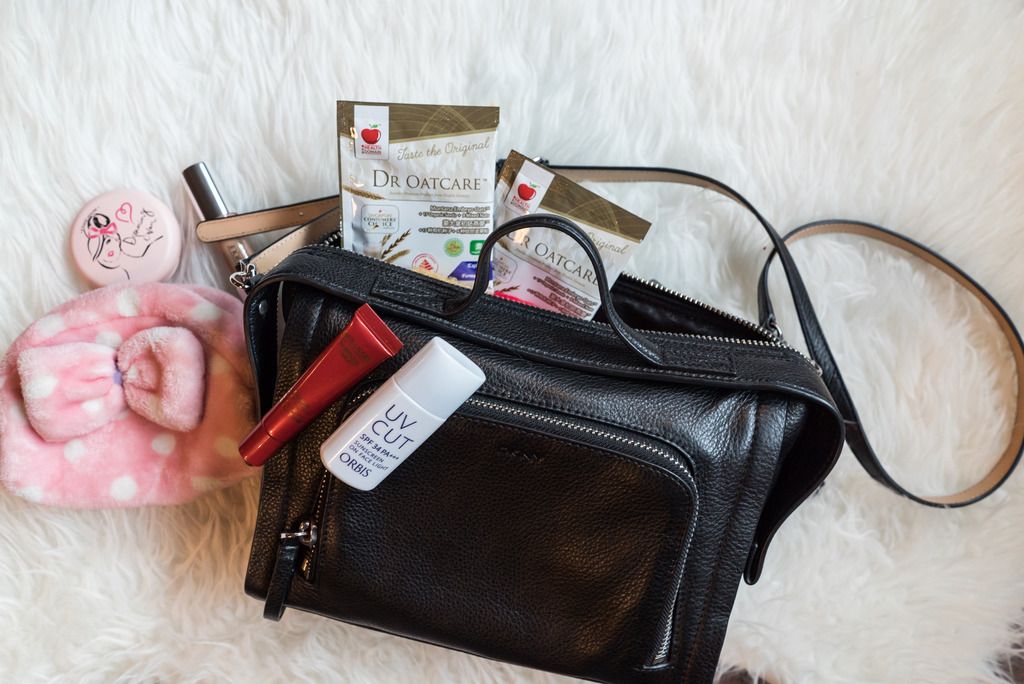 The Essential 1: Orbis UV Cut Sunscreen on Face Light SPF 34 PA +++
"One thing that I can't miss or give up is certainly the sunscreen", says Maybeline. She strongly believes that prevention is always better than cure, and don't wish to risk having pigmented skin just because she saved on the sun protection. "I particularly love Orbis UV Cut Sunscreen for its Triple Threat Protection properties, which contains Damage Block Veil that shields my skin from harmful UV rays, near-infrared rays and air pollutants. Moreover, it doubles up as a makeup base, so I can just apply it to my face on days when I forget my bases and still look fresh."
The Essential 2: Benefit the POREfessional Primer
"I like to apply a layer of primer just right after I apply my sunscreen and before foundation. This way it forms a protective layer over my skin, and seals in the moisture from all my skincare products. I really like Benefit POREfessional primer for its ability to quickly minimise the appearance of my pores, and prolongs my makeup. Trust me when I say it's so translucent that no one will know you're wearing anything, which is really important because I want my skin to look flawless and not totally covered up!"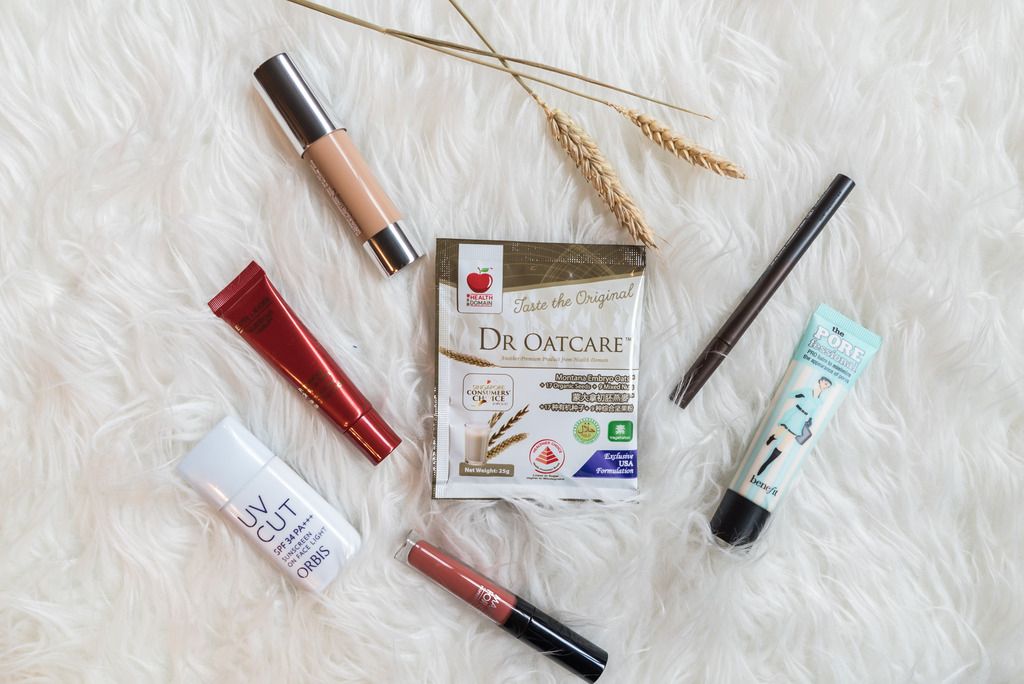 The Essential 3: Make Up For Ever Artist Liquid Matte
"I'm a little embarrassed to admit this but I love, love, love lip colours. That's why I keep many different shades of lipsticks in my pouch. The range from Make Up For Ever is my current favourite. Its colours not only help define my lips but also add a youthful rosiness while taking the focus off the main facial feature-my eyes, that's least forgiving when I am tired."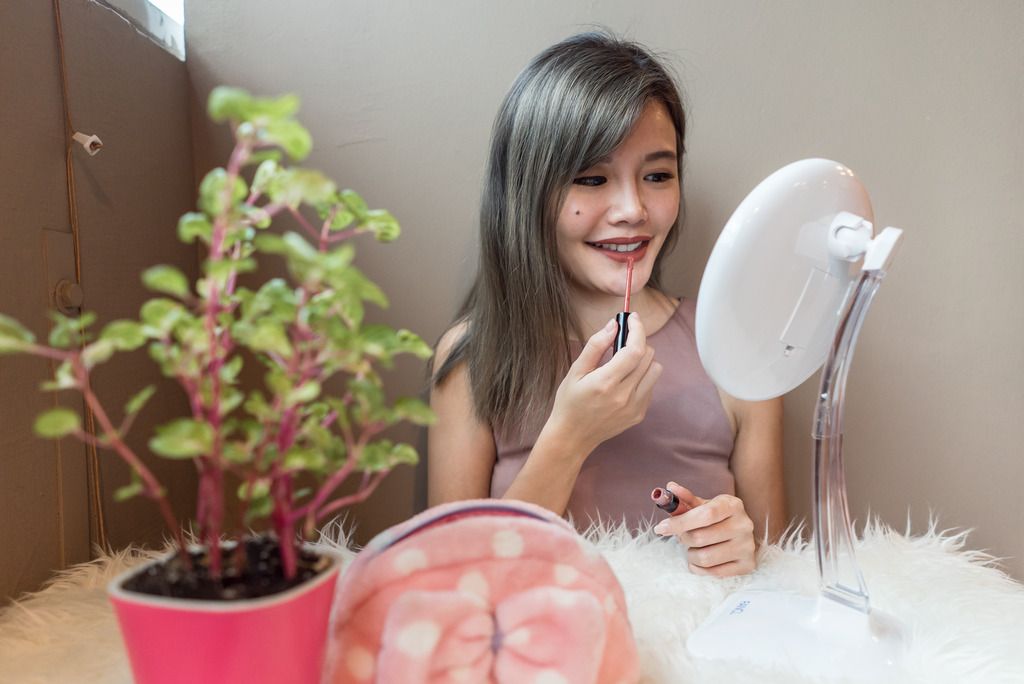 The Essential 4: CLIO Kill Brown Eyeliner
"Another must-have is my CLIO Kill Brown Eyeliner. I have oily eyelids and not a lot of eyeliners work well on me, so I'm really thankful that I found CLIO. It instantly defines the shape of my eyes and makes my lashes look much fuller. It's really a great eyeliner that can take my look from day to night, depending on how much I apply."
The Essential 5: Dr OatCare Sachets
Maybeline believes that beauty starts from within, and that's exactly why she always carry a packet of Dr OatCare in her bag. We learnt from her that Golden Flaxseed, one of the ingredients found in the product is rich in Essential Fatty Acid (EFA), which had been shown in studies to keep the skin hydrated and moisturised by maintaining the moisture of the skin cells and reducing the amount of water lost through the epidermis [1] . She also added that the EFA helps regulate prostaglandins synthesis, which prevents the skin from inflammatory conditions like eczema [1]."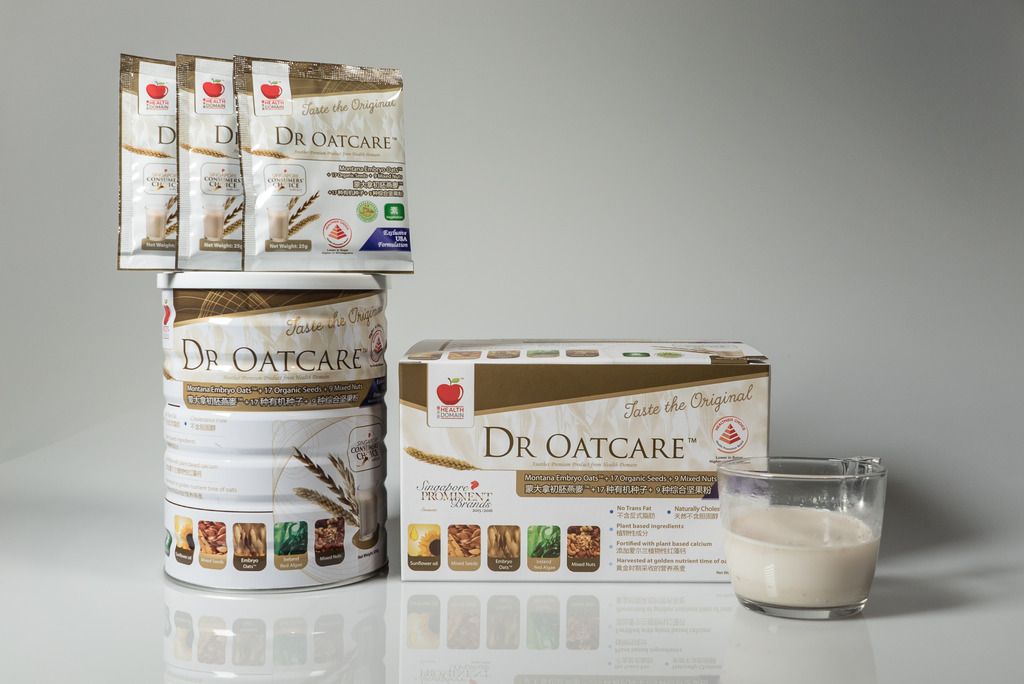 "Besides benefitting my skin, Dr OatCare also helps to fill in my nutrition gap. Yes, I'm a fussy eater in case you didn't know. It not only contains Montana embryo oats (rich in calcium, protein and fibre), 17 organic seeds, 9 types of nuts and fortified seaweed calcium but is also high in whole grains. In fact, one serving of Dr OatCare provides me with 38.3 % of my daily wholegrain requirement. I just need to pour the sachet into my cup, add boiling water and drink it to supplement the nutrients that are lacking in my diet. The wonderful thing is I can just order them from online, and have the products delivered to my doorsteps for free.  It's just so convenient and simple", says Maybeline. 
Make Dr OatCare a part of your beauty regimen like Maybeline does too!
Dr OatCare is available at FairPrice Xtra, selected FairPrice Finest, Sheng Siong supermarkets, Watsons and Unity pharmacies. Visit here for details.
[1] Neukam.K., De Spirt.S., Stahl.W.,Bejot, M.,Maurette, J.M., Tronnier, H. and Heinrich.U. (2011) Supplementation of Flaxseed Oil Diminishes Skin Sensitivity and Improves Skin Barrier Function and Condition, Skin Pharmacology Physiology, 24 (2), pp.67-74