We all know proper hydration is vital in maintaining and promoting optimal health and wellness. However, most Singaporeans are in a perpetual state of dehydration and do not even know it. Who and what is the culprit?
One of the main culprits is the large amount of processed foods, filled with "hidden" ingredients such as artificial preservatives, additives, colouring, sugar and salt as well as the toxins produced from grilling or frying. All of these "hidden" ingredients work against your body's own natural built-in hydrating mechanism. In fact, many drinks are so loaded with their own versions of additives, chemicals, preservatives, colouring and sugar, that they make you even thirstier in the end!

Many people underestimate the importance of water for the body. Let's take the first step in preventing dehydration by explaining water and how it works in the body, dehydration signs to look out for and some practical recommendations for fluid replacement.

What role does water play in the body?

Water is the most abundant, yet possibly the most overlooked, substance in the body. The body's fluid status is truly a delicate balance, that experts rank water second to oxygen as being essential for life. Water plays a vital role in all bodily functions and processes by providing a universal medium for chemical reactions, lubrication, nutrient delivery, waste disposal, heat dispersion and temperature regulation. Water plays an essential role in ensuring that both body and brain function well.

In order to maintain a balance of fluids within the body, water loss needs to equal water gain. Fluid loss is heavily dependent not only on a person's activity level but also on environmental temperature and humidity. For a sedentary adult, expected total water loss would be approximately 2500 ml per day and is typically comprised of:
1500 ml/day excretion by kidneys in the form of urine
500ml/day evaporation and perspiration from the skin
300ml/day from the lungs
200 ml/day from the gastrointestinal tract
Signs of Dehydration

A dry mouth or thirst is not the first sign of dehydration. By the time you feel thirsty, your body is already dehydrated. Darker coloured urine, and dry lips or mouth are some of the signs of dehydration. While some people will not recognise that they are dehydrated, they will experience its side effects such as fatigue, irritability, headaches, fuzziness and decreased coordination.
Other signs of dehydration include: short term memory loss, fuzzy thinking, stomach pain, joint pain, asthma and allergic reactions, constipation or even depression. Don't rely on thirst. Drink before, during and after any physical activity and get into the habit of taking on fluids during training as well as competition.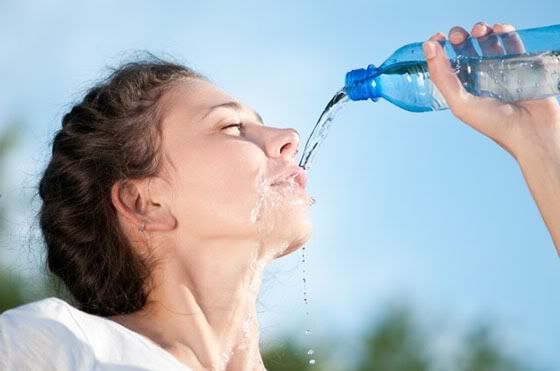 How much water should you drink?

Always try to drink more fluids than you need. Smaller quantities at frequent intervals help to optimise hydration. A simple way to calculate the approximate amount of water you need to consume in one day is to multiply your weight in kilograms by 0.033. This will give you the amount in litres. For example for a person weighing 60kg: 60 x 0.033 = 1.98 Litres of water to be consumed daily.

What type of water should you drink?

With all the different options for water out in the market, how do we know which process is healthiest for us? Do we choose mineral, distilled, filtered, tap or reverse osmosis? It is best to drink filtered water for a number of reasons:

It tastes and smells better due to the elimination of chlorine and bacterial contaminants
Harmful heavy metals such as lead are removed
Filters can remove dangerous contaminants, while leaving the beneficial minerals needed for healthy metabolic function
Filtered water leads to less contaminants and disease resulting in better overall health and a healthy immune system
Start drinking the right amount and type of water and you'll start feeling a profound difference in your health and wellbeing.


In partnership with Great Eastern Life, "Live Great" campaign. John Lewis, Naturopath at Verita Advanced Wellness. This article has been published with permission and is courtesy of Verita Advanced Wellness, a premier partner of Great Eastern "Live Great" programme.
We bet you will love these too!