Singapore's most sought-after supermodel and face of international and home-grown brands including Ashley Isham and Poh Heng makes special appearance at unique "My First Compliments" event. We caught her live on 29 March at Central Atrium to celebrate her unveiling as SK-II's newest global ambassador.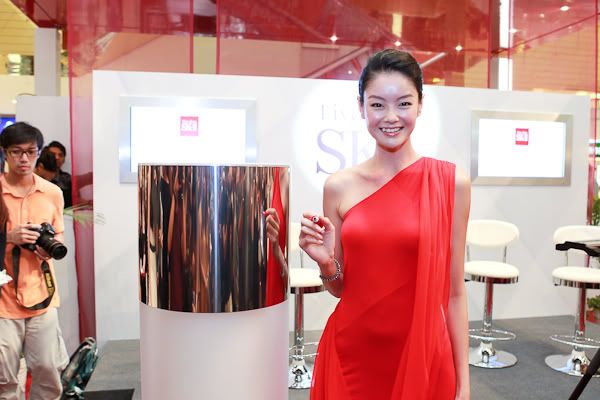 Leading skincare brand, SK-II has announced international supermodel and style icon, Sheila Sim, as its newest Global Brand Ambassador. This is the first time that an SK-II ambassador has been selected from Singapore to front its series of print advertisements and TV commercials around the world.

With her fresh-faced beauty and glowing complexion, the 27-year-old model has lent a youthful twist of sartorial sophistication to SK-II, redefining the paradigm of crystal clarity with her natural beauty. As one of Singapore's top supermodels, Sheila is the latest addition to SK-II's line-up of global celebrity ambassadors, joining the ranks of A-Listers such as Cate Blanchett, Qi Qi and Tang Wei.

From girl-next-door to international supermodel and now, global icon of crystal clarity, Sheila has her trustworthy companion, Facial Treatment Essence, to thank for. Containing over 90 percent Pitera® – a natural bio-ingredient that brings together over 50 types of skin nutrients working in combination to activate skin cell renewal – Facial Treatment Essence has been proven to shift skin's five dimensions – texture, radiance, firmness, spot control and wrinkle resilience – to crystal clarity, according to a revolutionary discovery by SK-II scientists.

Making her first appearance as SK-II's newest ambassador in Singapore, the popular supermodel was the star of "My First Compliments" – a unique event celebrating the milestone skin and life transformations with SK-II – charming the audience of over 60 guests, including top beauty and fashion experts, SK-II's retail partners, media and loyal users, with her flawless skin.

Check out what the rest are sharing about Beauty, Cosmetics & Skincare in our Forum!

We bet you will love these too!