In a vision of my perfect shoe heaven, kitten heels would be in non-existence and elaborate details should be paid due attention. Enough of boring patent leather black heels or a 3-inch monochromic pair. This fall, designers have brought it. 3 perfect matches in heaven have been made.
The shoe trend for Fall/Winter 2011/2012 is more diverse than ever. The combination of our favourites have been designed at its most beautiful forms. When fashion recycles trend, this year's designs have produced the most satisfying results. Ever.

Platforms have made a revolution in the industry - boasting in various colours, details, cuts, materials and height. And buckles, once a military signature, are now coming back with a vengeance. The combination of these two have made footwear a funky business. What do I love about this combo? The emasculation of it all. Not manly but not feminine looking either. Super size me!


Lace has been a representation of lust and sensuality from the time it was invented. It has the charm of lure and delicateness at the same time. Now combine this with a pair of high boots. This union evokes an aggressive yet sexy look. But do ensure the boots are at least 4 inches high to avoid looking like a ninja warrior.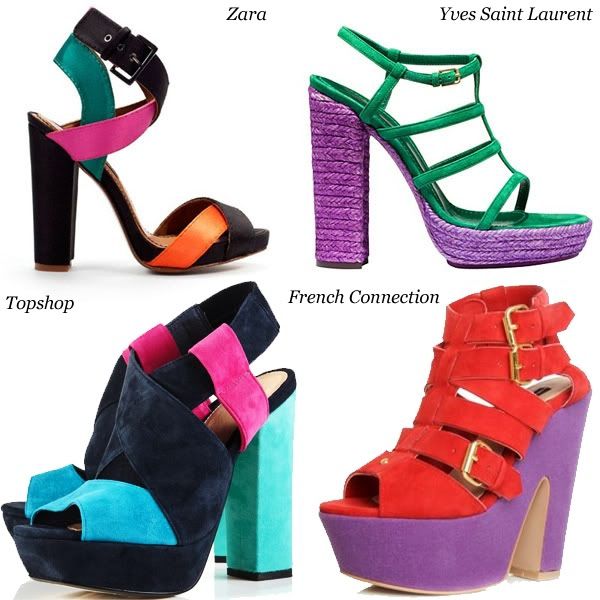 What does colour blocking say to chunky heels? It says, "Finally, here you are! Where have you been all my life?!"
Chunky Heels are perhaps the nemesis of stiletto heels but boy oh boy, aren't they comfortable and tough looking. Match that up with super clashing bold colours and it is vogue, baby.
Combinations of the best trends that even Anna Wintour would approve.
I always believe that good things come in pair. Welcome to my shoe heaven of 2011.