Paris Hilton loves her Louis Vuitton so much, she has them in almost all forms, models, sizes and colours.

Did you guess it right? Next week, we will reveal which celebrity loves her Yves Saint Laurent bags!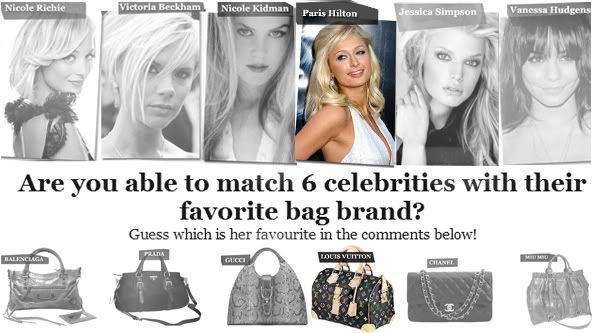 Here are 11 things you might not know about Louis Vuitton:
When the Louis Vuitton Building opened on the Champs-Elysees, it was the largest travel-goods store in the world.


The "LV" monogram was originally meant to foil counterfeiting attempts.


Louis Vuitton was born in Jura, France in 1821.


Vuitton HQ is in Florence, Italy.


Though it's been around since 1930, the Speedy didn't gain a massive following until it was redesigned for Audrey Hepburn in the 60s.


Louis Vuitton didn't design jewelry until 2001 when Marc Jacobs introduced a charm bracelet, watches came a year later.


The first LVs sold in the United States were sold in 1898 by Wanamaker's department stores.


The world's first flat top trunk was created by Louis Vuitton in 1858.


Louis Vuitton opened his first store in 1854, he began making handbags after the 1892 world's fair.


Louis Vuitton celebrated its 150th anniversary in 2004.


99% of all "Vuittons" in the world are fake.
You can win a Louis Vuitton bag! And we're not just giving you the bag, we are going to bring you to the boutique!
You'll get to enjoy the experience of stepping into the boutiques with the knowledge that you will be walking out with one of the most wanted bags, paid for by MyFatPocket.
All you have to do :
New members:
[1] Click on the 'YES, give me my luxury bag now!' button below to register
[2] Register now for 1 lucky draw chance that is valid for ALL 7 lucky draws


Existing members:
[1] You are automatically given 1 lucky draw chance that is valid for ALL 7 lucky draws
For those of you who want more lucky draw chances, visit our forum and start posting replies.
5 forum replies =1 additional lucky draw chance.
Campaign Period: 01 October 2011 - 27 November 2011
All lucky draw chances are valid for ALL 7 lucky draws.
| | | |
| --- | --- | --- |
| Draw Item | Promotion Cut-off Date | Draw Date |
| Draw 1: Balenciaga | 14 Oct 2011 | 17 Oct 2011 |
| Draw 2: Prada | 21 Oct 2011 | 24 Oct 2011 |
| Draw 3: Gucci | 28 Oct 2011 | 31 Oct 2011 |
| Draw 4: Louis Vuitton | 4 Nov 2011 | 8 Nov 2011 |
| Draw 5: Yves Saint Laurent | 13 Nov 2011 | 21 Nov 2011 |
| Draw 6: Miu Miu | 20 Nov 2011 | 28 Nov 2011 |
| Draw 7: Chanel | 27 Nov 2011 | 05 Dec 2011 |