To own and carry a luxury bag itself is half the battle won. So how do you rock a luxury bag without looking like brand mascot from head-to-toe? Like they said when in doubts, take a cue from the celebrities. You can never go wrong with that as celebrities are always in check with fashion trends and get advises from fashion stylist.
As luxury bags itself is a fashion statement, you can tone down your style with casual outfit and yet still look elegant and fashion forward. Don't just think that because it's a luxury handbag therefore you needed to be dressy all the time.
You and I know that we all feel much comfortable in smart casual outfit that can bring us from a day outing to all night party. Smart casual is also a newer type of dress code that allows you to show up to an event outfitted in slightly more casual attire than an evening gown. But make no mistake, even though the dress code requires less, you should still look sharp.
Fashion Tips: Do pair casual, comfortable clothing items with designer bags. You can instantly upgrade your wardrobe by investing in a few quality and on-trend purses and bags. Wear inexpensive denim with luxury bags to bring your casual outfit up a few notches on the fashion scale.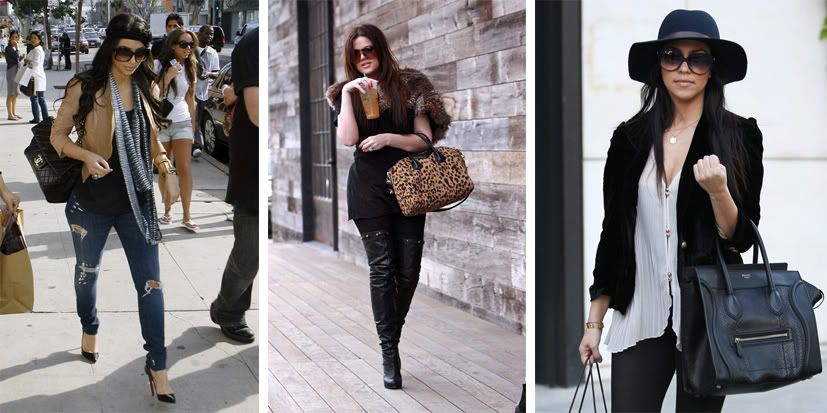 Why we never admit that we love watching the Kardashian clan. Never a dull moment with them. One thing for sure, they definitely nailed it on the style department!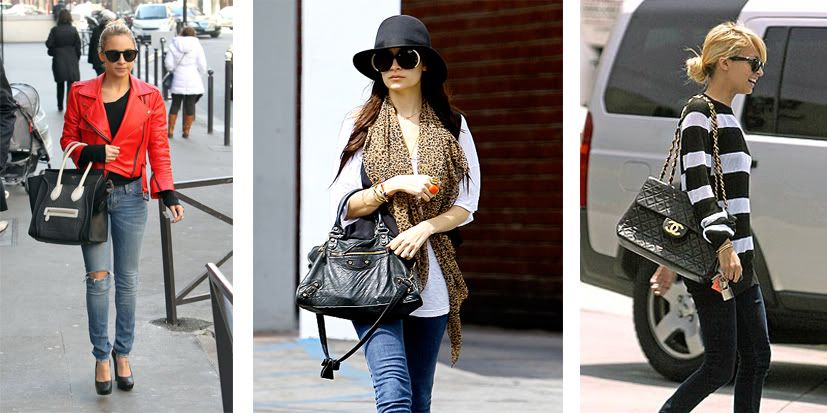 This is the reason why I love Nicole Richie. She's not even trying to impress but she's always IMPRESSES! Her casual style is so effortless!


Loving the Alexandra McQueen's Tiger Canvas Demata clutch on Beyonce! Jessica Alba makes a bold statement with her Prada Madras tote. Michelle Obama admitted that her stylist used the statement bag by Reed Krakoff to brighten an uncharacteristically monochrome outfit. That's a good stylist advice!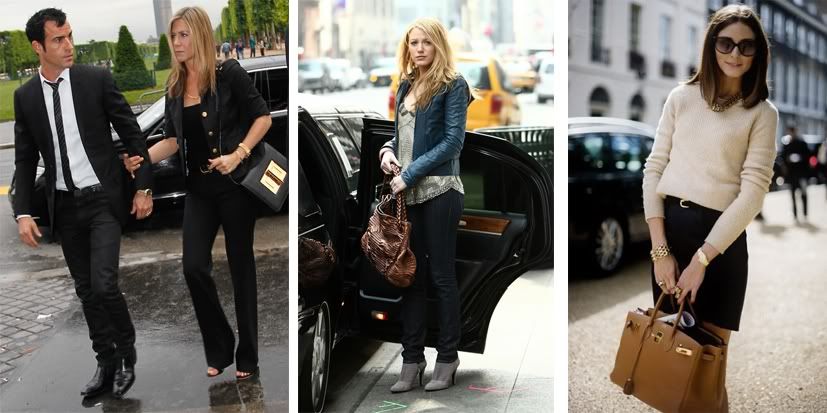 Jennifer Aniston with her black and gold ensemble matching with her Tom Ford Natalia bag. Blake Lively carries a gorgeous luxury Bottega Veneta handbag which works very well with her casual outfit. Olivia Palermo looking so city chic with her Hermes Birkin.


Rihanna loves her Prada. At many occasion she's been seen toting her beloved brand. Looking very ladylike in casual black dress with Prada Denim Logo tote; with her sharp edgy look and her Prada Saffiano Ostrich Top Handle and recently vacationing in Capri she was spotted with Prada's Madras Woven Leather tote.

Check out what the rest are sharing about Fashion, Trends & Accessories in our Forum!