I've been seeing black dots everywhere lately. No worries, my eyes are perfectly fine. I'm talking about the must-have dress of the moment - Stella McCartney Black Sheer Polka Dots Lucia Dress ...It's a transparent peek-a-boo dress I've called it.
I know this was so last season. This polka dot dress was launched in Stella McCartney's Fall 2011 collection, but it seems like celebrities can't get enough of this dress yet. Just recently, curvalicious Kim Kardashian was out and about in Paris wearing this dress.
The daring design – which, thanks to its sheer panels, requires owners to forgo underwear. Would you? For fashion sake I would. Sucking in my tummy and hold on to my breath of course!
Liv Tyler, Kate Winslet and Victoria Secret model Doutzen Kroes all wore versions of the famous Stella McCartney creation.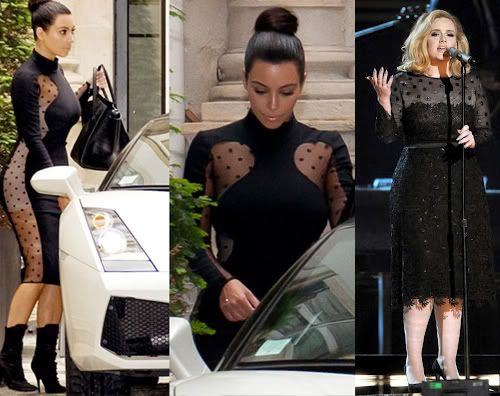 Kim Kardashian stepped out in Paris recently wearing "Lucia" dress. Even curvy songstress Adele embraced the mesh polka dot trend for her performance at the 2012 Grammy Awards.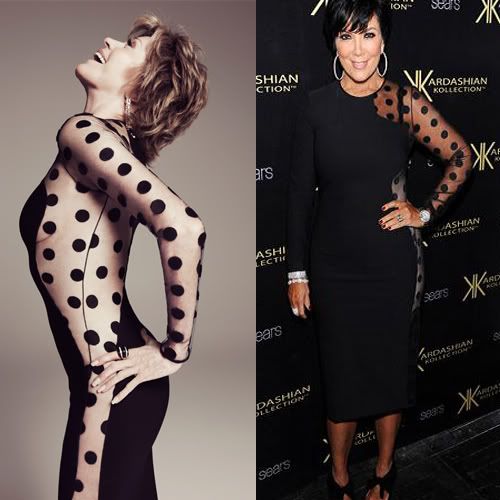 Jane Fonda, now 74, rocking the Stella McCartney sheer polka-dot dress for Harper's Bazaar. How flawless she looked in this picture. At 74? Wow! Last year momanger Kris Jenner sported out wearing almost the same Stella McCartney polka dot dress. Talk about mother-daughter fashion influence!

Check out what the rest are sharing about Fashion, Trends & Accessories in our Forum!
We bet you will love these too!