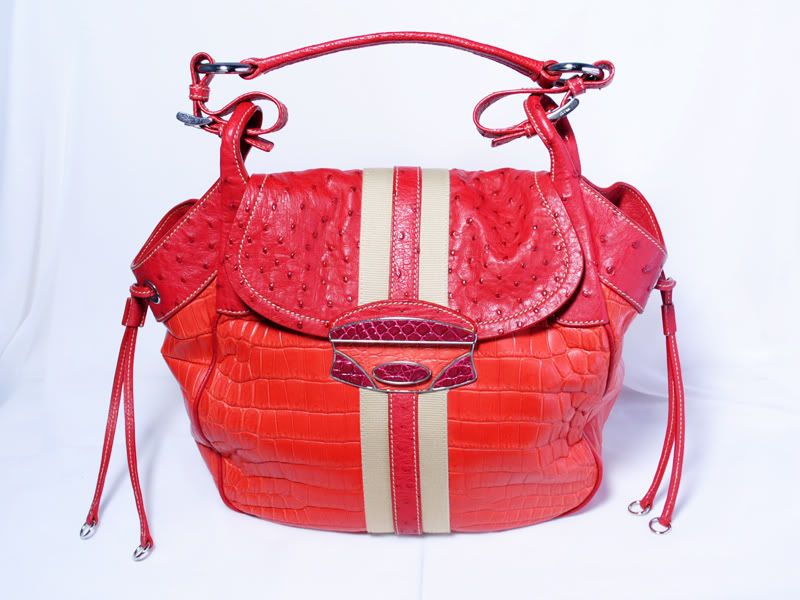 Miuccia Prada has always been known to be an anti-glam Italian fashion queen. This 63-year-old has crafted a unique signature for Prada - a minimalist, even raw style that unfairly became known as ''Ugly Chic" - a revelation on how both women subvert ideals of beauty and glamour play with good and bad taste through colour, prints, and textiles.
Only 1 in Asia. And 3 in the World.

In 2011, Miuccia Prada brought her unique signature to another level. An exclusive and exotic Prada Croco Bag was born from the patchwork of ostrich (struzzo), lizard (luciletto), canvas (canapa) and crocodile skins. It was originally to be an archive piece that was to be kept in a museum in Milan, Italy.

This desirable bag was painstakingly put together with love and took three years to be made from scratch. 3 years. That's 1095 days.

All the materials were hand cut, dried and stretched by hand. The technical officers then did a technical measurement to perfectly match the materials together into a flawless patchwork.
"

For Prada, fashion, luxury and style have always been core aspects of a project that goes beyond production of clothes, footwear and handbags. Careful observation and interest in the world, society, and culture are at the core of Prada's creativity and modernity. This has pushed Prada beyond the physical limitations of boutiques and showrooms, leading us to interact with diverse, seemingly distant worlds, and introducing, very naturally, a new way of creating fashion".
- Miuccia Prada and Patrizio Bertelli.


When Ostrich, Lizard, Crocodile and Canvas meet
Exotic skins have always been valuable in the market because not all of the skins are suitable to be made into a bag. All exotic skins used in Prada are ethically sourced. Usually, genuine crocodile skin would cost S$30,000 and authentic ostrich skin could go up to S$20,000. This exotic Prada Croco Bag is truly a classic investment piece.
How to Pair it fashionably?
While this tote is super luxurious, Miuccia Prada has classified this bag as a city day bag.
Because of its radio pockets, this bag was crafted and designed to be a fun and edgy tote that should be worn with a day or flower print dress or jersey top with a skirt. Such a vibrant colour, industry experts advise to clash your exotic Prada Croco Bag with your clothes and accessories.
We bet you will love these too!