Pair a healthy diet and lifestyle with cryolipolysis for a fitter, healthier body.
Unlike any other models, Victoria Secret's Angels cannot be skinny.
Definition is a fundamental criteria to walk the Victoria Secret's runway – a woman should look like a woman with curves and all.
Thin is not sexy. Fit is.
Here are five angels with their preferred workout and daily diet, fitness tips and the reveal on what they eat during cheat days.
Alessandra Ambrosio
Workout: Pilates and yoga three times a week. Intense 10-day sessions of the Brazil Butt Lift class, devised by her trainer.

Diet: Alessandra Ambrosio ate healthy even throughout her pregnancy. She loves her protein and starts her morning with either scrambled, poached or benedict eggs. Certain days, she will add a slice of toast or some fruits on the side. Her lunches vary based on her busy timetable but are almost always healthy and clean. She's a Japanese cuisine fan and miso soup and spicy tuna rolls are her favorites. Yum!
"It isn't hard to stay in shape. I think I'm in better shape now than I was 10 years ago but it takes a bigger toll – I get back pain!"
Doutzen Kroes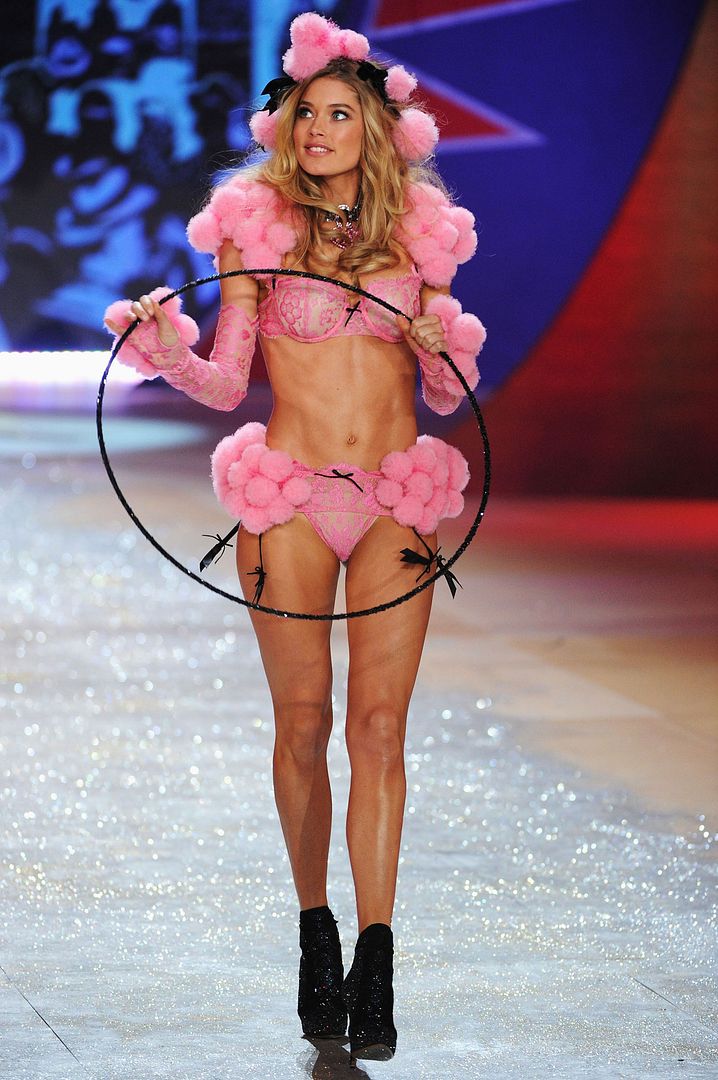 Workout: Rope-jumping and yoga three to four times a week. Shadow boxing four times a week.

Diet: No sugar and no carb. She eats in moderation. Her favourite treats are cheese, bread and chocolate.
"I have to work really hard. My body — I have a voluptuous body. I am not one of those skinny girls. For other fashion shows you can be skinny, but for Victoria's Secret, you need definition."
Erin Heatherton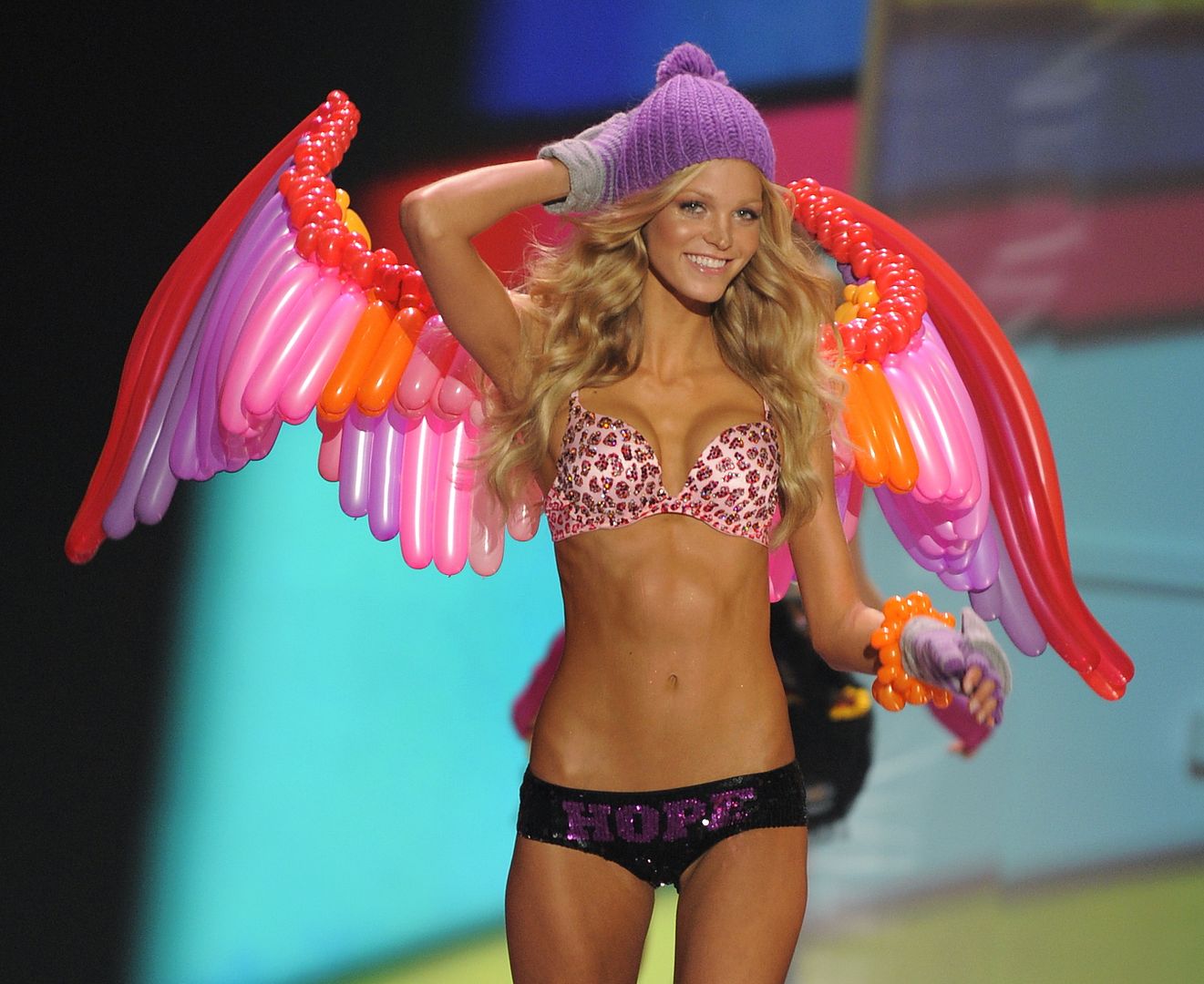 Workout: Yoga, Pilates, ballet, incline walking

Diet: Eating a balanced diet of foods such as granola, vegetables, protein, nuts, etc. She also swtched to fruits when snacking.
"I do incline walking instead of running… Just make sure you're using your butt and not your thighs because you don't want to make them that big!"
Lily Aldridge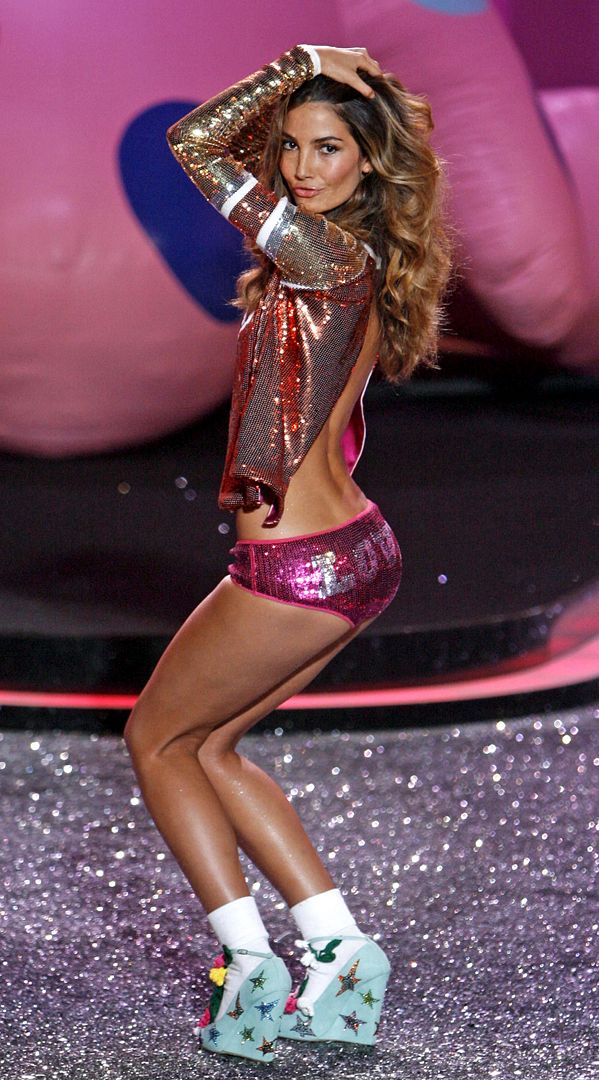 Workout: Stomach crunches, sit-ups, kick boxing

Diet: Salmon and clean foods such as organic fruits and vegetables almost every day.
"I'm a woman, of course I still have curves on me, and that's ok. I had a baby and I've worked hard. And I don't think women should have to feel that kind of pressure. I've done it really healthfully, and I took my time."
Miranda Kerr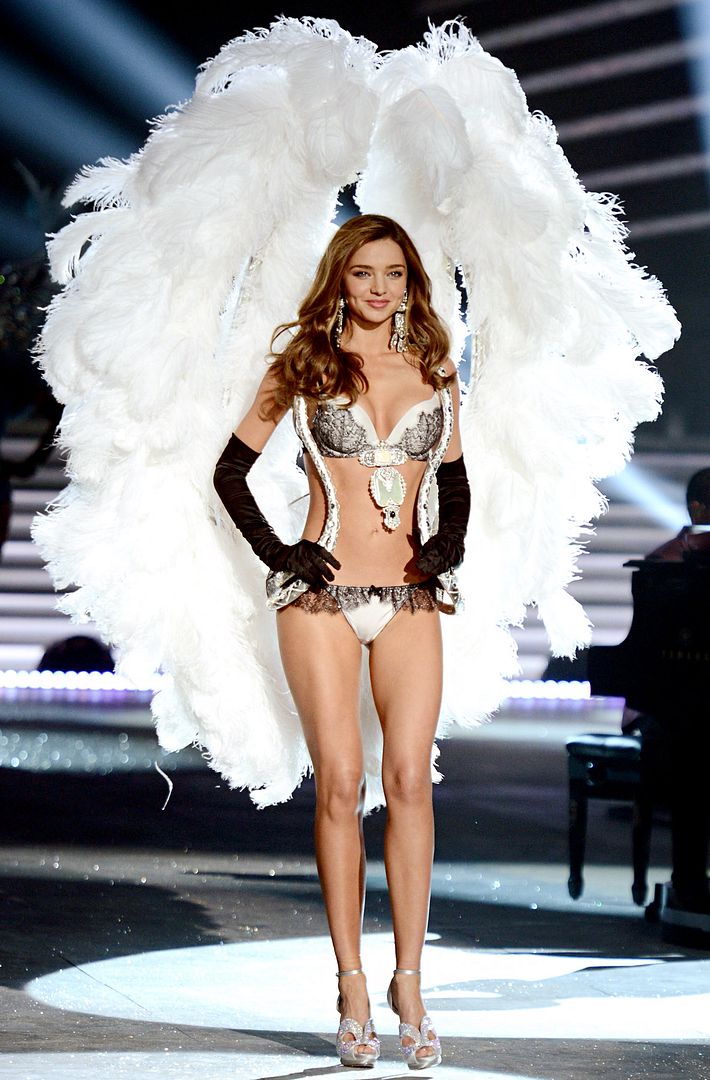 Workout: Yoga and Pilates, leg weights, sliding discs and resistance bands.

Diet: A believer of good health and organic living. "I adopt the 80/20 rule. 80% good, 20% indulgent and that works for me and my body personally." She drinks warm water and lemon every morning and quality purified and preferably alkaline water throughout the day with Noni juice twice daily. She also loves her vegetables, ocean caught fish, and small amounts of organic free range chicken.
"I did yoga throughout my entire pregnancy. I also eat low-GI, high-alkaline foods, drink filtered water and eat mostly fresh produce and very little meat."
Inspired by the angels? Getting rid of stubborn fats can be challenge but you can always turn to good medical advice and Cryolipolysis for a fitter, healthier body.
Cryolipolysis, the non-invasive treatment of breaking down of fat cells
Cryolipolysis is the non-invasive cooling of adipose tissue to induce lipolysis – the breaking down of fat cells – to reduce body fat without damage to other tissues. Research has shown that under carefully controlled conditions, subcutaneous fat cells are naturally more vulnerable to the effects of cold than other surrounding tissue. Other research include:
Exposure to cooling via energy extraction causes fat cell apoptosis – a natural, controlled cell death, which leads to the release of cytokines and other inflammatory mediators that gradually eliminate the affected cells.
Inflammatory cells gradually digest the affected fat cells in the months after the procedure, reducing the thickness of the fat layer.
Lipids from the fat cells are slowly released and transported by the lymphatic system to be processed and eliminated, much like that of fat from food.
How non-invasive cryolipolysis works
1 Cryolipolysis targets and cools fat cells to temperatures that trigger fat cell apoptosis
2 Only fat cells are affected because lipids in fat crystallize at a higher temperature than water in other cell types
3 Following cryolipolysis, fat cells enter an apoptotic death sequence and are gradually removed in the next few weeks and months by your body
4 The fat layer is then reduced
5 There is no downtime so you can go out and do what you need to do after treatment
6 It pairs perfectly with your exercise and health regime as it does away with areas of stubborn fat
For more information on weight management programmes and body contouring treatments with cryolipolysis, please visit http://halley.com.sg/page-slimming-body-contouring

Halley Medical Aesthetics
248 River Valley Road Singapore
Singapore 238302
Opening Hours: 10:00 am – 9:00 pm
Contact: Tel: +65 6737 8233

For more information, please go to:
Facebook:www.facebook.com/halleymedicalaesthetics
Instagram: instagram.com/halleymedicalaesthetics
Blog: halleymedicalaesthetics.wordpress.com
Website:www.halley.com.sg