Credit: Tristan Fewings/Getty Images 
1. Erdem Celebrated a Big Anniversary.
The designer Erdem Moralioglu celebrated the 10th anniversary of his brand with a stellar collection on Monday morning that showcased some of his design signatures, such as floral prints, lace and chiffon. The show, which was held in a theater, opened with transparent curtains to reveal a dirt runway (dirt runways seem to be a real trend that started during NYFW). If this show was any indication of what the next 10 years bring, my guess is that Erdem is in store for an illustrious career.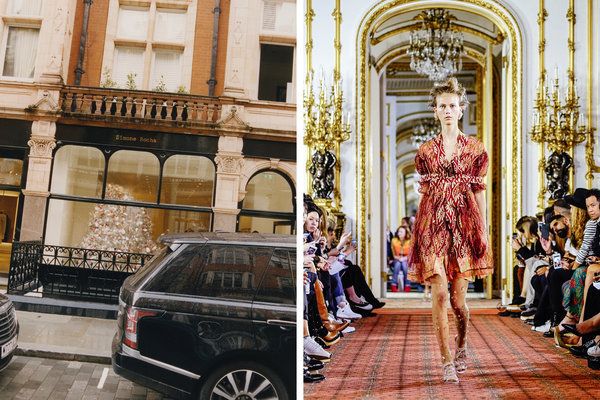 Credit: 
From left: Jacob Lillis; Tom Jamieson for The New York Times 
2. It Was Simone Rocha's Moment.
The designer is having a busy fall: She just opened a store on London's Mount street, staged her spring/summer 2016 collection on Saturday — and is expecting a child in November. But, as she told T in the weeks before the show, the pieces all complement each other: opening the store has given her a new outlook. "Because of having the confidence of having the shop, and the statement that this is my identity, I felt I could be very free with the coming collection," she says. And, indeed, it showed: the Araki-inspired collection was filled with beautiful, romantic silhouettes and intricate beading.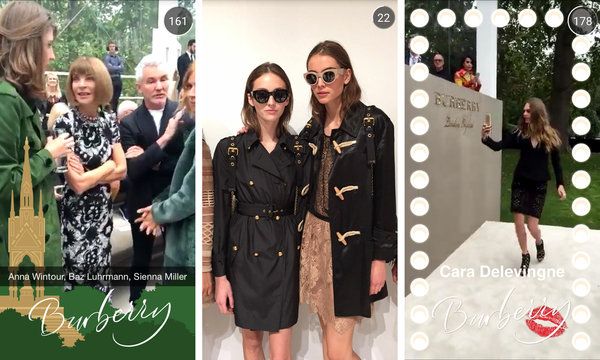 Credit: Burberry, via Snapchat 
3. Burberry Had a Big Week.
Burberry is always early to embrace technology. (It was among the very first brands to make its collections immediately shoppable from its runway livestream.) And yesterday's show, held in a giant greenhouse in Kensington Gardens, was no exception. The brand partnered with Snapchat to tell the story of its spring/summer 2016 collection from all angles: backstage, front row, runway — it even featured a brief takeover from Cara Delevingne. Meanwhile, its new restaurant, Thomas's, located in the flagship store on Regent Street (and serving only British fare) was the place to eat this week.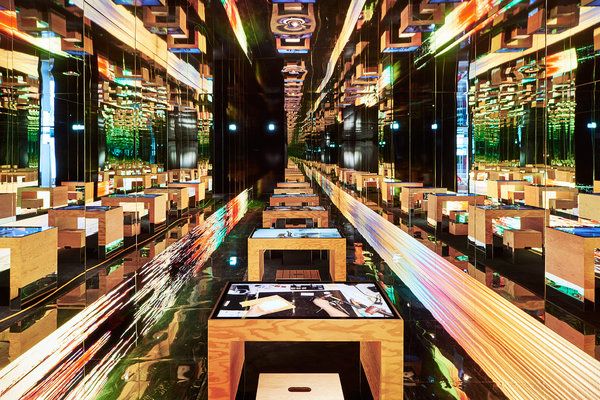 The "Artists' Hands" installation at Louis Vuitton's Series 3 exhibition in London. Real-time video feeds of the brand's artisans at work were on display atop each table. 
Credit:Courtesy of Louis Vuitton 
Paris invaded London this week, with the opening of Louis Vuitton "Series 3," an exhibition from Creative Director Nicolas Ghesquière in honor of his fourth collection. Guests were invited to travel through a maze of rooms that revealed the behind-the-scenes making of bags and a closetlike installation that housed pieces from the fall/winter 2015 collection. Like any Louis Vuitton event, the opening drew a star-studded crowd that included Catherine Denueve, Selena Gomez and Michelle Williams.
Attendees at the Miu Miu/Love Magazine party, from left: Poppy Delevingne, Katie Grand, Cara Delevingne and Alice Dellal; Georgia May Jagger with a pair of Harajuku girls. Credit: David M. Benett/Getty Images 
5. Miu Miu Threw a Big Party at Loulou's.
On Monday night, the infamous members'-only club Loulou's was transformed into a Tokyo discotheque for Love magazine and Miu Miu. There were Harajuku girls, robots and geishas mixed among the fashion set that included Cara Delevingne, Suki Waterhouse and Alexa Chung. All in all, it ended up being the party of the week.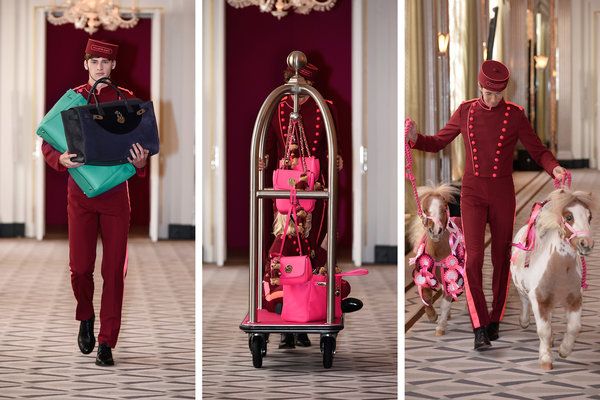 Credit: Hill & Friends 
6. One Show Even Had Ponies.
The former creative director of Mulberry, Emma Hill, is back with a new accessories line — filled with all the whimsy and charm that she brought to her former employer's wares. To show off the collection, she threw a breakfast at Claridge's, at which bellhops presented the bags on silver trays — and the show closed with two miniature ponies. Nice to have a little humor back in fashion!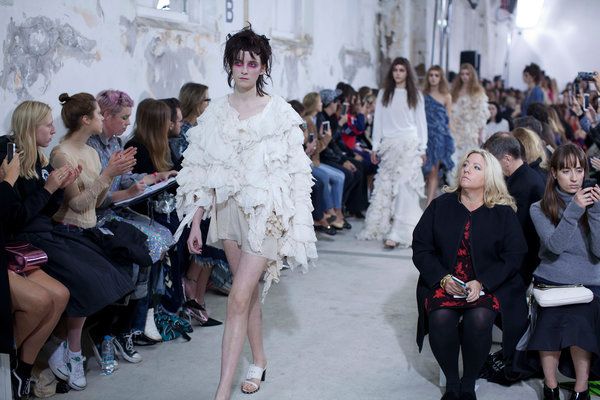 Ruffles at Marques'Almeida. Credit: Louise Damgaard 
7. Word of the Week: Rufflemania!
Ruffles were absolutely everywhere in London. They ran the gamut: from sweet, ladylike versions at Erdem, Simone Rocha and Mary Katrantzou to more modern interpretations at J.W. Anderson and at recent LVMH prizewinner Marques'Almeida.
Credit: Suzanne Plunkett/Reuters 
8. Anya Hindmarch Made a Good Joke About Boots.
Anya Hindmarch always brings a sense of humor to her beautifully made accessories. This season, her collection was quite tame — with the exception of a pair of knee-high cobalt blue boots emblazoned with the logo "Boots," from the famous U.K. drugstore, the British equivalent of Duane Reade.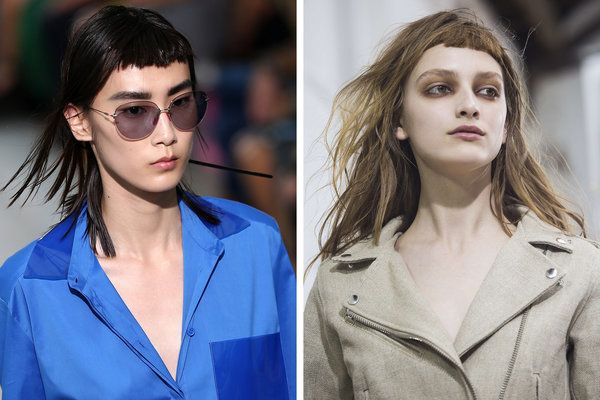 From left: Christopher Kane; Marques'Almeida.Credit: From left: Justin Tallis/Agence France-Presse — Getty Images; Jack Taylor/Agence France-Presse — Getty Images 
9. The London Look: Short, Choppy Bangs.
You can always count on London for a few interesting hair ideas — on the runways and in the front row, too. This season, everywhere we looked, models wore extra-short bangs. Some were the models' own, but elsewhere, hair maestros fudged the look: At Marques'Almeida and Christopher Kane, for example, the choppy bangs in the show looked just like the hair on the cool Brits in the front row.
Clockwise from top left: Christopher Kane; J.W. Anderson; MM6; Mary Katrantzou.Credit: Clockwise from left: Justin Tallis/Agence France-Presse — Getty Images; Firstview (3) 
10. Chokers Were Everywhere.
New York might have been all about big statement earrings, but London brought out chokers of every color and stripe. At Mary Katrantzou, each model wore a thin black satin ribbon that tied over her hair; at Giles, thick brown velvet chokers came down the runway; at J.W. Anderson, there were sculptural gold chokers (which we predict will be a coveted jewelry item next spring); and at MM6, there were gothic, club kid-inspired chokers. But Christopher Kane's version may have been the most unexpected: he showed little multicolored plastic strips around models's necks that resembled the ties you usually see on garbage bags. It was a departure — but hey, this is London, so anything goes.
Source: New York Times