The guy picks the girl up in Maserati with 99 stalks rose bouquet, followed by an exorbitant dinner at Jewel box, then some romantic chick flicks and….end of story! Well ladies, if you're dreaming of such a V-day, then sorry, we got to say it's just too typical and almost every girl can narrate the same story. This year, why not lessen your guy's burden and indulge in an oh-not-so-typical V-day with some of these ideas? Shy guys, forget about cliché chocolates or tawdry teddy bears, swoon your crush with these out-of-the- box sweaty dates.
Credits: Fineartamerica, Gizmodo
HomeRun Baseball
(Torch 275 calories per hour of baseball)
If you are a fangirl of MLB, and is dying to have a go with the baseball bat, whilst disliking the thought of having 16 other people to play gooseberry on your romantic date, then hooray! HomeRun Baseball is here to salvage your V-day without falling off with your squad. With automated shooting machines, you can spend a lovely-dovey time with your date, and go all gung-ho solo without worrying about letting your whole squad down.
Credit: Protomac State College

200 Pandan Gardens, #01-01 to 04, Singapore 609 336
Get your booking at: https://www.facebook.com/homerunbaseball/
Booking Hotline: + 65 6635 6315
Prices: SGD 20 for 5 tokens (each token worth 15 balls)
Clay Pigeon Shooting
(Torch 193 calories per hour of hunting)
Have you ever imagined yourself as Zoey in L4D, sashaying and firing down zombies with a Sniper? If you do, well now you can at least shoot some pigeons at the Singapore Gun Club. Sounds gruesome? Don't worry ladies, the team at MyFatPocket are animal lovers, and we are just referring to clay pigeons. Challenge your date to this activity which requires high accuracy and set your adrenaline shooting.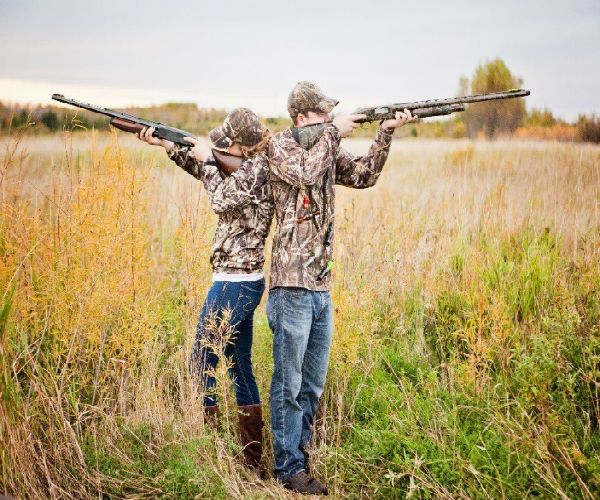 Credit: Two Bright Minds
National Shooting Centre, 990 Old Choa Chu Kang Road, Singapore 699 814
Get your booking at: www.singaporegunclub.com
Booking Hotline: +65 6466 1575
Prices: SGD 65 for 25 rounds (shotgun), SGD 150 for 100 rounds (Pistol/ Rifle)
Forest Adventure
(Torch 510 calories in a 2 hour session )
This place will definitely bring back childhood memories from the scenes of Tarzan and Jane. In fact, if Tarzan and Jane are real, they will be thrilled with the 'obstacles hidden playground' built with ladders, bridges, swings and giant zip lines. So ladies, if you are eager to escape from all the bustle and hustle this V-day, grab your guy and harness now, and enjoy this 2.5 hours of forest adventure. For thrifty couples, go on Tuesdays (except Public holiday) to experience the adventure at a $10 discount (U.P. $46).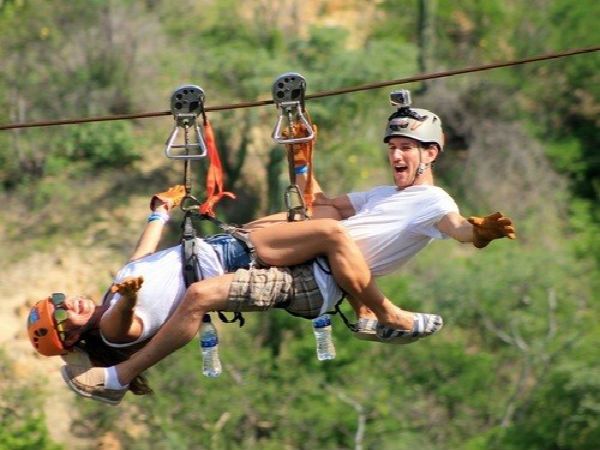 Credit: Shoreexcursioneer.com
Bedok Reservoir
Get your booking at: https://forestadventure.com.sg/
Booking Hotline: +65 8100 7420
Prices: SGD 43/pax (Junior Package, below 18 years), SGD 46/ pax (Adult Package, above 21 years)
Jet Packing
(Torch 295 calories per hour of water skiing)
"I'm like a bird, I'll only fly away…", well if there is any instance that you wish you're exactly like the bird in Nelly Furtado's song, you will definitely not be disappointed with Jet Packing. This activity, which utilises the power of a water pressurised Jetpack, allows your honey and you to propel 10 metres up in the skies. So if you are sick of being a land goer, and want to own a 'superman experience on water', this activity is definitely your cup of tea. Now who said the woman wasn't able to fly?
Credit: Expedia
SeaBreeze Water Sports Pte Lts
Wave House Sentosa
36 Siloso Beach, Sentosa, Singapore 099 007
Get your booking at: http://www.seabreeze.com.sg/jetpack.html
Booking Hotline: +65 6376 4336
Prices: SGD 228 for 45 mins
Cosmic Bowling
(Torch 165 calories per hour of bowling)
If both your bae and you still can't get over Zoukout 2015 (read: thumping music and flashing discotheque neon lights), then Cosmic Bowling will be your ultimate love this season. The glowing pins coupled with heart-throbbing party music and neon-lit lanes, instantly transform the bowling alley into a clubbing dance floor. This will definitely bring you a brand new bowling experience and guarantee a bowling good time! Get ready to show off your bowling stunts minus the booze.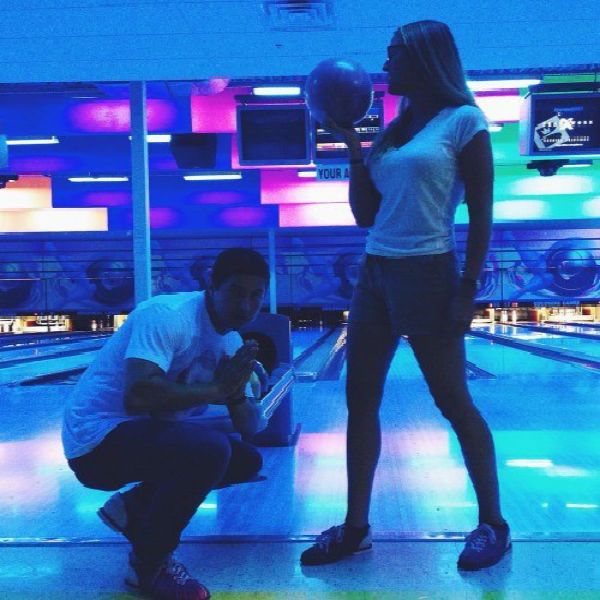 Credit: Numerochair Tumblr