As the saying goes, 'the way to a man's heart is through his stomach' (though we love to argue that it applies to ladies who love food too), so ladies why not style your hair, don on the apron, and sashay your way to the kitchen in that Jimmy Choo? And isn't it better to celebrate V day anytime this month rather than the day itself in the comfort of your house? (Valentine falls on Sunday this year, which means more crowd and longer queuing time, argh!)
Nothing beats a plate of home cooked sultry steak (with 101% love) this lovely dovely season. If you're an amateur in cooking, fret not, MyFatPocket team has specially thrown in some love potion, and concocted this chart just for you. Get ready for a yummylicious and a healthy steak date!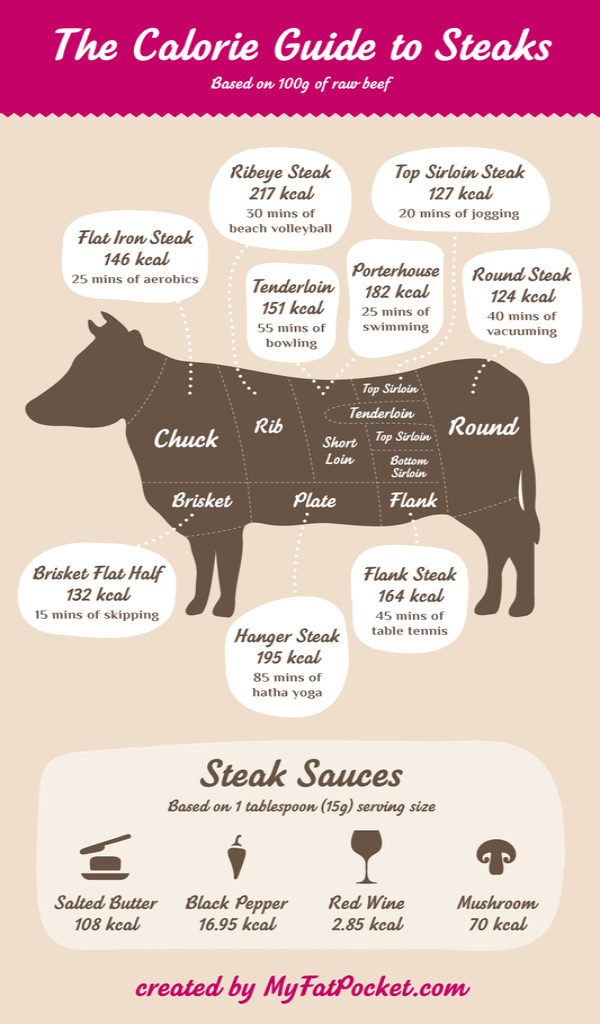 Nutritional Information from USDA Standard Reference Database, Canadian Nutrient File and HPB
Based on 100 g raw beef, all grades, separable lean and far, 0" fat (otherwise stated)
Pick up these handy tips before you prepare your steak!
Go for the Right Grade & Cut
Before you decide to indulge in that piece of Prime grade beef (oh so tender, juicy and fatty!), you may want to go for either 'Select'or 'Choice'grades, which pack lower fat and calories, but still able to provide an enjoyable gastronomic sensation. According to the USDA , 'Choice'grade beef is best prepared via broiling, roasting and grilling for they are tender and juicy. While, its counterpart the "Select'grade beef is leaner, and is best suited for marinating or braising. 
For the cuts, try opting for lean or extra lean cuts such as eye of round roast or steak, sirloin tip side steak, top round roast and steal, bottom round roast and steak, and top sirloin steak. Just in case, you are worried about the fats, here you go from USDA: 100 g of lean beef packs 10 g of fat, and 4.5 g of saturated fat, while the same quantity of extra lean beef packs 5g of fat, and 2 g of saturated fat.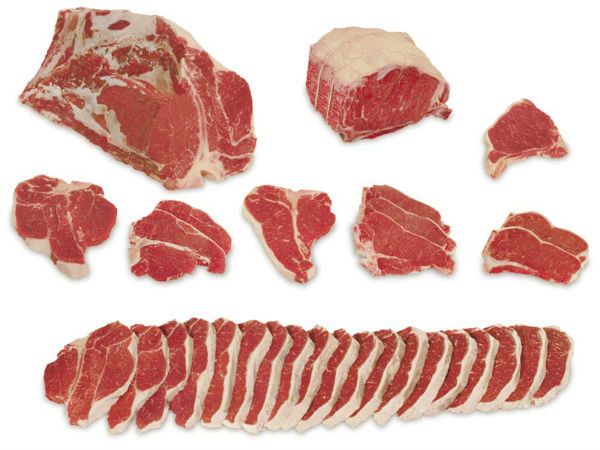 Credit: Visualdictionary.com
Away with Visible Fats
Remember to trim the meat off any visible fats prior to cooking, to reduce the total calories and fat content. A tension can be easily created by pinching the fats and pulling it away from the meat. This tension, then allows a sharp knife to slide easily between the meat and fat.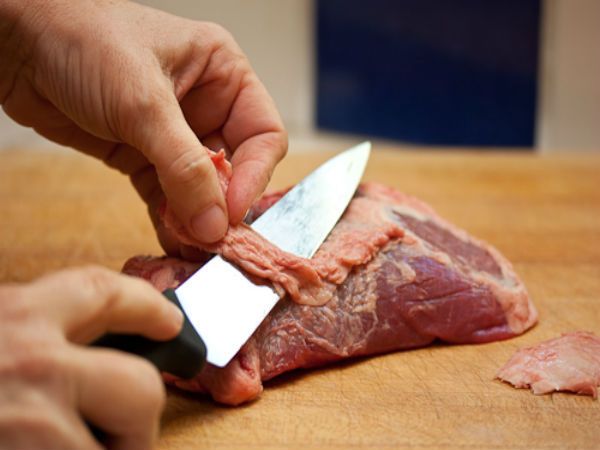 Credit: frugalityandfun.com
Cook It Right
Avoid preparing your steak by deep fat frying or pan frying because these methods add unhealthy fats (saturated and trans fat). Rather, adopt cooking methods such as baking, braising, grilling, roasting, and sautéing, which can reduce the fat, cholesterol and calories, while enhancing the nutritional value of the steak. Be sure to place the piece of steak on the rack on the baking pan if you are using the oven, so the fat from the steak will drip away. 
Credit: Playbuzz.com
Fill up with Fibre
Rather than standard sides such as mashed potatoes or fries, you can make your steak into a nutritious meal with some greens and fruits. The good news is, you need not stick to a certain coloured vegetable. It is advisable to mix and match and create a rainbow, for different colour greens and fruits offer different benefits, and work synergistically to enhance the overall health effect.
Although vegetables and fruits may be deemed as the healthier sides, remember not to drench your veggies in too much salad dressing (read: Ranch, Cheese sauce, or Thousand Island). Most of these sauces are high in fats and sodium, adding up to the overall calories. For instance, a tablespoon of Kraft Thousand Island Sauce packs 65 kcal, 6 g fat and 135 mg sodium.  As for fruits, go for the fresh ones instead of the canned varieties, since the canned fruits are ladled with sugars.
Not sure how to toss fruits and veggies up into a delicious side? Read this.
Credit: Cleanasabean
Avoid Salt, Create Your Own Seasoning
Try seasoning your steak with seasonings like pepper, herbs, spices, freshly squeezed yuzu juice or home-made cranberry sauce rather than salt. By doing so, you could create a much flavourful punch to your steak, whilst minimising the intake of sodium. Try these simple recipes for Cranberry Sauce, Fresh Lemon Herb Sauce, and Sweet Chilli Sauce.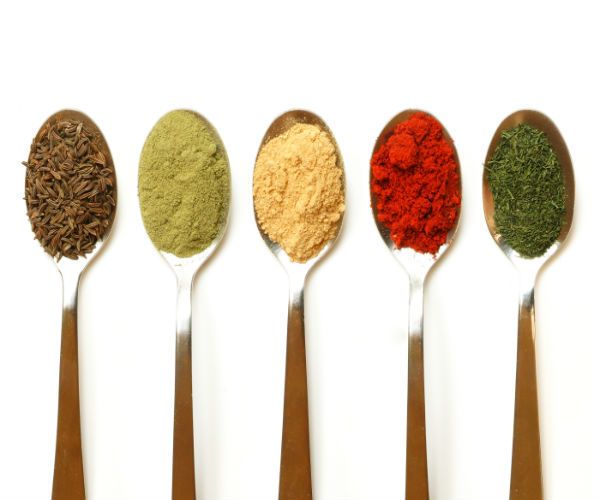 Credit: thegulliblegourmet.wordpress.com