For a Korean top model, winding your way through the bustling crowds outside the DDP complex where Seoul Fashion Week takes place can prove impossible—particularly those male models with a rabid fan base. So when a band of four men with cutting cheekbones breezes through the throng, it counts as a fashion miracle—or, at least a testament to the impenetrable cool of this particular squad.
Do Jin Kim, Ryu, Joon Ki Min, and Tei
Photographed by Alex Finch
Sitting on a row of stone benches, removed from the fray, Ryu, Do Jin Kim, Joon Ki Min, and Tei are taking a moment between shows to breathe—laughing and roughhousing like old friends—and discuss the new wave of Korean male models in high demand overseas. Take Ryu, who booked a Versace exclusive before taking a turn on the Balmain x H&M runway in New York. Or Kim and Min, who walked Vivienne Westwood together, while Tei made his debut at Emporio Armani. As Korean menswear remains on the rise, the models who wear it best are rising with it.
"Korean models know fashion, and they know how to look cool when they wear it," Kim explains, recalling a Milanese casting director who booked him because he wore clothes "like a model." When asked what other feedback the group has received from global castings, Ryu deadpans, "Gorgeous. I'm gorgeous," barely holding back a smile. "Cheekbones . . . amazing!" Kim chimes in. "Amazing cheekbones. Yeah, I know." Then Tei leans forward. "Thank you!" he says, triggering a burst of raucous laughter. "Me too, me too," they agree.
As the foursome flies out to Milan, to Paris, to London, and to New York, where Ryu is now based, they seek out one another, congratulating each other on successful bookings and sharing tips—with one small caveat. "Within each show, there are only a few Asian models that are picked, so the casting itself is a bit of a competition," Tei explains, delicately. Or, as Kim jumps in: "Work is work, friends are friends. It's a competition!" Of course, he's joking—but designers should take note. From those twinning cheekbones to their slick matching streetwear, the group makes the strongest impression when they travel as a pack, like Taylor Swift and her own famous squad. Power in numbers.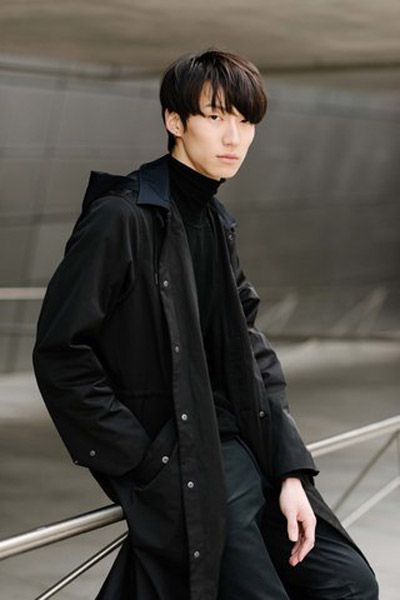 Tei
First show: Emporio Armani in Milan, 2015
Recent shows:
Haider Ackermann
and
White Mountaineering
in Paris
Based in: Seoul six months, Milan six months each year
Favorite part of Seoul Fashion Week: "Last season in Milan, there were some 50 Korean models at castings for a few spots. Here it's a bit less intense."
Wearing: Zara top, Cos pants, Versace shoes.
Photographed by Alex Finch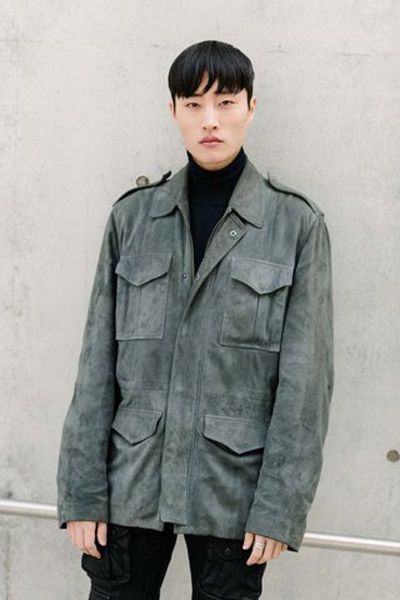 Ryu
First Milan show: Versace exclusive in June 2014
Recent shows:Thom Browne, Balmain, and Maison Margiela in Paris.
Discovered by DNA Models: "On Instagram. When I was in Hong Kong, an agency manager found me and sent a direct message—I got lucky."
Fashion Week downtime: "Wine. Wine. This time in Milan, two Korean friends and I drank wine every day by the Naviglio."
Wearing: Marc Jacobs coat, Ralph Lauren Black Label pants, Balmain x H&M boots "from the show."
Photographed by Alex Finch
Do Jin Kim
First show:
Hermès
in Seoul, 2013
Personal style: "I want to look like a man—a real man. I will try every day."
Dream job: "My dream is to book a
Givenchy
campaign—and to make the Sexiest Men ranking on Models.com. This is my dream."
Wearing: ADSR glasses, H&M pants, Zara shirt, vintage boots and rings.
Photographed by Alex Finch
Joon Ki Min
First show: Beyond Closet in Seoul, March 2013
First international show: Vivienne Westwood in Milan. "That was my dream!"
Why Korean models rule: "Our personal style is better—one casting director told me that Korean models' personal style is the best of Asia."
Wearing: Zara jacket, Silension knit, Cos pants, Nike shoes, Y-3 bag.
Photographed by Alex Finch
By Monica Kim