Crustacean lovers kicking themselves for missing out on the lobster extravaganza at LIME Restaurant between 27 May and 19 June will need to sulk no more as PARKROYAL on Pickering announced today the continuation of its sell-out dinner offering every Wednesday and Thursday evening until, and including, 1 December 2016.
Following its hugely popular debut last year to celebrate SG50, the eagerly awaited return of Lobsterfest at LIME Restaurant did not disappoint as all-time favourites Maine lobster thermidor with persillade crust, lobster bisque based risotto with mascarpone and lobster meat, and Singapore-style black pepper lobster continued to command nods of approval from foodies all around the dining room.
The four-hour culinary experience wows the crowd with the best Asian and Western methods of cooking the much-loved shell fish including Maine lobster with truffled hollandaise and espelette, lobster salad with exotic vegetables and wasabi aioli, lobster mac and cheese with truffle salsa, lobster Lux-sa, Singapore-style chilli lobster and Maine lobster with salted eggs.
While there are more than enough lobster recipes that are cooked to perfection to satisfy the most demanding of palates, guests seeking for some variety in their evening meal can feast on mouth-watering delights such as six types of international cheeses and their accompaniments, unlimited servings of sushi and sashimi, and rotisserie chicken with roasted vegetables from the hot western selection.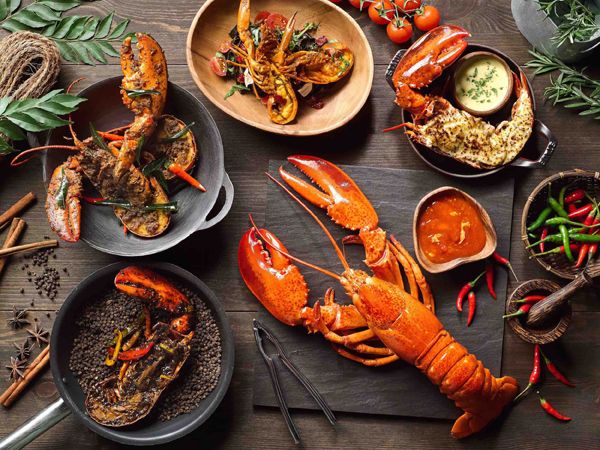 Diners can complete their evening with a visit to the dessert table by sampling shots of durian pengat, assorted Nonya kuehs, Belgian chocolate and, of course, the iconic matcha chocolate fondue fountain.
Lime Lobsterfest is available from 6:30pm to 10:30pm every Wednesday and Thursday until 1 December priced at:
SGD99 per adult with a complimentary glass of Limenade
*Prices quoted are in Singapore dollars and subject to 10% service charge and 7% goods and services tax.
For dining reservations and enquiries, connect with us at +65 6809 8899 or email lime.prsps@parkroyalhotels.com
Lime Operating Hours:
06.30 – 00.00 from Sunday to Thursday
06.30 – 02.00 on Friday, Saturday and Eve of Public Holiday
Contact Details:
Tel: +65 6809 8899
Email: lime.prsps@parkroyalhotels.com
Address: PARKROYAL on Pickering, 3 Upper Pickering Street, Singapore 058289