Travelling in Europe doesn't have to be hard when you know a thing or two about scrimping on accommodation. Forget Airbnb, there are still a few more stylish pads in Europe waiting to be discovered. We bring you the definitive list of boutique hotels, all under €100. The winner for us is a chateau in Provence. 
Rena's Rooms & Suites, Santorini 
We have a confession to make – seeing fashion bloggers' Instagram photos of Santorini makes us want to whisk ourselves away to that pool overlooking the Aegean Sea. Accommodation in Santorini can be in the drastic highs, but luckily, there'sRena's Rooms & Suites. This boutique hotel scored major brownie points with us for its location in Fira and minimalistic rooms.
Prices from around €92. 
Generator Hostel, Venice 
Don't let the term hostel fool you. While Generator Hostel has bunk rooms where you can share a room with other travellers, this youth-centric pad has ensuite private rooms too. There are also a few room perks such as 2 for 1 drink vouchers and hair straighteners to sweeten your stay. If you fall in love with this hostel brand (don't blame us if you do), check out the other Generator Hostels in places such as Rome, Berlin and Paris. 
Prices from around €40. 
Violeta Boutique, Barcelona 
Violeta Boutique is your home away from home in Barcelona. Just five minutes from Plaza Catalunya, the rooms include the regular double, the slightly larger family room and the largest room – the attic apartment. 
Prices from around €75. 
Hotel Paradis, Paris 
Charming, cosy and Parisian – Hotel Paradis was designed by industrial designer Dorothée Meilichzon. Contemporary with touches of colours and patterned wallpapers, you'll be at home here if you're looking to escape the hustle and bustle of city life. The ground floor lounge is available 24/7 with comfy sofas, books and magazines. We can't think of a better way to ease into a quiet evening in Paris. 
Prices from around €90. 
Motel L, Stockholm 
Motel L shys away from the typical Scandinavian interiors. More graphic and bright, the rooms are decorated with patterns and illustrations created by Swedish designer Lisa Bengtsson. The only downside? Staying in the non-touristy Hammarby area of Stockholm. But hey, we say going under-the-raydar is the key to uncovering some hidden gems of a city.  Prices from around 725 SEK (approximately €77). 
Arpaiu, Cinque Terre 
If you're thinking of a getaway in Cinque Terre, staying in a sea view room is what you need to complete the Italian Riviera experience. All of the rooms at Arpaiu have a view of the sea, and a sitting area on the top floor for your after dinner drinking spot. Arpaiu may be a walk away from the centre of Manarola, but the exercise is well worth it for the view you wake up to every morning.  Prices from around €85.
Chateau les Oliviers de Salettes, Provence 

We all dream of staying in a castle one day. This dream is not so far-fetched in Provence, where you can call Chateau les Oliviers de Salettes home while you vacation in the wine region. The estate boasts a 5 hectares garden with panoramic views of the sprawling countryside. If you have more than a €100 to spare, the largest room is a Prestige Suite with a terrace on top of a castle tower. Something to consider for a honeymoon? We're right there with you.  Prices from around €99.95.
Urban Lodge Hotel, Amsterdam 
True to home, the design of Urban Lodge Hotel is heavily influenced by Dutch interiors, such as the use of neutral tones, wood furnishings and minimalist furnitures. After a day out in Northern Europe's cold climate, warm up next to the fireplace in the living room. If you're feeling adventurous, rent a bike from the hotel to explore the city.  Prices from around €62. 
Aloft Munich, Munich 
The city of cool got even cooler with the opening of Aloft Munich opposite Munich Central Station. The re:mix lounge is the eclectic sitting room to chill or play a game of billiards. The nightlife doesn't stop when you get back to Aloft – hop into W XYZ bar for a cocktail and live music from local bands.  Prices from around €87. 
Relais Villa Antea, Florence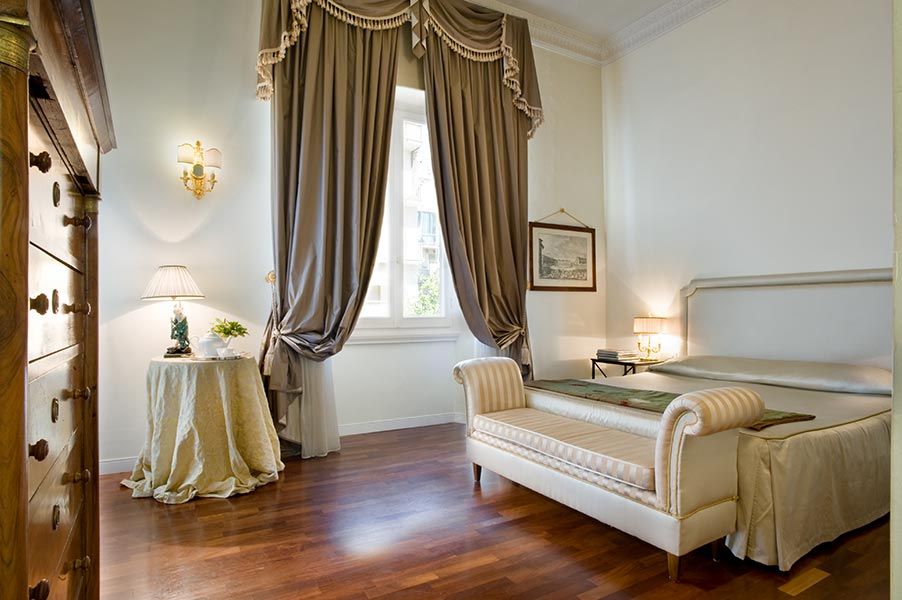 We may love modern interiors, but we won't pass up staying in an authentic Florentine accommodation. Dating back to the 18th century, Relais Villa Antea was once the home of the owner's grandparents and the holiday home for their friends and relatives. Fast forward to present day, it is now a family-run bed and breakfast complete with elegant bedrooms, large bathrooms and sumptious breakfasts. There are only six rooms in Relais Villa Antea, but that makes the service all the more personalised. Prices from around €60.