It can be damn hard to keep up with everything that's going on at Fashion Week. Our feeds are filled with twice the snaps, and every look, every street style accessory, every front-row sighting seems exciting. This season, we're taking a step back and looking at the bigger picture. What moments from NYFW truly mattered? What shows, controversies, and industry shifts will we remember not only through London, Milan, and Paris, but far into the future? Read on for all the happenings that really got us talking. And remember, if you lose your way in all the style madness this week, the major takeaways live right here.
1. Designers Are Striving For Diverse Runways
After Christian Siriano dropped a hint about his diverse runway, we could hardly wait to attend the show. When women of different races and sizes graced the catwalk, we heard excited voices whisper, "Yes!" and people clap passionately. Then, Jenna Lyons presented a J.Crew collection on friends of the brand, rather than supermodels, and Opening Ceremony included a mix of both in its runway show, enlisting Natasha Lyonne and Whoopi Goldberg. Sandy Liang and Tracy Reese also followed suit at their own presentations.
2. Designers Are Taking Things Outdoors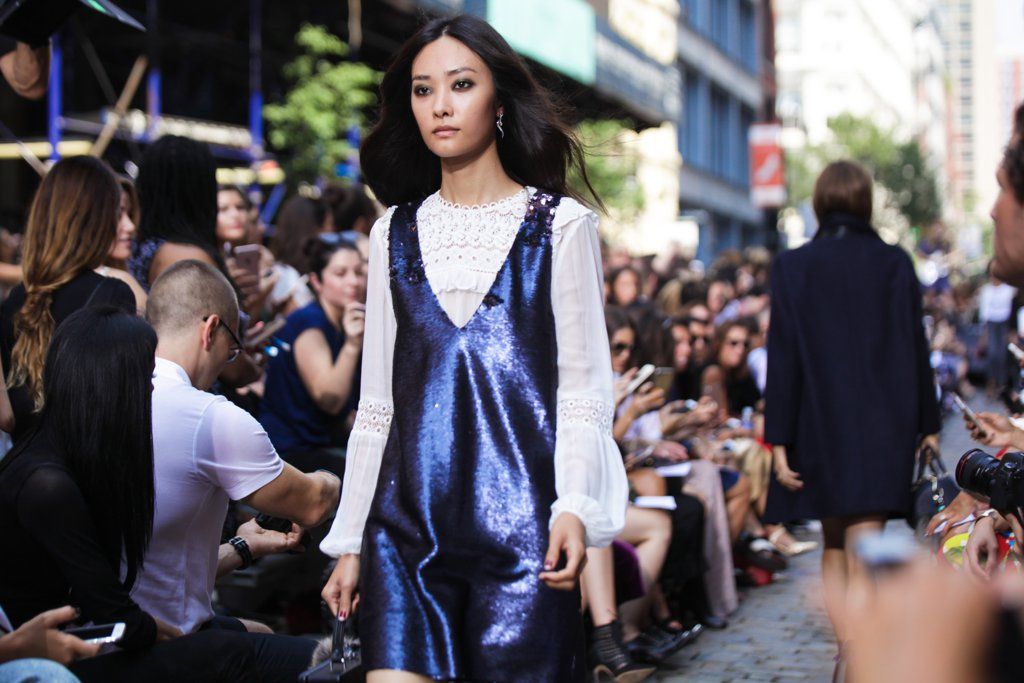 Rebecca Minkoff closed down Greene Street in SoHo, crowding the cobblestone road with a runway and concert stage, but plenty of other designers opted for fresh air too. Rachel Comey, Lela Rose, Eckhaus Latta, and Tommy Hilfiger are just a few more game-changers who set up shop outside.
3. Tommy Hilfiger Turned Pier 16 Into a Carnival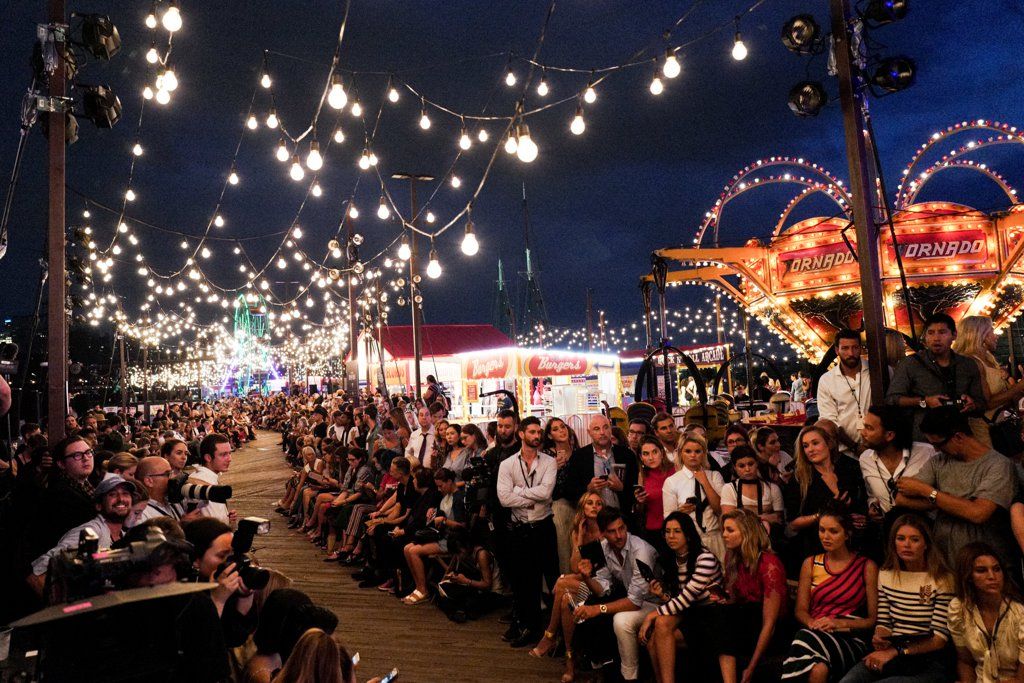 4. The Yeezy Show Was Pure Chaos
After a shuttle to Roosevelt Island and a long wait for the show to begin on day one, attendees were outraged. But when it became clear that models were dehydrated — some even fainted! — chaos ensued. Editors shared snaps of girls kicking off their heels and falling to the grass, all before Kanye West took his bow.
5. There Was a Tribute to Bill Cunningham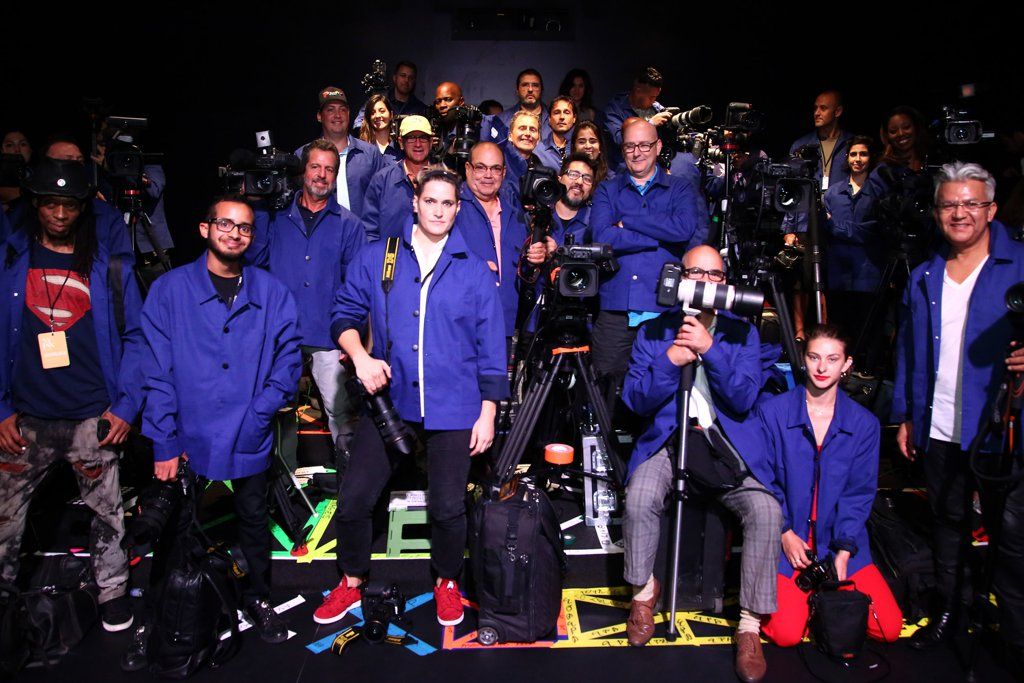 The late legendary photographer wore his signature blue coat every time he stepped out to capture street style. The fashion world paid respect on day one, zipping into blue jackets when they were on duty and arranging blue chairs into the shape of Bill's camera right in the middle of Bryant Park.
6. Tom Ford Showed His Collection With an Intimate Dining Experience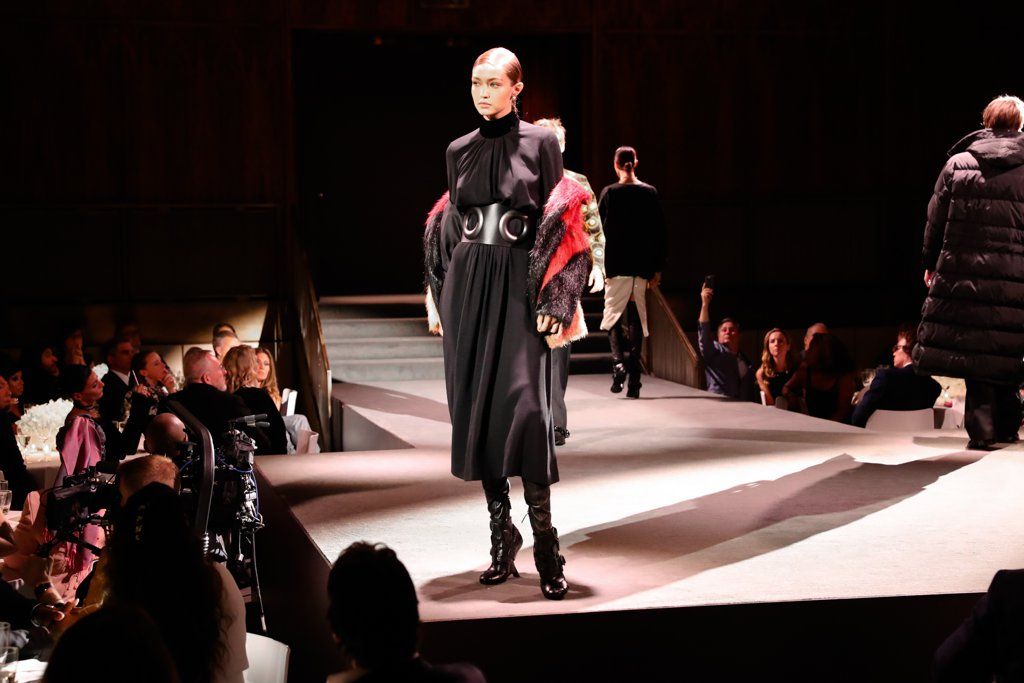 He attracted fashion's elite to the former Four Seasons restaurant and entertained them with live music, lavish dishes, and glamorous Fall clothes. It was the designer's first foray into see now, buy now, and his collection was shoppable instantly.
7. Fashion Houses Made Political Statements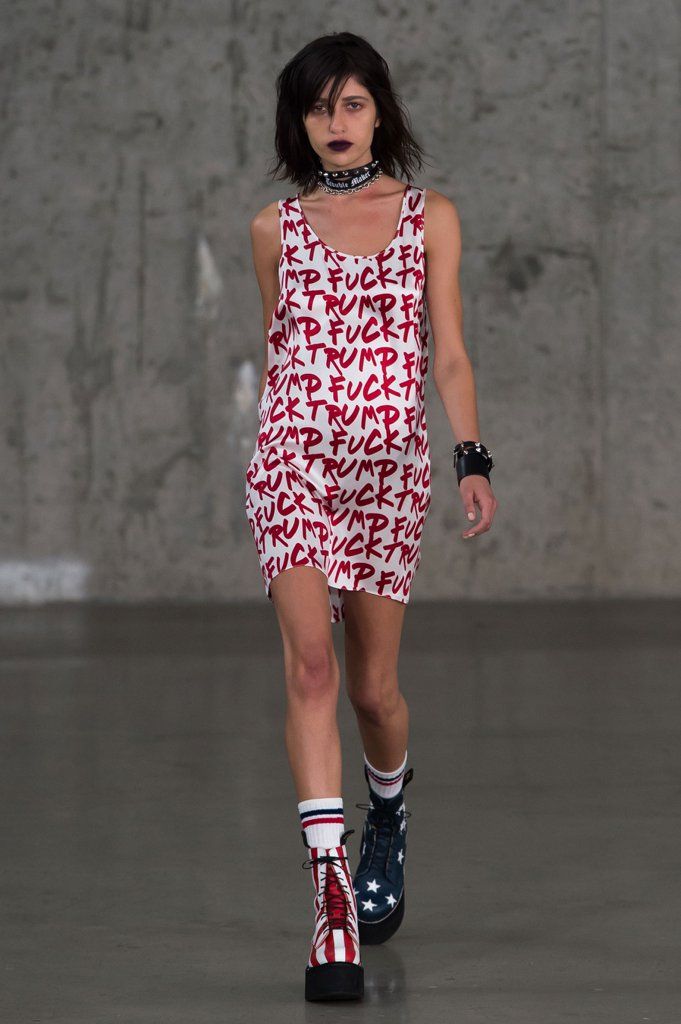 Designers aren't holding back from talking politics, and this look is proof. On day one, this "F*ck Trump" mini opened the R13 show, though the print was also splashed onto a pair of skinnies. The message was loud and clear, and the brand even shared a sneak peek of the look ahead of the runway show. Later, the Opening Ceremony presentation urged show attendees to sign up to vote.
8. Smaller Presentations Replaced Huge Runway Shows
Of course there were a handful of buzzy extravaganzas, but many designers who used to favor a catwalk surprised us with cozy presentations instead. From Kate Spade's strict social media rules (no posting full-length looks allowed!) to the casual pillow fight at Cynthia Rowley, many Spring collections came into the world quietly. We can't help but wonder if the traditional runway show is slowly dying in lieu of performance art reveals or no event at all.
9. Dogs Sat Front Row
Did these pups get their own invites to the shows? We can't be quite sure. But Parker Posey's little guy sat in her lap at the Rachel Comey presentation, and Erica Pelosini brought her pal Cashmere to Zimmermann.