Shanghai has a big place in my heart as I had previously stayed in this city for a year for an internship and a stint in Fudan University. Being the most developed metropolis in China, it has a unique charm which has made me fall in love with it time and again.
Credit: Frederic
TIP One: Visit Lujiazui for the Pearl Oriental Tower and hoF
Shanghai is split in two by the Huangpu River; one side being the East (Pudong) and the other being the West (Puxi). To put it simply, the East is where the financial zones are; and the West houses the cultural and commercial centres. In Pudong, Lujiazui is where you should visit. Besides being the home to the popular Oriental Pearl Tower, there's the Ocean Aquarium, Super Brand Mall, the Shanghai Stock Exchange Tower and our very own DBS building! My favourite thing to do is to visit hoF, a wine bar and restaurant, which overlooks the Oriental Pearl Tower. Drop by at night to see the mesmerizing lights of the Pearl Tower and enjoy the Number 1 dessert rated in Shanghai paired with their premium cocktails. My go-to food options are there Velvet Cake, Salmon Rillettes, Death by Chocolate Cake, Garden Salad, Croque Madame and American Lemonade Cocktail.
Credit: Bing.com
Address: 1318 Lujiazui Huan Lu, near Dongyuan Lu
Tip Two: Instead of Café-Hop, go Fine-Dining Restaurants Hopping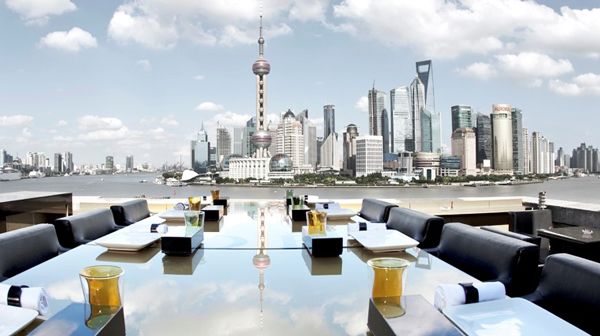 Credit: Forbestravelguide
Shanghai is a fascinating mix of East and West cultures. There are the best foods from all over China and a good mix of very good Western food right into the heart of Shanghai. Fine dining lovers will rejoice as you get quality and premium food in Shanghai at a price that doesn't break your bank (p.s. don't expect cheap prices, remember, you pay for what you get. Rather, you get very value-for-money but decadent and impeccable dishes). Mr and Mrs Bund is my favourite and it is listed on San Pellegrino as The World's 50 Best Restaurants. Owned and ran by French chef Paul Pairet, it is renowned for its modern French food. Go for the late-night deals available Thursday to Saturday from 11pm to get the best bang for your buck. You will get to order from their dinner menu from 250RMB and even order a-la-carte dishes on a discount!
Oh, have I already mentioned you get a view of the Bund at Mr and Mrs Bund?
Tip Three: Bargain and Buy Items From the Road Side Pushcarts
Take your time to browse through the items they sell from the pushcarts by the roadsides. I love getting books from the pushcarts as the book dealers sell amazing collection of updated Fiction and Non-Fiction ENGLISH books from RMB20. You'll also find apparels, household necessities, fashion bags, fruits, etc being sold on these carts.
Tip Four: Blind Men Massage
There are a thousand of hole-in-the-wall massage parlours in Shanghai, and my personal preference is going for a blind men massage. You may be screaming and blinking with tears of pain but it's a rewarding experience. Your body will thank you for it, trust me.
And my not-to-be-missed parlour is this place called 艺林 (Yilin) which can be found in many parts of Shanghai. If you are around Chang Ning District, the outlet is on Number 1842 Chang Ning Road. Ask for No 8 masseur, and you will know why it is my go-to place. 🙂
Tip Five: Eat Xiao Long Bao EVERYWHERE
Credit: AsiaExpatGuides
You can't miss out on having Xiao Long Bao if you are in Shanghai, and the best pork dumplings you would find would be in those small little shops by the street. The shops are always full of locals and you get to enjoy authentic Shanghai Xiao Long Bao. The soup-filled dumplings with thin skin are a fraction of the price from the restaurants. Oh, don't miss trying the salted egg yolk flavour!!
With much love, I hope you would enjoy this cosmopolitan city as much as I do!
Love, Jacelyn