In recent time, Japan is ranked in position 2 in Lonely Planet's Best in Travel for 2016. You can get lots of info on the best sites to see in Japan like Mt Fuji. But there's also a huge fun, kinky and absolutely quirky side of Japan which you have to explore too!
Here are the 5 most recommended kinky places to visit while you're there.
Maid Cafe
Credit: Crunchyroll
Maid cafes, sometimes referred to as Meido cafe or Cosplay restaurants are popular in Japan. The idea for this type of cafe is inspired by the locals' fascination with manga and anime. You can get food, and alcoholic drinks and a performance of sorts. However, it is not a brothel, although to many men (and women) the appeal is quite sexual.
There are many maid cafes to choose from. For a tourist friendly one, try Popopure which has several non-Japanese, English-speaking maids on site.
Vibe Bar
Credit: Time Out
Yup, as the name suggests, this is a bar full of vibrators. By full, we mean over 300 different types of vibrators for you to explore. For hygiene purposes, you're not allowed to insert any of these toys anywhere. But you can test them out and check out their features while you have your cocktails. If you find one you like, you can buy it and take it home with you.
Nude Restaurant
Opened in July this year, it's the first naked restaurant in Japan. 'The Amrita' – Sanskrit for 'immortality' has strict age restrictions (18 to 60 years only). All guests dine naked, after they check in their clothes and put on paper underwear provided by the restaurant, they will have to stow away all phones and cameras in a table top box. Oh, I forgot to mention… food is served by muscle-bound men wearing g-strings and there is a dance show featuring male models.
Love Hotels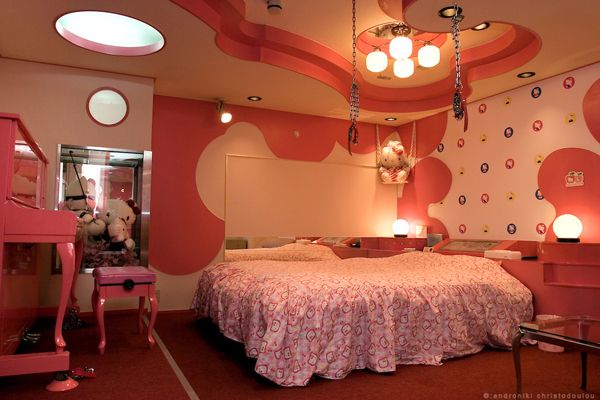 Credit: PhotoShelter
These hotels come equipped to satisfy your sexual fantasies and fetishes, whatever they may be. You'll find vending machines selling sex toys, rooms with sex swings, or mirrors on all the walls and ceiling. There are even love hotels with Hello Kitty S&M themed rooms if that catches your fancy! Stay the night in a love hotel, just for the novelty factor, and who knows, you may enjoy it much more than a regular hotel.
Strip Theatre
Credit: DrinkAdvisor
The locals call this place Dogenzaka Theatre and it is a strip club in the Shibuya section of Tokyo. It's kind of like a very civilised strip club (haha), patrons pay an entry fee, go in and take a seat. They must remain seated throughout a performance. Each dancer will come out and do a choreographed performance that starts with a costumed dance routine and ends with the dancer full nude spreading her legs on a rotating stage so that everyone seated gets a view. After her performance, she stands aside and the audience line up to shake her hand as they leave.