Your boyfriend can never capture your #OOTD at that perfect angle? You look short and stout in photos even when you are not? The bad lighting gave you an ugly complexion? We found the solution for all your problems.
After the release of Casio EXILIM TR80 to up your selfie game, Casio launched the new EXILIM FR100L to helps us perfect our #OOTD shots. And yes, this time round, you can take your #OOTDs even WITHOUT ANYONE'S HELP.
We attended Casio's media launch of EXILIM FR100L last Saturday at Sentosa Amara Sanctuary. The influencers tried out the different functions of the camera and they were all more than impressed.
Detachable design for taking your own #OOTD
The EX-FR100L camera and controller units can be configured in various ways to achieve different shooting styles. If you are troubled because there is no one to help you take an #OOTD shot, use its detachable design to enable hands-free shooting. Place the camera on its tripod, and hold the controller unit in your hand. Frame your photo by checking in the LED screen on the controller unit. Start posing, and press the shutter button. That's it! You got your Instagram-worthy #OOTD!
Influencer Hellven Chua held the controller unit in his hand and the camera was placed on a tripod facing him to take this photo.
Besides the Remote Style, use the camera on its Self-Portrait Style for selfies, and Camera Style for your regular photo-taking. Versatility guaranteed.
Look like a supermodel with its Long Legs guide
Most of us ladies (and gentlemen alike!) don't want to look short and stout in our photos. The Long Legs guide function in Casio EXILIM FR100L creates full-length portraits that make legs look longer and more slender by superimposing a guiding layer within the image frame to indicate where to position the face and feet. Together with its super-wide-angle 16mm lens, the EX-FR100L delivers expansive images and offers a natural appearance of beautifully long legs.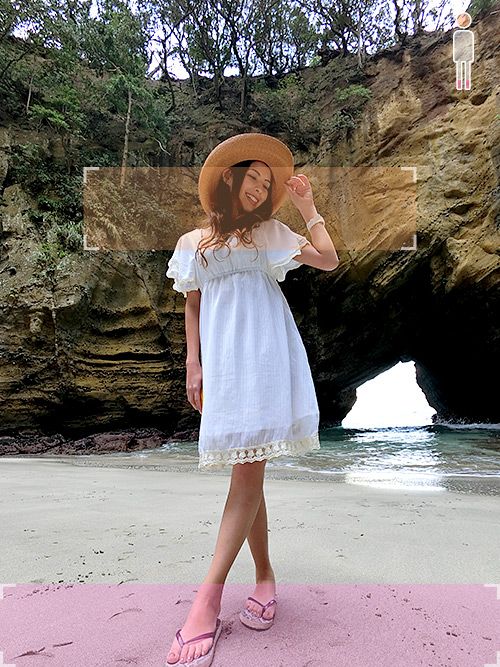 Coloured guides on the screen to show you where to position your face and feet for the Long Legs mode.
Kimberly using the Long Leg Guide Standing mode
Alethea using the Long Leg guide Sitting mode
Your face and background will look equally good with the new Makeup Art function

Makeup Vivid mode

Makeup HDR mode
There is no longer any need to sacrifice how you look to achieve stunning colours in your surroundings. Casio EXILIM FR100L's Makeup Art function highlights the user's beauty while enhancing the surrounding scenery.
The EX-FR100L offers two modes, the Make-up Vivid and the Make-up HDR, under the Make-up Art function. Both modes adjust skin smoothness while increasing the colour saturation and contrast of the background in an image. The Make-up Vivid mode boosts colour saturation and background contrast to produce vivid colours for a pop-art dimension, while the Makeup HDR mode emphasises contours to produce visually artistic images which look like paintings.
Everest using Makeup Vivid mode
Maybeline and James using Makeup HDR mode
Leong using Makeup Vivid mode
Not just for #OOTDs, your selfies aren't forgotten too
So, is this camera suitable only for full-length photos? Absolutely not. Makeup Modes are fully customisable for your portrait shots. Play around and adjust between twelve levels of skin smoothness and six levels of skin tone till you find one that you like. Besides, you can even brighten or darken your complexion as you desire.
Joanna using Makeup Vivid mode
Xinyi using Makeup Vivid mode
Waterproof and dustproof – great for adventurous folks
In the past, we need to head to the professional camera shops to buy special casings for underwater photography and that is usually reserved for the professionals. However, even amateur photographers like ourselves can do underwater photoshoots now, because Casio EXILIM FR100L is both waterproof and dustproof! That's great news for the adventurous folks who want to capture precious memories during their trips. The EX-FR100L is also built to function at temperatures as low as −5 C°, making it perfect for capturing winter holiday memories.
Share your photos seamlessly with its EXILIM Auto Transfer function
Share your photos with your friends on your social media with the EXILIM Auto Transfer function, where your photos are easily transferred to your phone with zero hassle.
Pricing and Availability
The EXILIM EX-FR100L comes in pink and white models and retails at S$699.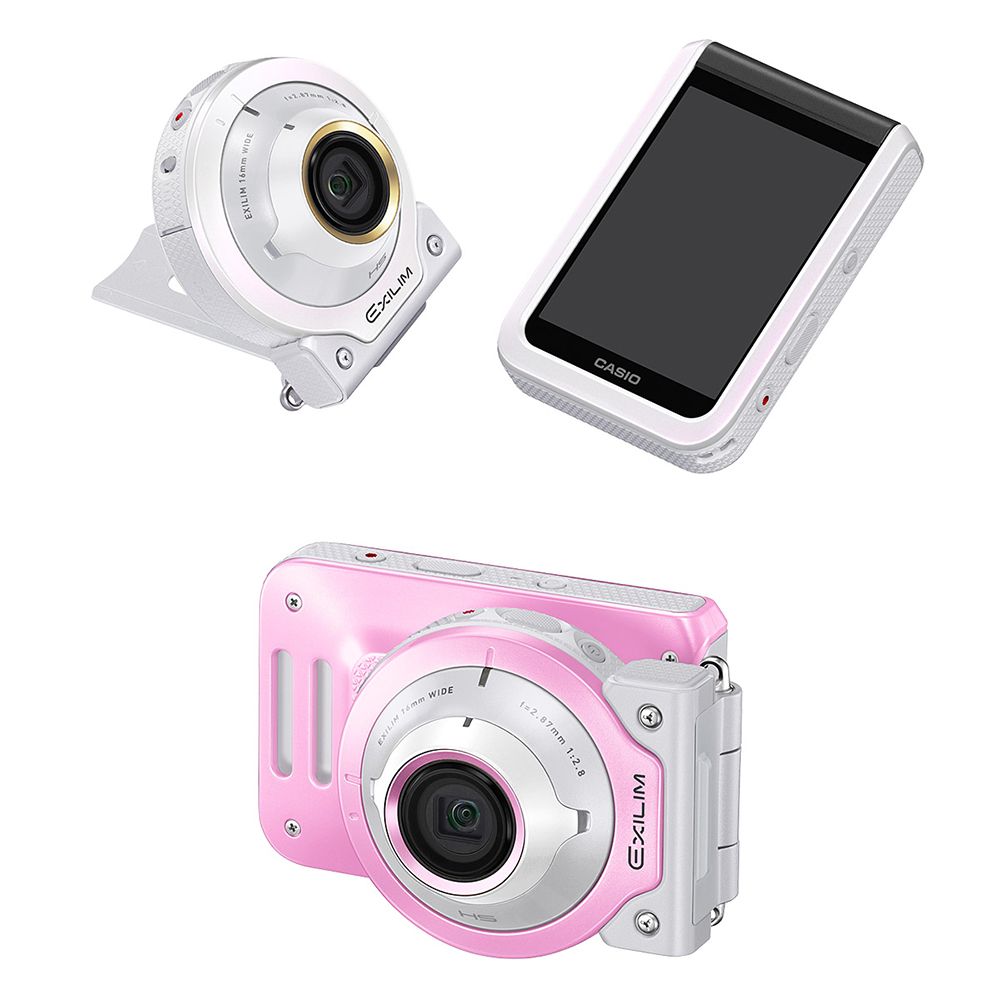 The camera will launch in Singapore on 16 March 2017 exclusively at the IT Show 2017. Following the IT Show 2017, the EX-FR100L will be available at the Casio Concept Store in Tampines and authorised retailers.
Cover photo credit: Instagram yuniqueyuni/ aletheajane