As you may already know from my Instagram, I have recently done my aesthetic treatment at Halley Medical Aesthetics Clinic. Founded by Dr Terence Tan, Halley Medical Aesthetics Clinic is located at Orchard Gateway.
So I am going to share my Botox and filler experience in this post today.
CONSULTATION
I visited Dr Terence Tan for a consultation session few weeks ago. I addressed my concerns to him so that he will have a better understanding. Thereafter, he advised me on the possible types of treatment that could improve and enhance my face features. Dr Tan suggested using fillers and Botox for my face shaping and contouring. This treatment adds dimension to my facial features and volume to areas where is lacking.
To be honest, I was contemplating to do Botox and filler until Dr Tan patiently explained to me. He is very knowledgeable, which makes me feel like my face was in good hands.
THE PROCESS
Once we were done with the consultation, we fixed a date to be back for the treatment process. I was quite excited and scared at the same time. This was my first time……. However, Dr Tan and the therapist were very friendly and patiently reassuring me that everything will be fine.
The first step was to remove all traces of makeup before applying the numbing cream on the designated parts of my face. And after waiting 10-15 minutes for the numbing cream to take effect, the procedure starts.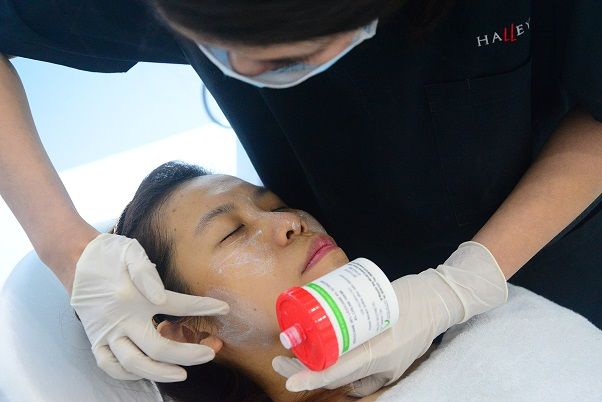 Dr Tan showed me the product and explained to me how he will perform the procedure first before he officially starts the process.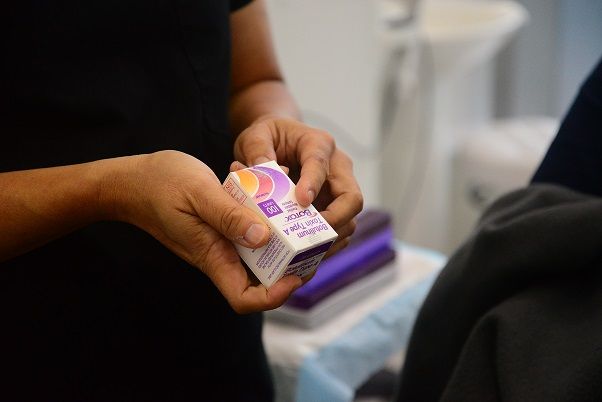 Here are the areas treated:
Nose: He uses Juvederm Voluma to fill the nose.
Cheek: In order to revolumise the midface, Dr Tan uses Juvederm Voluma and Juvederm Volift to achieve the look; he also used Juvederm Voluma to rejuvenate my tear trough.
Pre-jowl & Chin: Dr. Tan uses Juvederm Voluma to enhance the chin and Juvederm Volift to fill up the pre-jowl and chin area. He also uses Botox to relax the muscles in the pre-jowl fold area. This will give me a smoother, more attractive jawline and v-shaped face.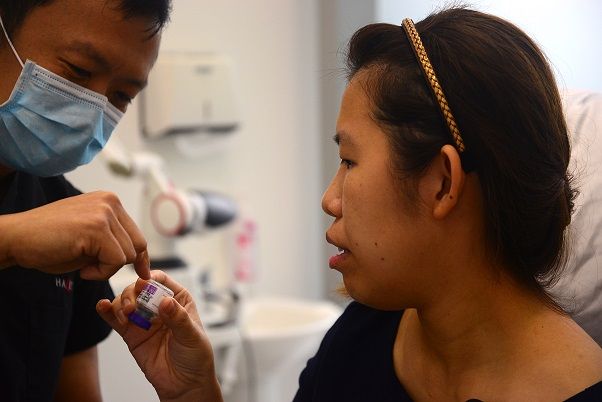 Interaction with Dr. Tan before the process begins.
Comparing the right with filler and left side with no filler.
Dr Tan working on my chin with filler.
The whole process was not as scary as I expected with the needles poking into my face. The moment the injections started, I kept my eyes closed all the way. Dr Tan used a micro-cannula or "Magic Needle" for injecting the dermal filler. The Magic Needle is not actually a needle but a cannula. It distributes the filler more evenly and as it is blunt and extremely pliable, it slides under our skin with minimal pain. (You can read here (http://blog.halleymedicalaesthetics.com/the-art-of-injecting-dermal-fillers/ ) for better understanding) I felt no pain at all on my nose and cheek. All thanks to the numbing cream and lidocaine, an anesthesia that is in the Juvederm fillers. The only slight discomfort I felt was at my jaw area although it was very bearable. It is just slightly uncomfortable but it disappeared the moment it was done.
For the filler, Dr Tan also used what he calls a "sandwich technique" for fillers. This involves injecting Juvederm Voluma, which is a firmer filler below for lift first before injecting Juvederm Volift, which is a softer filler to smoothen out the fine lines. This will result in a more natural look.
RESULT
With fillers, I can see the result right away. I noticed my instantly sharper nose and chin and higher nosebridge. The result looks natural and you cannot tell that I did anything on to my face. My face has been lifted and features are more prominent now. There were no scars or visible bruises for me. I left the clinic without any makeup and feeling happy with the new look. My sisters and friends noticed the difference in me instantly. Some even thought I slimmed down because of my V-shaped face and I look more energetic with the help of the fillers on my midface.
Here are before and after photos taken to see the differences:
Processed with VSCO with e5 preset
Taken this photo a day after the treatment.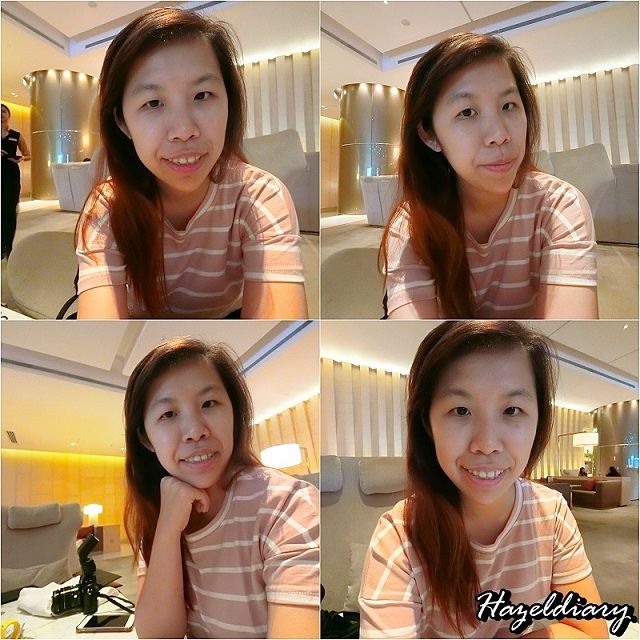 Selfie shots taken a week after the Botox and fillers.
My new look certainly gives me a boost of confidence and I can't wait to embark on my next treatment with Halley Medical Aesthetics.
Fun Facts: Fillers typically last at least 1.5 years while Botox is about 6 months. However, it also depends on individual and where they are injected because in some cases, it can last for 2 years for fillers.
Halley Medical Aesthetics
277 Orchard Road #03-15
Orchard Gateway
Singapore 238858
Phone: 6737 8233
Email: info@halley.com.sg
Website: www.halley.com.sg
Facebook/Instagram: @halleymedicalaesthetics
Blog: blog.halleymedicalaesthetics.com