It can be such a pain when it comes to choosing THE perfect laptop. There are not only technical specifications to consider, but also the appearance and design of the laptop, how light it is, how slim it is etc etc… People today spend the majority of their waking hours on their laptop, whether it's playing games or surfing the net, and for women, our laptops are more than just a tool for work or play – very often it's our means of communication with our friends and our main source of entertainment. With that sheer amount of time spent on our laptops, it's only right that we have one that's absolutely perfect!
…but of course, finding one that's just right is usually a near impossible feat. When it's slim and chic, it's not living up to your expectations in processing speed, and when it makes up for it in function, it lacks in form. Or it could be lacking things that you wished the laptop manufacturers would just take notice of. Until all these companies come up with the perfect laptop for us women, we can only dream about it. It may be a bit unrealistic, but hey, that's why we call it The Dream Laptop right?
Colour, colour, colour!
None of this black/white/grey colour scheme anymore! We would appreciate it if we could be offered a variety of colours. And no, not just pink or baby blue. Not all girls like pink or blue, thank you very much. How about some bright, neon colours that would shock the hell out of everybody when we walk into the room carrying it? Better still, why not offer customisable shades? It's hard to cater to everybody's tastes in colours so might as well offer a huge variety of colours from which we can choose from! Trust me on this, women will be grateful for this option!
Changeable casings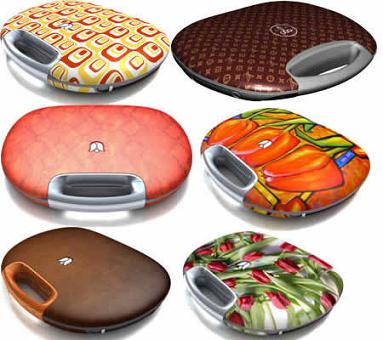 In fact, in addition to having customisable colours for the laptops, why not add in the option of actually allowing us to change the covers as and when we feel like it? Wouldn't it be fabulous! Remember the days where we would buy several hand phone casings of the same hand phone model and change it whenever we liked? It was like having a new phone everytime and why not apply this very same concept to the laptops!

Slim and Fit
Whether we're studying or working, it's common for women to bring their laptops around with them most of the time. Therefore we would greatly appreciate it if all laptops could be as slim and lightweight as the Macbook Air. Feminists, relax. It's not about not being able to carry heavy items on our own, but sometimes we just don't want to, okay? Given the option of having a slim and lightweight laptop, I'd take it right away!
Technicalities
While I'm not the most tech-savvy person when it comes to choosing gadgets, I'm not a complete idiot either. Having said that, throwing terms like "Core 2 Duo processor with 3MB on-chip shared L2 cache running 1:1 with processor speed" does nothing for me and just makes me eye glaze over. Make things straightforward for us: lots of RAM, lots of memory space and high processing speed, so that it's possible even for the most attention-deficient of us to run ten programs at once and not have it hang. There you go!

Fun and Girly Applications
How about some fun applications, something like the Photo Booth in Macbook for the camwhore in all of us? When it's not providing hours of silly fun for us, the Photo Booth- like application can also double up as a mirror for those with an obsessive need to look great all the time!
Finding it an absolute nightmare to keep track of all your appointments, meetings, gatherings and more? If only the Operating System of this Dream Laptop of ours could track all of our email exchanges, messages and so on and automatically input the relevant information and dates into a nifty little calendar. Volia! Your very own personal assistant. And she doesn't even talk back!

Built-in Retractable Earphones
Find it a complete hassle having to attach and reattach your earphones to your laptop when you need to use them? If only laptops came with earphones that could be easily retracted and kept at a little side compartment when you don't need them! Now there's no way you would lose or damage the earphones again.
Side Mirror
I am not going to be unrealistic and demand little makeup compartments (how awesome would that be though?) because it's likely that the heat from the laptop generator would melt the makeup, so the next best thing? How about a little side mirror! We are often on the go and sometimes we would like to be able to check how we look without having to make a trip to the toilet. Nothing too vain here!
Hey laptop manufacturers are you listening closely?