It's undeniable that food is an integral part of Singapore's identity, and with the nation's 52nd birthday approaching, don't you agree that there's no greater and more legitimate way than to celebrate with a yummy cake. We're not referring to the usual suspects (chocolate, strawberry or vanilla ones), but flavours by Creme Maison Bakery that let us reminisce the good old times like the ones below.
Ondeh Ondeh Flavour
Among the rich variety of Nonya kuehs, our favourite is definitely the Ondeh Ondeh. Somehow the dainty globe of sweet treat never fails to send the euphoria sensation (exploding gula melaka) down our spines, with each bite into it. Before you knew it, you might have already popped a few into your mouth. Don't you just agree that there are no other kuehs that hit the (sweet) spot so well like the Ondeh Ondeh?
Try this Ondeh Ondeh Cake ($68)  that has fluffy pandan and coconut infused cake layers filled with home-made Gula Melaka caramel and covered with desiccated coconut and Gula Melaka swiss meringue buttercream.
Nutella Brownies 
Whether you're savouring it straight from the can, debating over its pronunciation or using it as a naughty alternative to your butter, we're sure Nutella has been a huge part of most of our childhood. That's why the #YourNutella campaign has been a huge success, with so many people queuing up to customise their own Nutella jar and sharing their Nutella stories online.
Regardless of your story, you wouldn't want to miss this Nutella Brownies Cake ($78) that is crowned with artisanal French brownies, and generously filled with Nutella jam, milk crumbles, and Nutella infused velvet cream cheese. We dare say with such a yummy cake on your plate, you will be too busy savouring it rather than debating over its pronunciation with your family.
Raspberry Lychee Rose 
Make a guess! Which drink frequently appears in places such as Pasar Malam, hawker centres, buffet table, and even at the "The Raclette Factory" at the recent Geylang Serai Ramadhan Bazaar? Yes, it's none other than the Bandung drink. The milky cordial drink accompanied most of us on humid days, and even till today, many might still debate about its origins. 
Taste how the local drink transformed into something more decadent with this Raspberry Lychee Rose Cake ($68). Imbued with subtle rose fragrance, the cake is layered with dehydrated raspberry crisps, fresh lychee bits and raspberry cream cheese.
Caffe Kaya Toast Cake 
Growing up in a food paradise like Singapore, there's absolutely no lack of breakfast choices. Despite that, we're sure many Singaporeans love waking up to the kopi and kaya toast combination. Somehow, it just brings back fond memories, like Sunday mornings breakfast with Grandma or the many wonderful small Kopitiam talks with friends. Though the sweet treat is an oldie, it's definitely a goldie.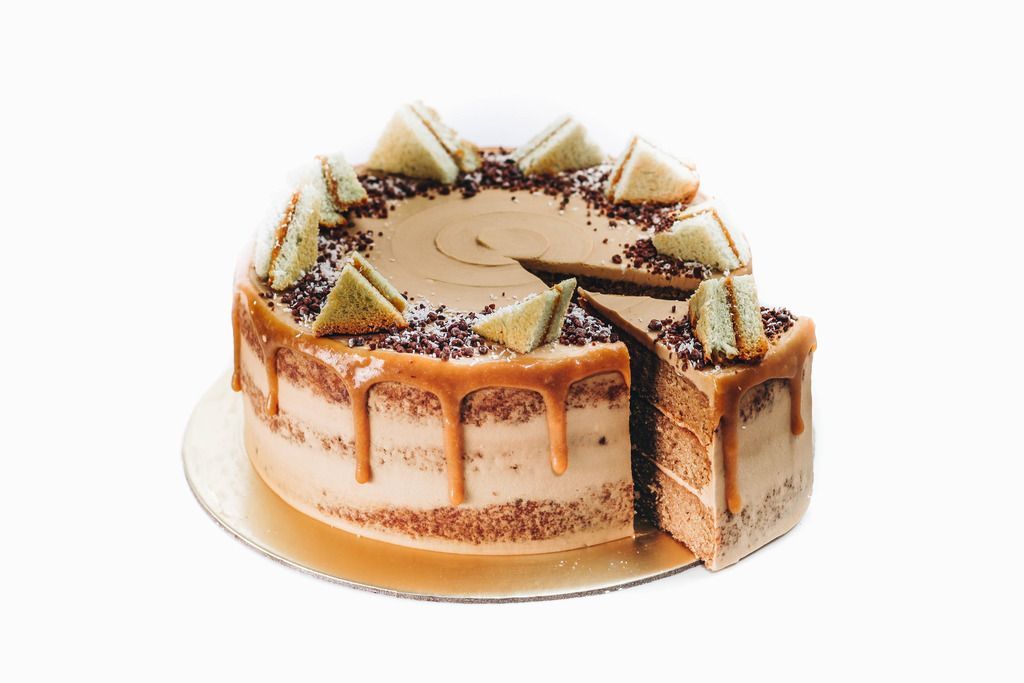 Experience the nostalgia with every bite of this coffee infused Caffe Kaya Toast Cake ($68) that consists of Gula Melaka kaya filling with brewed coffee cream cheese and fragrant pandan croutons.
Matcha Salted Egg 
Remember how the culinary world set the nation queuing up frantically for their salted egg yolk creations last year? Even big brands like McDonalds' joined the trend with its salted egg yolk chicken burger. And who can forget the daily flooding of Instagram feeds with nothing but salted-egg-yolk-food-pictures? Though the trend has long returned to its graveyard, it's unarguable that the unappealing yolk still holds a special place in our hearts (at least for us).
If you still couldn't erase the memories of salted egg yolk, do try the Matcha Salted Egg Cake ($78) which is topped with salted egg sauce among the layers of salted egg fudge filling, Matcha infused cream cheese, and Matcha milk crumbles. This cake is sure to make you crave for more.
VisitCreme Maison for more details. #crememaisonbakery #crememaisonsg