Yes, I wear them all the time but my yoga pants have never been to yoga ever! The athleisure trend has made a comeback with the reemergence of the popular Adidas brand baseball caps and sneakers being worn by celebrities.
Credit: Glamour
For those who are new to this trend of fashion, athleisure is a term used to refer to the fashion of wearing sporting attire as street wear and for non-sports related activities. Basically, it has to do with wearing clothes meant for the gym to a date while looking cool and chic.
Athleisure is the name for those effortlessly cool, dress down outfits which you have been seeing on girls such as Gigi Hadid, Kendall Jenner, Kiersey Clemons and Kylie Jenner
Of course, athleisure style actually takes some putting together… it is not the style of that guy who wears a football jersey with bermudas, or the engineering student who wears Asics running shoes with jeans. Athleisure means wearing sweatpants (the kind that accentuates a perky butt) with a pair of chic shades and good accessories which make you look like an off duty model. That's how the term "sporty chic" was formed.
Here are some athleisure looks suitable for a date:
1. Leggings are super comfy but can make you look bad if not accessorised well. Add a cap, sneakers and wrap a shirt around your waist to pull this athleisure look together.

Credit: Pinterest
2. Put on a strappy bralette under a top or dress that is low cut, or has super big armholes or an open back. Bonus points if you can pull together a contrasting colour combination, don't be afraid of your bralette having a loud pop of colour!
Credit: Pinterest
3. Go for pleather/leather leggings rather than cloth to make your sporty separates count. Put on a stylish mesh tank rather than a cotton one. Simple substitutes of this kind elevate your look instantly.
Credit: Lookastic
4. A huge part of getting the athleisure trend right is by adding the right accessories. To make your sweats look stylish, a glamorous bag is sometimes enough.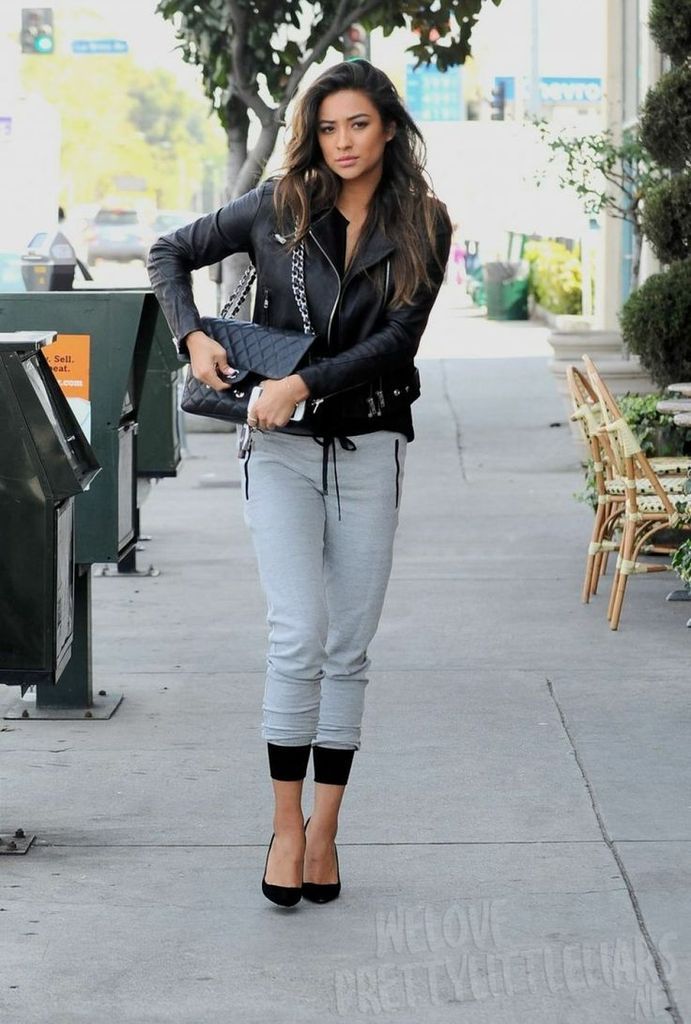 Credit: Pinterest
Putting on your athletic wear on for a date is not just super comfortable but it can look really great as well. Try an athleisure look out for your next date!