Nobody says no to desserts after a meal, and don't we all have that separate stomach solely for desserts, no matter how full we are after our meals?
That said, nothing beats home-made sweets and cakes and we have 3 easy recipes for you to try making your own desserts at home. To add that floral-citrus taste to our desserts to freshen us up in this hot Singapore weather, we will be including Marigold Peel Fresh Yuzu Juice in the 3 recipes.
Yuzu Cheesecake
Credit: Stacey Hong
Ingredients
10 pcs round digestive biscuits, crushed finely
100 grams toasted almonds
1 tablespoon raw cane sugar
250 grams cream cheese
¼ cup thickened cream
1 ½ tablespoon castor sugar
½ cup Marigold Peel Fresh Yuzu Juice
2 teaspoon gelatin powder, dissolved with ¼ cup hot water
2 teaspoons of grated Yuzu rind (for garnishing)
Method
1. Mix the digestive biscuit crumbs, toasted almonds and raw cane sugar.
2. In a blender, combine the cream cheese, thickened cream, castor sugar and Marigold Peel Fresh Yuzu Juice, blend until smooth.
3. Remove the blender lid and pour in the gelatine mixture. Replace lid and blend again for a further 2 minutes on high speed.
4. To assemble, place the biscuit mixture at the base of a glass dish (you may use liqueur glasses to enhance presentation).
5. Pour or spoon the cheese mixture on top until it fully covers the base. Leave it in the fridge to set for about 3-4 hours and garnish with some Yuzu rind before serving.
(Source: Stacey Says)
Yuzu Jelly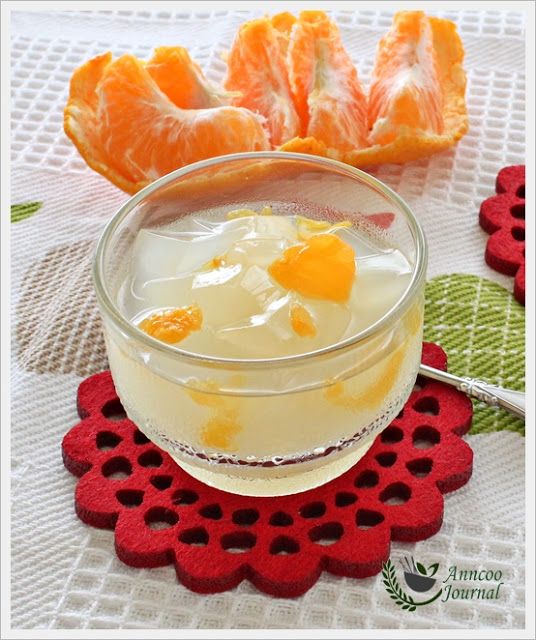 Credit: Ann Coo Journal
Ingredients:
1 litre Marigold Peel Fresh Yuzu Juice + 100ml Water
1 packet Konnyaku powder
Extra yuzu juice drink
Method:
1. Pour Marigold Peel Fresh Yuzu Juice and 100ml water together in a pot and boil under medium heat.
2. Add in konnyaku powder and stir to boil with a hand whisk.
3. Off heat and continue to stir for another 3-5 minutes.
4. Pour yuzu liquid into an 11-inch square tray.
5. Leave to cool and refrigerate for at least 2 hours or when ready to serve.
6. To serve, cut yuzu jelly into cubes and place into serving glass. Pour in some yuzu drink and add in some mandarin orange pulp. Or if you prefer, pour yuzu liquid into konnyaku moulds and chill it before serving.
Kitchen note:
1. Leave the yuzu juice drink at room temperature for 30 minutes before boiling just to prevent the konnyaku powder from curdling too quickly from the cold liquid.
2. After boiling the yuzu liquid, you'll see a thin layer of oil on the surface. Just remove it with a spoon before pouring it into your desired mould.
(Source: Ann Coo Journal)
Yuzu Butter Cake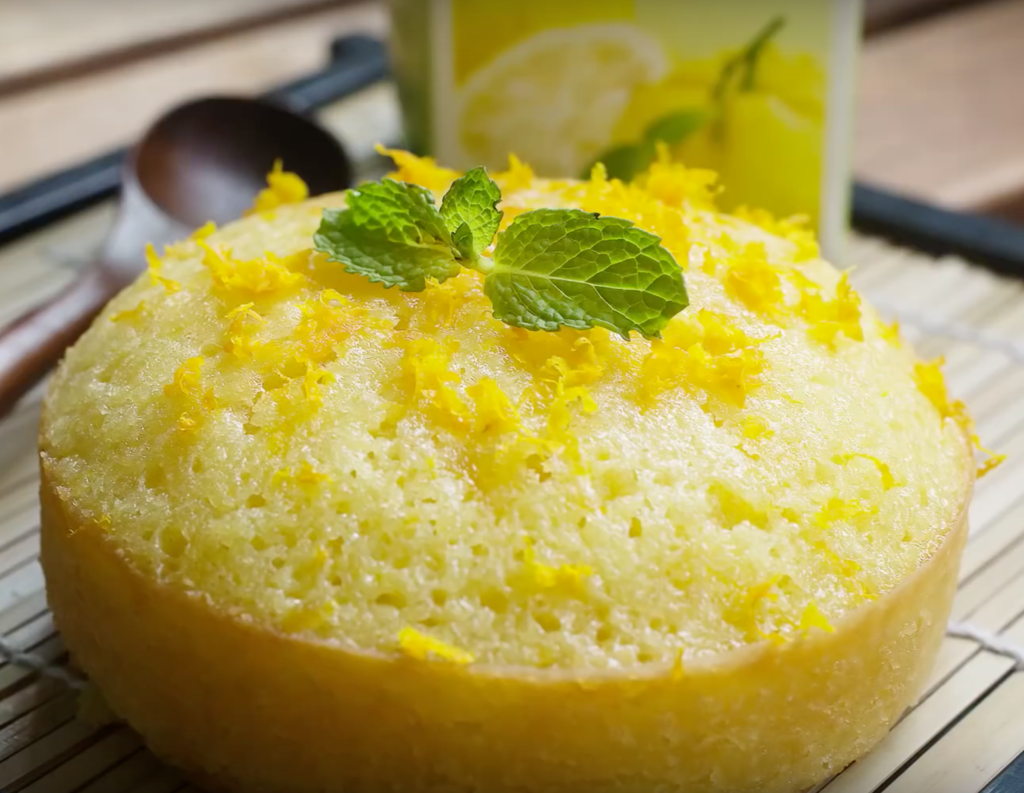 Credit: The Meatmen
Ingredients
1 tbsp Marigold Peel Fresh Yuzu Juice
50g butter
50g caster sugar
50g self raising flour
1 egg
1 orange for zest
fresh mint for garnish
Glaze
50g icing sugar
2-3 tbsp Marigold Peel Fresh Yuzu Juice
Method:
1. Preheat oven at 180°C
2. Coat 4 inch cake tin with butter
3. Next dust with plain flour and shake off excess
4. Cream 50g butter with 50g caster sugar until colour turns pale
5. Add 1 egg and 1 tbsp MARIGOLD PEEL FRESH yuzu juice
6. Sift and mix in 50g self raising flour
7. Grate half a orange for zest
8. Mix well and transfer to cake tin
9.Give the tin a few knocks to get rid of air bubbles
10. Bake in 180°C oven for 15-20 mins
11. Mix 50g icing sugar with 2-3 tbsp MARIGOLD PEEL FRESH yuzu juice to make glaze
12. Remove cake from oven
13. Let it cool down then remove cake ring
14. Pour yuzu glaze over cake
15. Garnish with mint leaves
(Source: The Meatmen)
Marigold Peel Fresh Select
MARIGOLD PEEL FRESH is a long-standing home-grown brand, delighting Singaporeans of all ages for over 20 years. Packed with the juicy goodness of Vitamins A, C and E, MARIGOLD PEEL FRESH refreshes and provides a quick boost of nutrition to Singaporeans every day.With 3 ranges of juices, there's a MARIGOLD PEEL FRESH juice available for every lifestyle. While the Regular MARIGOLD PEEL FRESH remains a quintessential choice amongst discerning juice lovers, those wishing to cut down on their sugar intake may prefer MARIGOLD PEEL FRESH No Sugar Added range which features super fruits and super veggies high in anti-oxidants, but without any added sugar.
For more exotic tastes, try MARIGOLD PEEL FRESH SELECT. Pick from SELECT Yuzu, juiced from the Japanese yuzu fruit from Kochi, Japan and Momo, which is made from pure Japanese white peach puree from Yamanashi, Japan. These premium juices are sure to excite your senses and satiate your palate.
Stand a chance to win a trip for 2 to Japan!
1. Spend $15 on the Yuzu Juice or Momo Puree to take part in photo contest
2. Share your most loving picture with Marigold Peel Fresh Yuzu or Momo Puree
3. #LoveJapanWithPeelFresh stand to win a trip for 2 to Japan in April 2018 during the most admirable Sakura period
4. Contest Period: 1st August – 31st September 2017