Jackets are a must-have for me when it comes to my vacations in the Fall/Winter Season. I don't know how some people can brave the chilly weather with summer outfits but being afraid of the cold, I just can't do without an outerwear!
In my recent travel to Australia, I brought a few jackets with me and read on to find out how I styled a Bomber Jacket (which is super in trend right now), a Leather Jacket and a Hooded Fur-lined Jacket.
Bomber jackets are hot in trend right now, especially those with the floral embroidery. I've been seeing it everywhere all over the world when I'm travelling and it seems like there's no stopping!
I got this army green coloured one with embroidered cherry blossoms and sparrows from Forever 21 back in Shanghai last year and I couldn't be happier with this buy! It is fully lined to keep you warm and is very soft and comfortable for the cold weather.
I've paired this up with a basic grey high-neck sleeveless top, a pair of pale ripped jeans, a small black bucket bag and my trusty Puma Suede Classic in Parachute Purple/Blue Iris sneakers for shopping. I change out to my Timberland Kenniston 6-Inch Lace Up Boots if I'm going for short forest treks.
Leather jackets can never go out of fashion, can they? It's always easy to throw on leather if you're gunning for a grunge or rocker chic look. For this look, it's all about celebrating 80s grunge with polka dots and leather!
My faux leather jacket is from Zara and I've paired it with a Topshop Print Kickflare Trousers, my worn-to-death Dr. Martens red boots and a cute box bag with studs from GUESS. To rock the 80s feel, I've also added a red polka dots headband. It's one of my favourite outfits thus far and it has gotten lots of compliments too.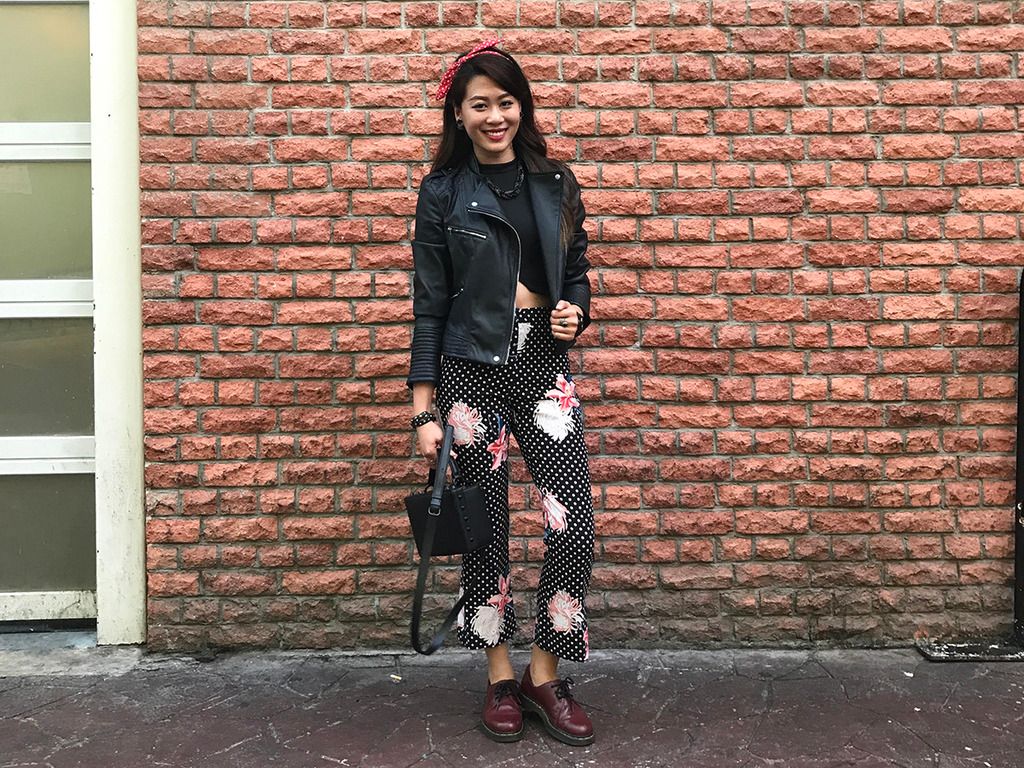 For colder weather, I prefer faux fur over down feathers. My Zara Parka with Faux Fur Hood and Lining has been my life saver for the cool temperatures of 12-16 degrees Celsius in Perth. I got this at a steal for only €35 back in Berlin in March.
It is lined with faux fur at the hood and the inside and I've picked the navy blue piece for it matches easily with all sorts of outfits. I've paired this with Uniqlo Jeans and my Timberland yellow boots. It's really not difficult to stay stylish while keeping warm with the right picks!
What are your favourite kinds of jackets? Share them with me!
With Love,
Roanna